Milestone for Panama Canal construction
By Helen Wright30 August 2013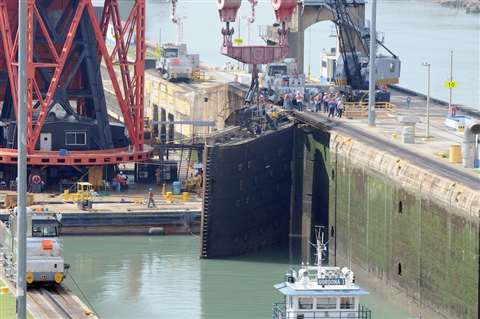 The first four massive gates for the new locks of the Panama Canal have arrived on the mega project's construction site.
According to the Panama Canal Authority (PCA), the development is now 62% complete. Built by subcontractor Cimolai, the first four steel gates are 57.6 m long, 10 m wide and 30.19 m high, and weigh an average of 3100 tons (2812 tonnes). They will be installed in the middle chamber of the new locks in the Atlantic side.
Panama Canal Administrator Jorge L Quijano said, "This is an exciting moment for the Panama Canal - the arrival of the new gates marks a great progress for this engineering project."
A total of 16 rolling gates (eight for each new lock complex) will be installed to expand the canal, all of which are being shipped four at a time from Italy.

Work on the US$ 5.25 billion scheme to construct a third set of locks for the canal started in 2007 and is scheduled for completion by the end of 2014.
The PCA said the concrete work was over 60% complete, the locks were nearly 50% finished and the water-saving basins were 40% complete.