Millennium Crane Hire buys Liebherr AT
London, UK-based mobile crane rental company Millennium Crane Hire has added to its fleet with the purchase of a new LTM 1060-3.1 mobile crane from construction machinery manufacturer Liebherr.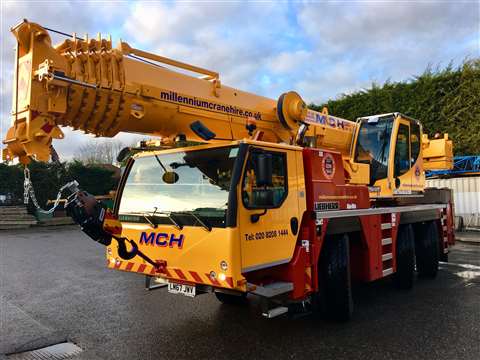 Millennium Crane Hire's LTM 1060-3.1
It is the first LTM 1060-3.1 Millennium Crane Hire has bought. The 60 tonner has a five-section main boom giving a maximum operating height of 48 metres. A three-axle, six-wheel steering system provides good manoeuvrability, said Liebherr. The crane also has Liebherr's VarioBase system that enables each crane support to be extended individually to varying lengths as far as space restrictions allow. The crane's onboard computer then automatically calculates the maximum load capacity. This information is constantly monitored in real time as the crane is operated – increasing safety and performance, said Liebherr.
Commenting on his latest purchase, Millennium Crane Hire director Francis Carroll said, "we are very excited to have taken delivery of this latest Liebherr crane. To date Liebherr cranes have proved to have outstanding build quality and performance to match. If the performance of this latest model lives up to our initial impressions and previous experiences we will no doubt be enjoying another successful model."