Miller wins supplier award
By Helen Wright13 October 2015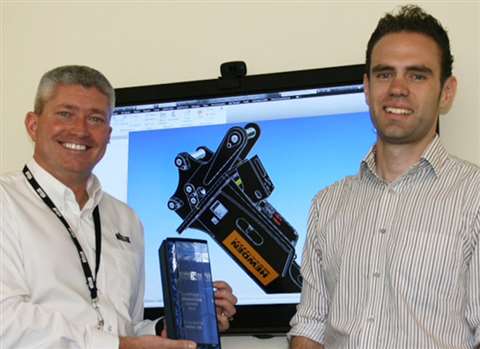 Earthmoving attachments manufacturer Miller UK has been recognised by rental company Hewden for its continual product development and innovative design solutions.
Miller picked up the Supplier Innovation Award at Hewden's second annual charity golf day at Mottram Hall in Cheshire after developing a number of solutions for its hydraulic breaker for the leading rental solution provider.
It said these developments included an automated lubrication system and bespoke head bracket, which is designed to allow the mounting of Miller breakers to both Caterpillar and JCB machines across Hewden's excavator fleet.
Miller has also developed a tracker device to be fitted to new breakers, which has already proved its worth to Hewden with stolen breakers being quickly recovered as a direct result.
In addition, Miller has invested time in training Hewden's sales and service teams at all 21 UK depots, during the initial launch phase as part of its partnership with Hewden.
Brendan Quill, sales and marketing director at Miller, said, "This is the culmination of many months of work and marks a real team effort for us - from design to purchasing, production to dispatch and sales. Everyone has played their part, making sure we hit the tightest of deadlines. We're tremendously proud of this achievement and we'll continue to push boundaries and deliver innovative solutions for our clients."