Mini Excavators – JCB updates electric offer
United Kingdom-based equipment manufacturer JCB is to offer a fully glazed cab on the 19C-1E to increase its appeal in countries with a colder, wetter climate.
The machine, which will use the same cab as JCB's conventional 1 to 2 t models, will be equipped with an electric heater to provide instant heat to demist windows and warm the cab working environment for the operator.
The company, which is celebrating its 75th anniversary this year, said that with a large glazed area, the cab is equipped with easy to replace laminated flat glass. It has a 70/30 front windscreen split, with clear jointing, for an unobstructed view of the digging area, and uses the same LED working lights and wipers as the diesel models, making it easier to work in poor visibility or during hours of darkness when required.
Battery capacity
JCB added that when operating the machine with the heater on, there is zero impact to the machine's digging or tracking performance, while the battery capacity allows a full day's shift to be worked.
The company said: "The addition of a cab option will increase the appeal of the 19C-1E in Nordic countries and in territories with poor weather conditions, where a canopy is not suitable.
"The E-Tech cab provides a dry, comfortable operating environment throughout the working day, with a locking door adding to the security of the machine for contractors and rental companies."
The electric mini excavator itself is a new development for JCB, having been launched in 2018, and going into full production last year.
However, it has already been honoured with both the Royal Automobile Club's Dewar Trophy for outstanding British technical engineering excellence and the MacRobert Award for engineering innovation from the Royal Academy of Engineering.
It is described as five times quieter than its diesel counterparts.
"We have gone from zero electric machines to over 2,000," said JCB group engineering director Andy Whyman.
"This shows the benefits of the total cost of ownership and the needs of our customers for robust electric machines capable of working in all weathers outdoors.
"We are the only manufacturer that offers a heated cab with an electric mini excavator. It's a machine for all seasons, it is equally at home indoors or outdoors, and we are very proud of our award winning 19C-1E."
Zero tail
German compact equipment manufacturer Wacker Neuson believes its two new mini excavators "take working to a new level".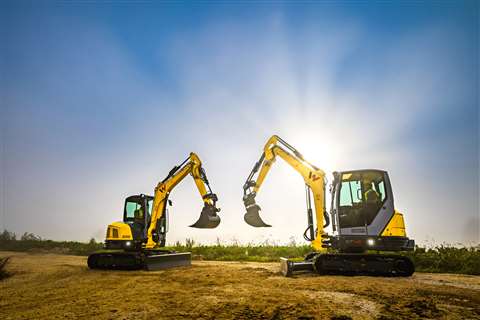 Both new tracked excavators, designated the ET42 and EZ50, are in the 4 or 5 t class. The EZ50 is a zero tail version with no rear overhang to enable more efficient and comfortable working.
With these mini excavators, Wacker Neuson said it has expanded its portfolio, which ranges from 800 kg (1,763 lb) to 15 t in weight, to include two powerful machines suitable for a variety of applications.
"In designing the new mini-excavators, it was important to us to develop compact machines that are easy to handle, impressive in their performance and in keeping with the latest technological developments," said Stefan Bogner, managing director of Wacker Neuson Linz, the research and development centre of expertise in excavators within the Wacker Neuson group.
"Both excavators offer the perfect mixture of time-tested and proven characteristics, innovative features and the highest comfort and safety standards to our customers. All of that can be applied flexibly and thus particularly economically – a boost for every construction site."
Demanding tasks
Wacker Neuson said that in developing the products it has focused on high performance, compact dimensions and comfortable operation.
With the tracked ET42 conventional tail excavator ET42 and EZ50 tracked zero-tail excavator EZ50, the company said the powerful drive allows customers to deploy the machines for demanding tasks.
In addition, the wide opening covers make access to all service points easier, which results in less downtime and thus cost savings. The radiators and hydraulic system are said to make it possible to use the excavators for applications with ambient temperatures 45°C without suffering loss of performance.
With "Load Sensing Flow Sharing" hydraulic system, Wacker Neuson says the machine adjusts automatically to the load and the joystick movement remains constant for the operator. Four additional control circuits allow the use of a variety of attachments, for example, a Powertilt with gripper, opening up more varied application areas for the user.
Also, with the new pressure release switch, hydraulic attachments can be changed more easily and quickly.
"The operator should feel good in the cab and be able to get his bearings quickly and easily," added Stefan Bogner adds.
"For this reason, we placed great value on intuitive operation and the greatest possible overview."
Reinforced digging
Volvo Construction Equipment has introduced the new generation ECR50.
The 5 t mini excavator has been launched with the rental market in mind, and Volvo said: "As a rental owner you need a machine that will perform for your customers like new month after month – and the ECR50 is just that. Its zero-tail swing radius enables access and work in confined spaces while reducing the risk of machine damage.
"In addition, the in-track boom swing ensures the swing post and cylinder remain within the track width when digging alongside obstacles. Reinforced digging equipment, undercarriage and hoods further contribute towards durability.
"With auto engine shut down, hours not worked are not recorded, reducing maintenance costs while contributing to higher resale value, and the patented multifunction hydraulic oil filter provides outstanding protection to the hydraulic system."
The ECR50 has an automotive-style jogwheel and 12.7 cm (5 in) colour display to help the operator navigate menus.
To match specific preferences and applications, the machine can be tailored with a range of attachments and options, including Tilt Quick Coupler, green beacon – which flashes when the seatbelt is safely fastened – extra counterweight and extra hour meter. As with other Volvo excavators, the ECR50 is more than 93% recyclable and compatible for use with bio hydraulic oils, which Volvo CE believes demonstrates its circular economy credentials.
Expanded range
Still on the rental theme, United Kingdom-based company BPH Plant has invested £600,000 (US$800,000) in expanding its range of machinery available for hire following increased demand from customers across the south of England.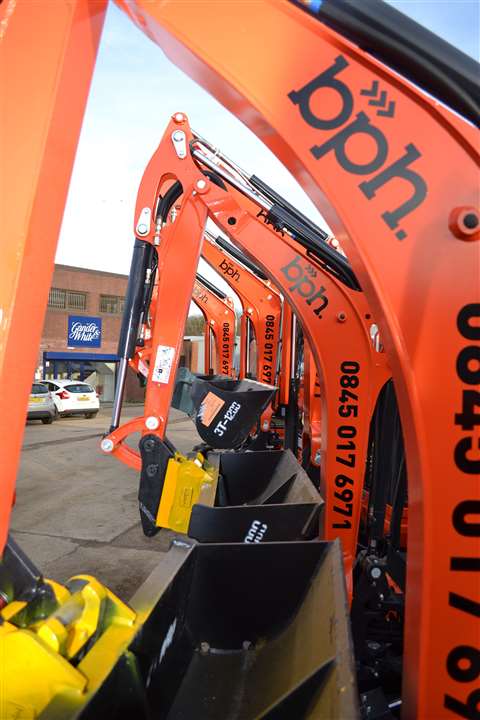 The investment include numerous Kubota KX015-4 and KX027-4 mini excavators,weighing 1.5 t and 3 t respectively.
The expansion of its offering comes after the company experienced an upturn in business over the second half of 2020 to pre-Covid levels.
BPH said the decision to invest in Kubota mini excavators aims to meet the needs of a more diversified client base following the changes brought about by the pandemic.
"We've received more enquiries than ever from small to medium-sized groundworks companies and independent traders that have been able to continue working despite Covid restrictions," said director Simon Bastable.
"While they are busier than ever with smaller residential projects, we are now starting to notice a return to business as usual with larger contractors needing equipment for bulk earthwork.
"We think it's important to continue to invest in the latest models of plant machinery to ensure we can meet growing demand with up-to-date, reliable equipment."
As one of the best-selling mini excavator manufacturers in the UK, the Kubota KX027 was selected for its compact size combined with powerful performance.
Article originally published in November-December 2020 issue of Demolition & Recycling International