Mining hits Caterpillar results
By Chris Sleight27 January 2014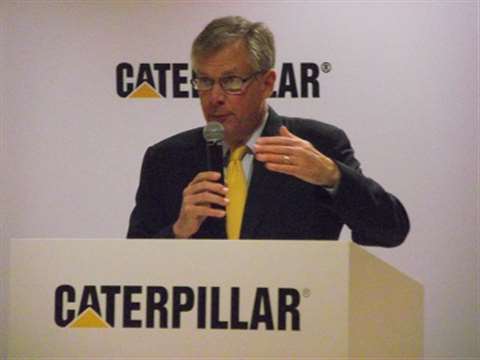 Caterpillar's revenues for 2013 were US$ 55.7 billion, a -16% decline on 2012's figure of US$ 65.9 billion. The company said this was due to a sharp fall in sales of new mining equipment. The company made a net profit of US$ 3.79 billion last year, compared to US$ 5.68 billion in 2012, a -33% drop.
Sales for the company's Resource Industries division, which serves the mining industry, were down -48% in the fourth quarter of the year, compared to the same period last year, to US$ 3.02 billion. However, the company saw growth in its Construction Industries business, with revenues up +20% to US$ 4.85 billion. All regions of the world saw higher sales in the fourth quarter of 2013, than in the final three months of 2012. Caterpillar added that at US$ 500 million, profits for its Construction Industries business were the best it had seen since the second quarter of 2012
Commenting on the results, Caterpillar chairman & CEO Doug Oberhelman said, "Despite a sales and revenues decline of about US$ 10 billion, we set a record for operating cash flow, strengthened our balance sheet and improved our overall market position for machines."
The company said it expected its performance this year to be on a par with 2013, with revenues of about US$ 56 billion, plus or minus 5%. It said mining equipment sales would remain weak in 2014, but that better economic conditions should see sales in both its Construction Industries and Power Systems businesses improve.
But despite the fall in sales last year, Caterpillar says it plans to use the cash it generated to return value to shareholders by repurchasing US$ 1.7 billion of shares in the first quarter of this year, as part of a new stock repurchase programme.
"The completion of our previous programme and the decision to announce a new US$ 10 billion programme are a result of our record cash flow, the strength of our balance sheet and our confidence in the long-term future of Caterpillar," said Mr Oberhelman.