Mobile Mini adds shut-off crane safety feature
By Belinda Smart01 November 2021
Mobile Mini UK has fitted an automatic shut-off feature as standard on the fleet of truck-mounted cranes it uses to transport and deliver accommodation and storage containers.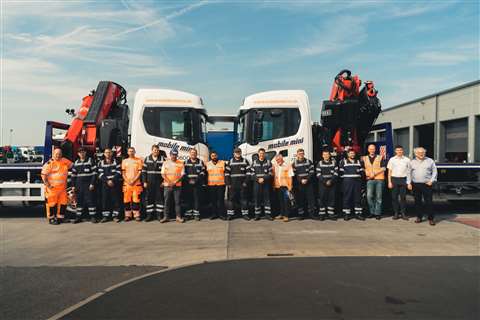 The company, which is the UK subsidiary of WillScot Mobile Mini in the US, said the feature aims to reduce human error and improve lifting and remote-control operations by shutting off the crane in the event of unsafe obstructions or attachments. 
It is part of the company's £3 million investment on upgrading its fleet over the last 18 months, with another £5.5 million invested ahead of next year.
Three new trucks containing the shut-off feature have been delivered, with five more on the way this year. 
It is expected that 30 new trucks will be delivered at intervals over the next 24 months, replacing 60% of the current fleet, which has been in place for the last seven years.
Mobile Mini partnered on its updated fleet with Scania and crane and tractor unit specialists Mac's Trucks. Cranes from Fassi have been deployed on its vehicles.
Andy Cowell, Mobile Mini UK Transport Manager said; "The next 12 months represents the most we have ever invested in our fleet, as we work closely with our preferred suppliers to secure the highest quality crane mounted trucks in the industry."
Alex McDade, Sales Executive at Mac's Trucks said Scania and Mac's Trucks were "pleased to currently have 15 vehicles in production and further vehicles due for Q2 next year, ranging from 18t to 32t gross vehicle weights.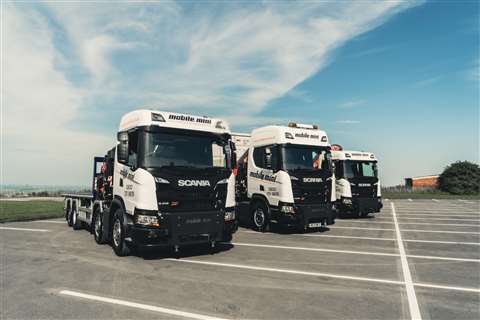 "Scania are continuing their long relationship with Mobile Mini, now with a seven -year repair and maintenance contract across all parts of the UK. At Mac's Truck, we are building the bespoke body work and crane fitment, such as the Scania R500 6x2 tractor unit.
Other crane safety features include slew restrictors and front outriggers for improved lifting duties and increased stability. 
Mobile Mini recently added SMUK's Halo system, which provides a visual warning to road users about turning vehicles.
It has also installed digital reporting system, Assure by SHE Software, supported by QR codes on high-visibility jackets and other products, as well as introducing defibrillator equipment at its 16 UK branches.