Moscow's regeneration plans
By Neill Barston06 February 2015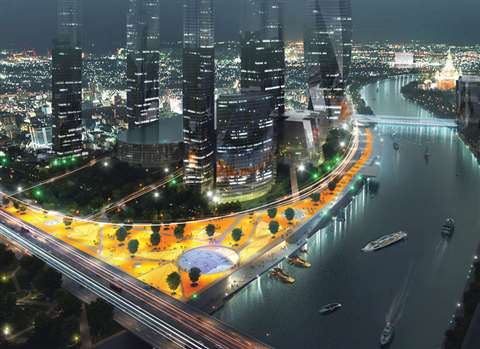 Tackling the revitalisation of city infrastructure and developing major new urban centres remains a key test for governments and planners across the world.
Such key issues formed the core of the fourth annual Moscow Urban Forum event that unveiled a wealth of schemes for enhancing the Russian capital's central areas, road and rail systems.
Thousands of delegates gathered from around the globe to exchange policy ideas on how to solve some of the most pressing issues surrounding city expansion.
Despite the concerning wider economic challenges faced by Russia following a steep currency drop, Moscow authorities declared their intention to deliver multi-billion Euro proposals in response to some of the city's major infrastructure issues.
This has included unveiling a 20-year city masterplan worth RUB7,000 billion (more than €90 billion) that has identified areas requiring urgent improvement.
The plans have interlinked with an existing €26 billion transport upgrade to revamp Moscow's metro system significantly by 2020. There are also moves to adapt more than 50km of the city's freight rail lines for passenger use.
In addition to rail upgrades, proposals are underway for 60 to 80km a year of new central and regional road building projects to address considerable congestion issues.
As Marat Khusnullin, deputy mayor of Moscow for urban planning and construction, revealed at the forum, there is around 180 million m2 of real estate potential within the capital.
Regeneration plan
Central to regeneration proposals is the much-heralded New Moscow project that the Russian Federal Government has proposed to double the territory of the city. This includes more than 150km2 of land to the south west of Moscow earmarked for mixed-use development.
Within the plans drafted by an Anglo-American consortium under a banner of the Capital Cities Planning Group, is a design for a new federal building in the west of the city.
It also features commercial and residential units, with housing for 1.7 million residents forecast to provide up to 800,000 jobs within government and wider business sectors.
According to city authorities, the plan has been created to reduce road congestion through relocating the capital's major employer and creating a greater sense of balance to core business districts.
Khusnullin said that Moscow could learn from a number of cities around the world and would be seeking overseas specialist technical assistance for some of its expansion projects – particularly surrounding proposed metro upgrades.
He said, "In the last few years, we have focused on developing four key areas in the urban development of Moscow.
"They are the development of transportation infrastructure; strategic approach to the city centre development; polycentric development; and development of depressed areas including industrial zones. These goals helped us to implement large-scale urban projects and opened up new opportunities for investors."
He expressed his optimism for delivery of its wide-ranging improvements despite sanctions imposed by the US and EU that have been placed on Russia as a result of ongoing political tensions with Ukraine.
The exclusion of Moscow-based banks raising long-term loans and the prevention of exports of dual-use equipment for military use in Russia are among the range of measures being enforced.
In the wake of this, the Ruble dipped sharply, having lost 44% of its value in 2014 because of a dramatic fall in oil values. Further financial pressure resulted, with the Russian Central Bank rapidly raising interest rates to 17%.
In spite of such setbacks, Moscow's deputy mayor confirmed city regeneration plans would continue – including one of its flagship policies of riverside improvement.
This amounts to 10,000ha of public space, and improvement of parks, embankments and parkland areas along 120km of the river to enhance the capital's visual appeal.
Project Meganom
The winner of the contest for this was a Russian-led bid – Project Meganom – which has been tasked with returning the river to a role as a vital transport link, through improving integration of road, rail, cycling and water-based transport.
Sharing his deputy's optimism for delivery of growth, the Mayor of Moscow, Sergey Sobyanin, said that the city should be determined in its ambition to expand.
Speaking at the Forum, he said, "Like every city, Moscow has been through its stages of development, and the past four years have seen some dramatic changes. Economic conditions should not influence our strategy to implement progress."
Some of the central themes covered in the two-day forum included examining how a city's population can directly improve the nature of development to suit its needs best.
Underlining this, Moscow authorities have introduced an online programme called "active citizen", encouraging residents to suggest improvements to everything from delivery of services, through to designs for new metro stations.
The forum also looked at placing an emphasis on development of technology and IT services as a driver of growth.
Both these factors emerged positively in a city index review produced for the forum that measured Moscow against six other emerging cities – Beijing, Istanbul, Jakarta, Mexico City, Mumbai and Sao Paulo.
The PricewaterhouseCoopers study placed Moscow second behind Beijing – with the Russian capital scoring highly in terms of its intellectual capital, innovation and technological readiness.
Among the dozens of speakers at the urban forum, global planning specialist Professor Greg Clark felt that through staging an annual event, Moscow had demonstrated an understanding that infrastructure development was "critical to its success".
The UK-based development expert said, "Here at the urban forum, what you see is an ambitious city with an emerging long-term development agenda trying to communicate that agenda to citizens, property owners, investors and infrastructure providers."
While he conceded that the economy was suffering in the wake of result of Russia's ongoing political tensions, he explained that Moscow's growth plans – including its riverside development – would offer "exceptional opportunities".
He added, "The city has to knit together its strategies on transport, housing and land-use, broader spatial development, quality of life and economic policy, and its masterplan is the way to bring those things together."