Natural winner
By Thomas Allen11 October 2018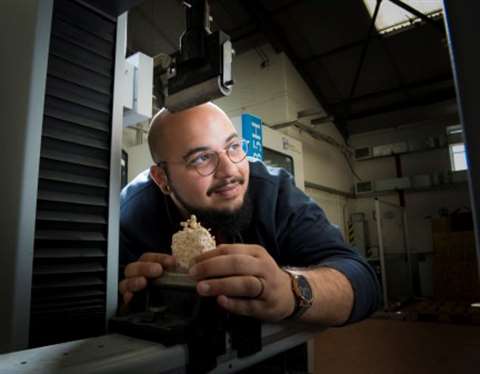 The Leadership category of a global construction competition has been won by a Northumbria University PhD architecture student in the UK for developing natural materials and biomimetic systems for the construction industry.
The COINS (Construction Industry Solutions) Grand Challenge is intended to uncover innovators and entrepreneurs with ideas that can improve the built environment, and this year's Global Leadership award went to Ehab Sayed.
Sayed is the director of innovation at Biohm, a business he founded in 2016 to develop eco-friendly construction materials that are completely natural and biodegradable.
For example, insulation material has been made from mycelium – the vegetative part of mushrooms – which not only consumes waste and carbon during production but also purifies the air during occupation. Furthermore, it fully meets safety standards since mycelium is naturally self-extinguishing.
The material is due to become commercially available in the coming months, and already Sayed has been in discussion with Tata Steel, Heathrow Airport and some of the UK's leading house builders to use the material in their developments.
It has been estimated that if just 150 buildings were constructed using the materials each year in the UK, it would reduce the nation's energy consumption by 300 million kWh – saving £35 million (€40 million) – and divert 10 million tonnes of waste from landfill – £5 billion (€5.7 billion).
The company has also developed an interlocking construction system called Triagomy. Based on the molecular structure of carbon, it enables walls to be easily moved and rooms added to existing buildings with minimal disturbance.
Ehab said, "We'd like to lead the construction industry to a biomimetic future, where everything is inspired by natural processes and biological systems. This will allow us to create a much more energy efficient, resource efficient and healthier built environment."
To watch a video interview of Sayed, click here.