New 70 metre high bridge built with Doka formwork
By Leila Steed20 August 2021
Max Bögl Group is building a new vehicular bridge across the Aftetal Valley in the North Rhine-Westphalia region of Germany, using automatic self-climbing formwork from specialist access provider Doka.
Supported by six piers measuring up to 66 metres high, the new Aftetal bridge will be 800 metres long and will stand over the valley at a height of almost 70 metres.
[Click on image to see more pictures]
It is being built as bypass for the town of Bad Wünnenberg, which is situated between the larger town of Brilon and the city of Paderborn.
The bridge aims to reduce traffic congestion, while also making the 55km journey between Brilon and Paderborn easier for vehicle users.
Max Bögl, the project's main construction and engineering contractor, chose Doka to install its SKE100 plus automatic climbing formwork, so that it could carry out concreting works to the bridge's piers.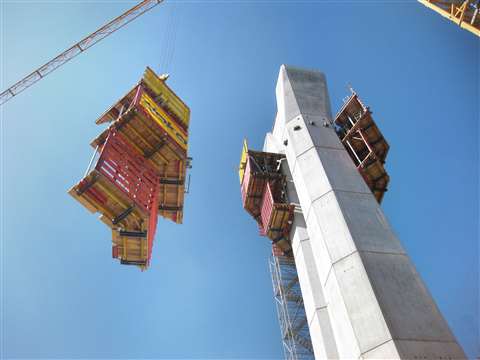 Speaking about the new Aftetal bridge, Matthias Urban, project manager for Doka, said, "It is an imposing, very long and wide bridge, and the piers are very massive. You don't get that very often."
Climbing distances of between five and six metres at a time, the fully hydraulic system enabled site operatives to work on the giant supporting columns, up to the base of the bridge's V-shaped pier heads.
According to formwork specialist Doka, Max Bögl then deployed the Doka Forming wagon TU - an un­der­s­lung bridge edge beam formwork - to facilitate the creation of the structure's cantilevered parapets and parapet wall. 
Construction of the Bad Wünnenberg bypass, of which the Aftetal bridge is the "centrepiece" began in 2016. It is due to open for public use in the spring of 2022.
Key facts: Aftetal bridge
Project name: Bad Wünnenberg bypass, Aftetal bridge, B 480n
Location: Bad Wünnenberg, in the western state of North Rhine-Westphalia, Germany
Length: 800 metres
Height: 66 metres
Project owner: Straßen.NRW – Landesbetrieb Straßenbau (the State Office for Road Construction in North Rhine-Westphalia)
Contractor: Max Bögl Group
Formwork systems: Automatic climbing formwork SKE100 plus, Wall formwork FF20, Large-area formwork Top 50, Composite forming carriage, Forming wagon TU
Service involved: Technical processing, statics, formwork preassembly, formwork instructor, project management
Project duration: 2016 to 2022