New Grove to City Lifting
By Laura Hatton16 September 2015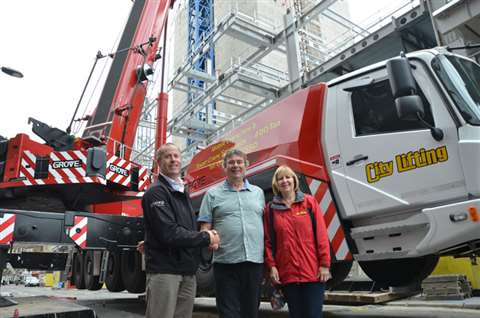 London, UK-based crane rental company City Lifting has taken delivery of a Grove GMK6400 all terrain crane.
The 400 tonne capacity model is the first one in the UK and joins a Grove GMK6300L that was added to the City Lifting fleet in 2014. The six-axle crane has Megadrive hydrostatic drive and the carrier and upper are powered by one engine. It has a 60 metre main boom, 79 m fly jib and Mega Wing Lift capacity-enhancing attachment.
Trevor Jepson, City Lifting CEO, said, "We are very pleased to be in possession of the UK's first Grove GMK6400 and we look forward to using it to provide more efficient and flexible solutions for our clients' heavy lift projects.
"We researched similar machines from other manufacturers, but realised that the GMK6400 was the best and most reliable crane to meet our customers' requirements."