New markets for tracked plartforms
By Euan Youdale01 September 2014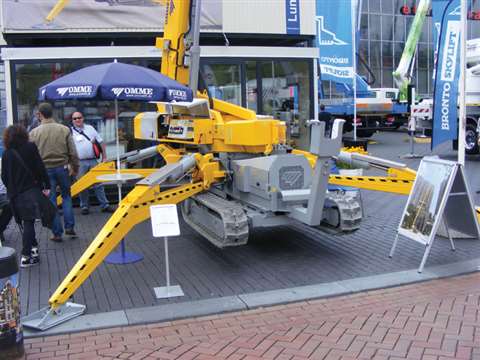 Tracked platforms with outriggers may continue to be a niche product in the access sector, but it's one that's picking up momentum in new markets, like North America. Euan Youdale reports.
There were dozens of product launches at APEX in June and some of the more notable were tracked platforms. Italy-based Oil & Steel's latest machine, the 18 m working height Octopus 18 was on show.
According to Giovanni Tacconi, sales director with Oil & Steel, the tracked platform is still a niche product, but that niche is getting a bit bigger. He explains that while Europe is saturated with these machines, North America and Australia are becoming the next big buyers of the equipment.
Teupen's modular approach
Teupen showcased a prototype of a new modular personnel basket 'building kit system' at APEX. The VersaTek is made from high-strength aluminium, and allows customers to replace one single part, if needed, instead of the entire basket. Components are separate and nothing is welded. Dimensions are 1.2 m x 0.8 m x 1.1 m. "This is lighter and cheaper for the customer," the company said. Production is expected to begin in 2015 and the basket will be available for all Teupen models.
Omme in action
Danish manufacturer Omme Lift has added a new lightweight 42 m hybrid tracked boom lift to its range. The 4200 RBDJ comes with a seven-section telescopic boom, offering a working height of 42 m and an outreach of up to 15.2m, making it the manufacturer's largest machine.
Omme officially launched the 4200 RBDJ at APEX 2014 and expects to ship the first units from its factory in Denmark in the third quarter of this year.
Lithium offering
The Hinowa Lightlift 20.10 Performance IIIS is now available in a lithium version. It means the 20 m working height platform can be used almost six hours continuously on its own, while the tracked chassis can be driven for about 2.5 hours. Overall it works out at one standard day per charge, said the manufacturer. A complete charge cycle takes about five hours, but in 2.5 hours 80% of the pack is charged.