New model and factory head Terex drive in Latin America
By Euan Youdale30 May 2012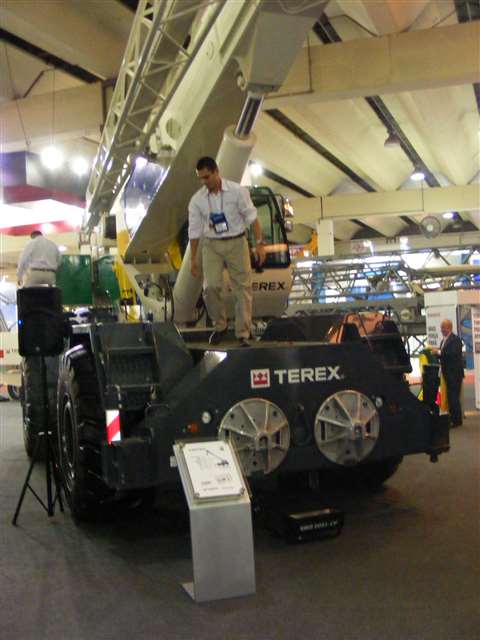 Terex Cranes has produced the first rough terrain crane from its new assembly plant in Brazil.
The 50 tonne capacity RT555 Progress represents the initial step in a renewed drive to capture the Brazilian and general Latin American market.
With the first phase of the Cachoeirinha-based plant complete, rough terrain parts are being brought in as complete knock-down (CKD) kits from the established Waverly, USA facility for assembly. In the second phase, Terex aims to receive accreditation for local companies to supply components.
At the M&T Expo Terex press conference, Kevin Bradley, Terex Cranes president, said the acquisition last year of industrial and port equipment manufacturer Demag AG would also prove vital in targeting the Latin American market. Using Demag's established extensive dealer network in the continent, Terex plans to retrain those employees to represent all Terex crane products.
¨We are reinventing our approach to the Latin American market. We are leading with a focus on customer service by leveraging our new employees from Demag. We will also bring product specialists to those regions - the approach has to be regional, ¨Bradley added, ¨We do not feel good about our involvement in the market historically. We now need to take our share of the market by expanding investment in local service.¨
With developing markets representing 30% of Terex business, Latin America takes about 25% of that.
Expanding on crane production at Cachoeirinha, Bradley added, ¨We will not be limited by production capacity and are now waiting to see how the market reacts to our news.¨ Further rough terrain models are a distinct possibility, concluded Bradley, as are other crane types.