New opportunities for Sumitomo
By Murray Pollok14 April 2016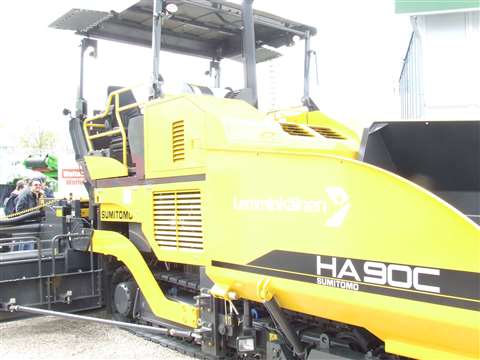 At Bauma 2016, Sumitomo said it is currently examining opportunities in Asian and Middle Eastern markets, largely in response to the lack of growth in the Japanese construction sector.
The company's managing director, Ichiro Shimada, said, "For the medium term, China, Middle East and the Far East will be added. Demands in these markets are estimated to keep growing for the medium term.
In Japn, Mr Shimada said road construction was still performing well, with major contractors recognising the value and features of Sumitomo pavers, especially for the product quality and convenience of the J-Paver screed.
While the company's presence in Europe is small, Mr Shimada was keen to point out that the 70 units of the HA60C/W paver that had been sold had been very well received.
"By adding the HA90C-2 paver," he went on to say, " we will make big progress to expand our paver business, not only to Europe, but to the global market.
Sumitomo showcased two new paver models at Bauma 2016 – the HA60W-8 and the HA90C-2.
The HA60W-8 is a wheeled paver with a paving width from 2.3 m to 6.0 m (without bolt-on extension box).
The HA90C-2 is a tracked paver with a paving width from 2.8 m to 7.5 m (without a bolt-on extension box) increasing to a maximum 9 m with two bolt-on extension boxes.