New Scorpions from Oil & Steel at Bauma
By Lindsey Anderson29 March 2016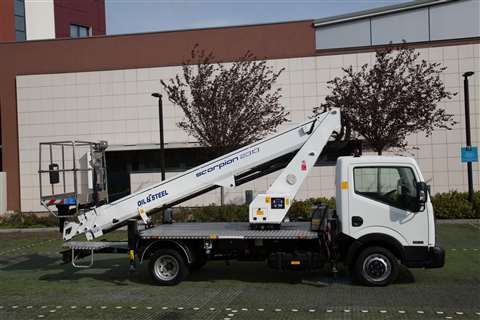 Oil & Steel will show a range of new products at Bauma including new Scorpion units. The Scorpion 2313 and Scorpion 2112J are telescopic truck-mounted platforms designed and built to address three core needs that Oil & Steel said today's AWP industry is facing: compact and light construction; better stablization; and faster, more comfortable and reliable work.
The Scorpion 2313 has a 22.6 m working height, 250 kg maximum capacity and 12.8 m maximum outreach with 100 kg.
The new Scorpion 2112 J is a telescopic platform with a jib that also delivers 21 m of working height, a 230 kg maximum capacity and 12 m maximum outreach with 120 kg. The company says its jib helps the unit to "easily reach challenging spots and overcome obstacles for precise positioning."
The new units feature EH stabilization, slope compensation and stabilizers on both sides or one side only.
Visitors to the Oil & Steel stand can also expect two new Octopus units on display. The Octopus 14 and Octopus 23 I deliver compact access solutions for those working in narrow spaces.
All Octopus models are equipped with a double pantograph joint, which allows vertical lift/descend movements.
The Octopus 14 can be equipped with petrol or diesel engines and an optional 110/220V electric motor is available, making the Octopus suitable for indoor applications without gas emission.
The Octopus 14 at Bauma will be equipped with a battery pack (lithium - iron - phosphate), capable of powering the electric motor even in the absence of connection to the electricity grid, the company said. It features nominal power of 7.4 kWh; engine rated output of 5 kW; and a 5-hour estimated charging time when the battery pack has depleted itself of energy.
The unit is also available in a hydraulic version for markets outside the EEC, as well as an ANSI-compliant version.
The 23 m Octopus 23 I will also be on stand.
The Octopus 23 I is designed specifically for outdoor aerial working applications. The unit is compliant with ANSI 92.2 for 46 kV category C insulation and compliant with ANSI 92.5 for elevating work platforms standards.
It features fiberglass with liner, improving safety for the operator; is equipped with a wireless remote control; has rubber tracks that independently extend on both left and right sides; and features non-conductive hydraulic hoses for insulation.
The unit also has a rotating jib, negative boom angles for accessing the basket closer to the ground, double articulation for "almost perfect vertical basket movement and maximum outreach at relevant heights," hydraulic circuits available at the platform, proportional control, and a smart basket attachment.
For more, visit Oil & Steel at Bauma.