Niftylift opens new headquarters
By Euan Youdale09 June 2015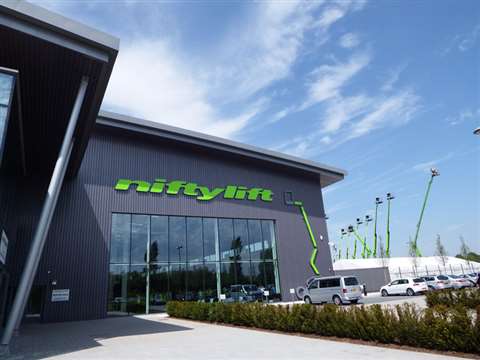 UK-based Niftylift has celebrated the opening of its new world headquarters with an event at the facility in Shenley Wood, Milton Keynes.
The open day, held on Friday 5 June, was attended by suppliers and customers from around the world and marked the manufacturer's 30th anniversary year.
The state-of-the-art plant covers 12000 square metres and is based on a 28000 square metre site. It is home to Niftylift's sales & marketing, finance, research & development and machine production departments. Two further outside spaces have been earmarked for a future R&D centre and visitor/training centre.
Service, spare parts and refurbishment remain at Niftylift's former manufacturing plant Stonebridge.
Construction on the site began in March 2014, with completion in November. Niftylift has occupied the site since December and set up its first production line in January for the HR28 Hybrid boom. Its complete range will be in during the next few months.
The manufacturer employs 245 people in Milton Keynes, soon rising to 335, in addition to those working at Stonebridge.
Visitors to the open day were able to view and operate models from Niftylift's entire product range, including its Hybrid range. There was also an indoor exhibition where visitors could learn about the history of Niftylift, its innovations, global presence and relationship with the local community.
Roger Bowden, chairman and founder of Niftylift told AI, "The facility has given us a lot more space and fits with the future we have in mind.
"Environment and design are very important factors and now everyone can work together, which is very important when innovating new products. It's a lot more efficient and we have a happy workforce.
Mr Bowden added, "The market seems to be better, so the timing is right, and we bought the land at a very reasonable price when land value was poor in 2010. We also had the factory built at a very reasonable rate.
"It all ties in with new machines we have in the system - new models will follow in the near future."
The new facility allows for around three times the current production levels and will allow the company to provide its more than 40 distributors, in the same number of countries worldwide, quickly and effciently – some 75% of Niftylift sales are exported.
The Shenley Wood facility includes a number of environmentally-friendly solutions to match its production ethic, including an office heating system driven by solar energy. In addition, there will be a number of initiatives to help employees like an onsite cash machine and post box.
A company spokesman concluded, "The new Shenley Wood headquarters is the very embodiment of Niftylift's business ethos. It will open the doors to new employment opportunities within the region and give Niftylift the room to grow that it needs to continue to develop its reputation as a successful, sustainable British manufacturing company and compete on the world stage."