Niftylift supports Women in Engineering
By Euan Youdale05 December 2017
UK-based Niftylift has hosted a 'Women in Engineering' event at its world headquarters in Milton Keynes.
Aimed at Year 9, 10 and 11 female students from Niftylift's local community, more than 60 students and teachers attended the event, which was also covered by BBC Look East's reporter Mousumi Bakshi.
The event offered the girls a unique opportunity to learn about the different career paths available within the field of engineering, while highlighting the fundamental role engineers play in our society. The afternoon included tours of Niftylift's state-of-the-art manufacturing facility, engineering themed activities as well as talks from Niftylift's female staff members, as they described their jobs and told their personal stories of how they became engineers.
Jane Harbige, product support engineer for Niftylift and event organiser commented, "Not many girls in the UK see engineering as an opportunity. It is our responsibility as women engineers to show that if you are creative, proactive, enjoy problem solving or thinking of different and better ways of doing things, then engineering is a great choice for a very exciting and rewarding career."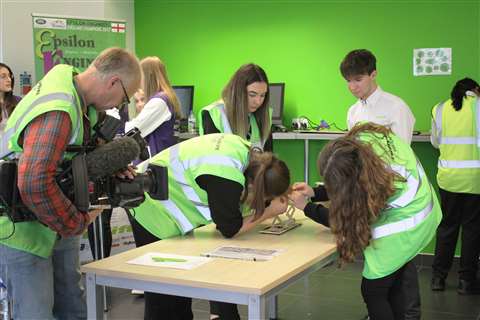 The afternoon was a great success and feedback from the visitors was very positive.
Emma Pearson, CEIAG Adviser at Shenley Brook End School, added, "Our students thoroughly enjoyed the event and we have even had feedback from parents about how thrilled they were that the students had the chance to take part in something like this, so thank you for organising."
There is a shortage of people with engineering skills in the UK. In 2014, one report placed the annual shortfall of STEM (science, technology, engineering and Maths) skills at 40,000. As of 2015, the annual shortfall was estimated at 55,000.
At GCSE level – a UK qualification taken by 16 year olds - there is little difference between the number of boys and girls taking STEM subjects, but this changes as they get older. Around 20% of A Level physics students (18 year olds), are girls and at university only 15.8% of engineering and technology undergraduates in the UK are female. By the time they start work this has dropped still further, with only 9% of the engineering workforce being female and only 6% of registered engineers and technicians (CEng, IEng, EngTech) being women.
Through events like its Women in Engineering Day, Niftylift is helping schools to promote STEM subjects to more than just the obvious candidates. "By championing the creative aspects of the discipline, by enthusing and inspiring young females, Niftylift hopes to encourage a new generation of female engineers to take their place in an exciting, vibrant and growing industry – ideally working at Niftylift," said the company.