Nolte Auto-Krane deploys Liebherr MK 88
By Niamh Marriott21 September 2021
Crane service provider Nolte Auto-Krane's Liebherr MK88 Plus was used as part of a structural inspection of the North Sea barrage near Husum, Germany.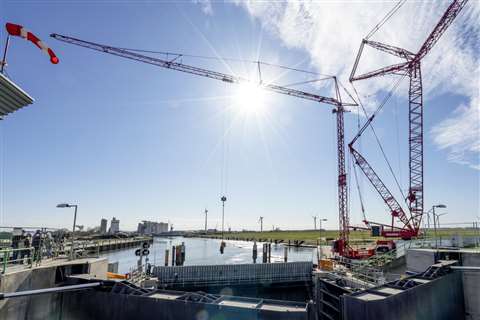 Over an eight-week period the crane lifted more than 1,800 loads of various types, and completed 300 lifts in three days when placing the stop gates to empty the barrage of water.
The Husum harbour barrage was built in 1975 to protect against storm surges. For the inspection to take place, all water had to be removed from inside the barrage. The MK 88 placed a total of 300 stop logs and posts to ensure a dry working area.
Quick positioning
Commercial divers provided instructions to guide the crane's operators whilst manoeuvring the 11 metre long and 36 centimetre wide posts into the correct positions at the base of the barrage.
"The ability to move loads quickly via the trolley on the horizontal jib and the prompt, safe positioning of posts were both great advantages compared to what a telescopic crane could offer," said Oliver Andritter, who headed the steel work at the barrage.
Delivering the posts with precision was essential as the divers were working in murky waters with little visibility and, in some cases, at night.
"I'm also very impressed that the crane can be dismantled in fifteen minutes and then swiftly moved to another position on site," said Andritter. "Its working speed is equally impressive."
Faster completion
The handling capacity of the MK 88 Plus was a key factor prompting Jürgen Peters to send it to the site. Peters plans and is responsible for major crane projects at Nolte.
"We needed our Liebherr LG 1750 lattice tower crane to lift the flood protection gate wings, weighing up to 65 tonnes, off their hinges. The MK was responsible for the construction and dismantling of the gates and supplied the 13 metre deep construction site chambers with everything that was needed."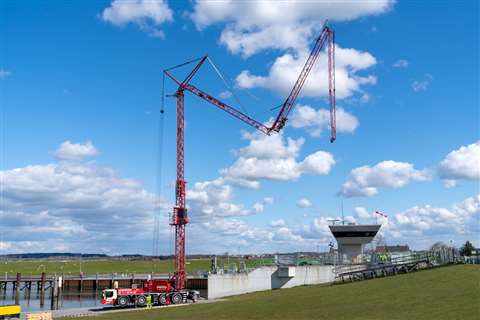 The crane was used to lift pumps, generators, scaffolding parts, tools and cherry pickers down to the engineers and labourers working in the emptied barrage chambers.
Driver Chris Kubinski commented, "We were able to reach and do everything with the 45 metre jib from just two positions. The way the mobile construction crane works has totally won me over.
"Projecting edges aren't a problem anymore and it's much easier to keep the safety distance required when working near power lines."
Safety and control
The cabin can be positioned at hook height to provide a clear view, improving safety and the crane can be operated via radio remote control.
"We've got three MK 88 cranes and a large MK 140 in our fleet," said Jürgen Peters. From the Nolte Auto-Krane location in Hannover he supplies construction sites in Germany with 30 Liebherr machines and says the company's four mobile construction cranes are always in use.
"MK cranes are being requested more and more often. Once site managers get to know this crane system, they often don't want to use anything else for some jobs."