Northern Spire moves forward
By Thomas Allen19 February 2018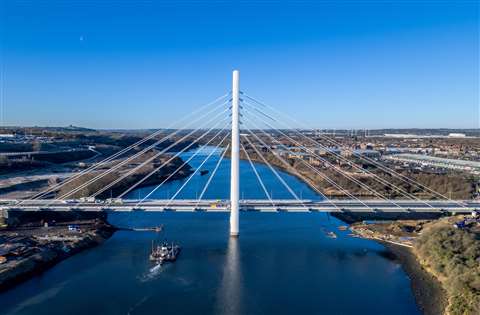 A video has been released showing the progress of construction work on the new Northern Spire road bridge across the River Wear in Sunderland, UK.
Said to be the biggest civil engineering project underway in the North East of England, by the time it is completed it will have employed about 2,000 people working over about 900,000 man-hours.
The new bridge and road improvement programme, being delivered by the Farrans Victor Buyck joint venture, is phase two of the Sunderland Strategic Transport Corridor, which is a five-phase plan to improve links between the A19 and Sunderland City Centre, and the Port of Sunderland.
It is intended to reduce congestion around the city and open up an area of land along the south side of the river to development.
Using a mix of time-lapse footage, drone shots and interviews with the people involved, the video tells the story of how the bridge has progressed over the past three years, since work began in May 2015.
The construction team has confirmed the new bridge is on track to open on time and within budget later this spring.
Watch the video here.