Norway launches offshore wind project
By Mike Hayes09 October 2020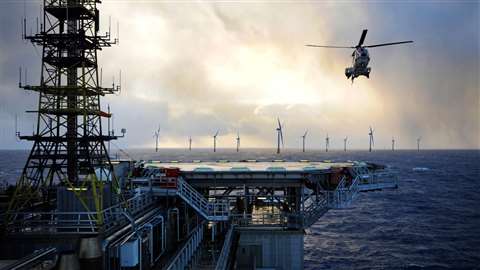 Construction has started on the Hywind Tampen offshore wind farm project, located 140km off the coast of Norway. It is set to be the world's largest floating offshore wind farm.
The farm, representing a total investment of approximately €460 million, will comprise 11 8 MW Siemens Gamesa wind turbines, floating in waters of up to 600m in depth.
The wind farm will lie between two oil and gas fields – Snorre and Gullfaks – which are part-owned by Equinor, the developer of the Hywind project. It will have a total capacity of 88 MW and the electricity generated is expected to cover about 35% of the annual power needs of the gas fields.
Hywind Tampen will be the first floating offshore wind project to supply renewable power to oil and gas installations.
Equinor says a reduction in CO2 emissions of some 200,000 tonnes per year is also anticipated.
Norwegian engineering company Kværner has been awarded the contract to deliver 11 floating concrete hulls for the project, and a Kværner apprentice, Arne Linga, along with Norway's Prime Minister, Erna Solberg, got construction underway at a recent ceremony, by starting the first cutting robot.
Equinor president and CEO Eldar Sætre said of the project, "Hywind Tampen is a new chapter in Norway's narrative as an energy nation. With support from the Norwegian authorities, we're not only building Norway's first offshore wind project; we're refining floating offshore wind technology along with the Norwegian supplier industry.
He added, "Eighty percent of the world's offshore wind resources are located in deep water areas and are available for floating offshore wind projects. If we can use projects like Hywind Tampen to make floating offshore wind competitive with other forms of energy, the technology will be able to deliver large-scale renewable power and contribute to a more sustainable global energy supply. A floating offshore wind market will also open up considerable industrial opportunities for Norwegian industry."