Onetrak in Western Australia reopening
By Steve Ducker06 December 2017
Staff from crushing and screening equipment specialist Striker were among the guests as Onetrak reopened in Western Australia at larger premises in Bunbury.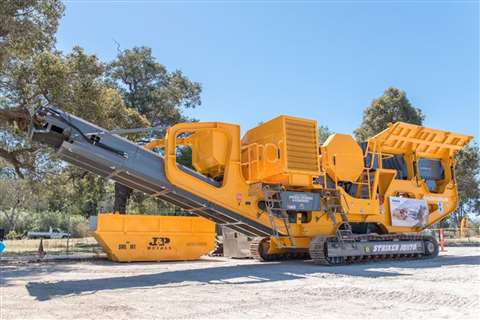 Striker's products are part of a number of new brands in the Onetrak portfolio which covers new and used machine sales, parts and service, rental machines and attachments. Other names in the range include Hyundai and Hidromek construction equipment, Dressta dozers and Fuchs material handlers.
For the event, the Onetrak yard was temporarily turned into an equipment demonstration site where customers were given the opportunity to drive and test a range of equipment, while a Striker jaw crusher was on static display throughout.
Onetrak managing director David Hazell said: "It was fantastic to be able to celebrate the opening of the Bunbury facility with customers, suppliers and staff.. We have several new field service trucks with well-trained service technicians, a large investment in parts inventory plus new brands such as Striker crushing and screening, Hidromek construction equipment and Terex Fuchs material handlers to complement our already significant investment.
"We wanted to let the broader market know that Onetrak is here to stay."