Outstanding Performance for Trojan
By Euan Youdale31 May 2013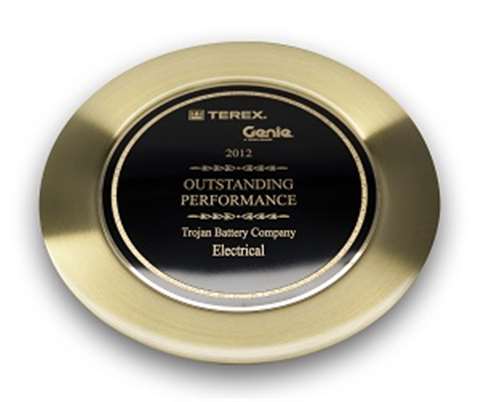 Trojan has received the Outstanding Performance award 2012 from Terex AWP's Genie brand.
Trojan is one of just seven companies to have received the award from Genie, which installs Trojan's deep-cycle batteries in its products. The award is given to companies that provide the manufacturer with exceptional operational excellence and support.
"Genie has been a Trojan partner for more than 10 years, and recognition as one of its outstanding global suppliers is one of highest honors we could receive from a customer," said David Godber, executive vice president of sales and marketing for Trojan Battery.
"For more than 85 years, Trojan's mission has been to engineer and manufacture products that meet the highest quality and technology standards, as well as provide our customers with knowledgeable technical support by our team of expert engineers. Trojan will continue to deliver unsurpassed products and support to Genie and will strive to earn this award again in 2013," Mr Godber added.
Melinda Smith, Terex Aerial Work Platforms marketing communications manager, said Genie is also dedicated to manufacturing top quality equipment and partners with suppliers that help support that mission. "With the support of vendors such as Trojan Battery, Genie is able to deliver on this promise to customers around the world."