Palazzani introduces basket raising system
By Euan Youdale14 April 2020
The new Liftable Basket from Palazzani Industrie raises the basket horizontally at the end of the boom.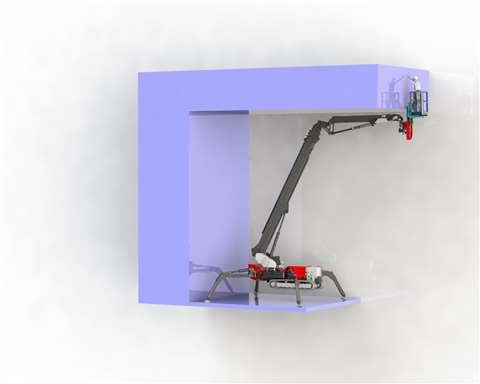 The new design, which is set to appear at APEX, in September, allows the basket to lift 1,300mm up at the end of the boom, on a riser system. The new Liftable Basket is designed for one person and is 700mm x 800mm x 1200mm and is attached to the rising system that lifts it by 1.3m. Equipped with an electro-hydraulic system, the riser is controlled by the operator via a special joystick that activates the lift function.
In addition to the advantage of increasing the platform height at the end of the jib, now on all models in the Palazzani Spider range, from the TSJ 23 to the XTJ 52, the device also allows the operator to approach an obstacle with the boom and jib extended, then rise up the side of the obstacle with the basket. The first example of its use was in Nouveau Palais de Justice in Paris, which needed the configuration to reach chandeliers in the ceiling inside the building.
Useful for all types of applications, including cleaning, maintenance and pruning, this solution allows operators to reduce movement and different placement of the lift. The basket's compact size means it is suitable for performing work in environments that are difficult to reach because of limited space and its weight.With the use of an electrical source or batteries for indoor environments also solves any problems related to environmental protection.
The design of the Liftable Basket followed a specific request by a Palazzani customer and has now been patented and will become part of the wide range of options available on Palazzani models.