Patrick Stafford reveals Soima acquisition strategy
By D.Ann Shiffler02 November 2021
Patrick Stafford is a man of principle and his word. D.Ann Shiffler reports.
In his gentle Irish accent, Patrick Stafford speaks with candor and from the heart. He has grown to love the crane business, believing that quality products and excellent customer service is the key to business success – which is why Stafford Crane Group recently bought a crane manufacturing company.
Stafford started his career in 1991 in the "aviation world." He worked in helicopter technology and became a licensed commercial helicopter pilot. As helicopters came off the production line, someone had to fly them for the first time. Stafford became a crew chief/commercial pilot for test flights.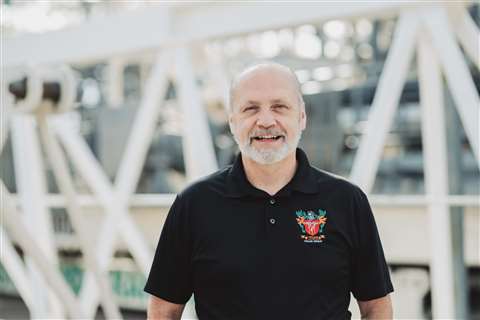 "It was very exciting to get into a new aircraft, which had just come off the production line, and had never been in the air before," he said. "It's actually comparable to erecting a tower crane into the air. It's all about quality control."
Integrity and fairness
In 1994, Patrick's brother Derek started a tower crane company in Ireland. In 2005, the brothers reunited with the goal of getting Patrick involved in the tower crane industry. He returned to Ireland to help his brother run the business and learn about the industry. He took that knowledge and came back the U.S., starting Stafford Crane Group with one crane. Today the combined companies, Stafford Crane Group, have a fleet of 77 cranes worldwide.
"Phoenix was the ideal location for me to specialize in growing the market," he said. "The time was right to start a company with the person at the top caring about the customer."
The larger tower crane companies weren't that interested in the middle-size markets that Stafford knew were up for grabs. Growth has been constant, and the company quickly expanded into Colorado and California.
"We love to go for the smaller markets," he said. "The other guys want to be in the big markets. We also wanted to go into Mexico. We have a location in Tijuana. We will have five tower cranes up in Mexico by the end of the year."
The company is expanding into smaller cities in Texas and throughout the Gulf Coast, Florida and even the Carolinas. Stafford attributes the growth and success of the company to its roots as a family business.
"There's a care factor with a family business," he said. "The service we give is unmatched in the industry. There's isn't a project in the country that our cranes are on that the contractor doesn't have our telephone numbers directly."
While no one wants to hear their phone ring late at night about a crane that needs a part, they take the call.
"The good news is that we get the call, and we respond," he said. "It's important that our customers know that we care about them. By dealing with the top people, that's when you achieve the customer satisfaction."
It's also about integrity and fairness, Stafford explained.
"I want to make life easier for our customers," he said. "The more we can do for each other the better. We want the end-user to know we are the good guys. You have to treat people right. You have to always be fair. If you contact me, my brothers, my son and the people who work for us, you will find that we truly care about the customer. Personal service is very important to us."
Down to business
Stafford believes the company's growth depends on customer service and customer satisfaction, which is why they now have a fleet of mobile cranes. They used to hire third-party crane companies to erect their tower cranes. But often, the third-party company showed up late or wasn't prepared. Or the mobile crane needed wasn't available.
"It's crazy that a mobile crane is not available to erect a tower crane on a billion dollar project," he said. "That irritated me, so I said, 'let's take it out of their hands.' We bought a $3 million mobile crane so that we didn't have to rely on a third party."
Today Stafford has a mobile crane fleet that works in tandem with the tower crane fleet to offer a turnkey package of tower crane erection and operation.
Similarly, the company has a fleet of tower cranes that represent many different brands. But Stafford hasn't been satisfied. A couple of months ago Stafford acquired Soima, a Portuguese tower crane manufacturing company. Over the next three years, the plan is to replace Stafford's entire fleet with Soima cranes.
I had never met Patrick Stafford, but after our interview on a Teams call, it seems like I've known him for years. He is a very interesting person, very personable and very smart. As well, you can tell he cares deeply about his family, the Stafford Crane Group team and their customers.
What led to the acquisition of Soima?
Since we've been in business, we have never found a tower crane manufacturer that we felt could satisfy our needs in America. Customer service is very important to us, and we need a good product and good product support. After continually being disappointed with these products and not getting adequate parts and engineering support, I realized the way to overcome this is to be a part of it.
Soima, which was founded in 1977, was the solution. The company is family owned and they have a great work ethic. They are very modest people, and they give a good, hard day's work. They have the same values we have. They have a good reputation in their market. It's a good match.
To me, the biggest problem as a rental company was the manufacturers don't understand the end use of the crane. The good news for us is we will be able to put a superior product into the end-user's hands. These cranes are simple with a quick assembly and erection.
We will know the product and what it costs to produce. We believe with the efficiencies of these cranes; our customers will save money. Being able to control the cost of manufacturing and being able to design the cranes to be end-user friendly is where we are going with purchasing Soima.
Do you already have these cranes working in the U.S.?
There are numerous Soima cranes here in North America. Now, as the owners of Soima, we are actually receiving our first unit. We have two more arriving in December and two are going onto jobs in Mexico. We will bring 15 to 20 of the new cranes into our fleet every year, to grow our fleet and replace the older fleet.
How do you envision integrating the Soima operation into the Stafford operation?
It will be called Stafford Soima. We are not looking to sell tower cranes to the big American rental companies. Instead, we are looking to bring our own fleet of cranes in, and construction companies who want to buy them, they can. They can buy one, two or 30 cranes. These are the customers we are going after. And we will create better relationships because we are a smaller company.
We will never be followers. We had to go against the grain. We are a rental company that manufactures its own cranes. I hope to be very successful with this mode. Sometimes you have to take a calculated risk and we are doing this. My brother Derek is in Europe, and he will live there and run the organization. He is more of a technical guy who is perfect for this role.
We may be part of a trend. In Europe, Wolff and Liebherr have their own rental fleets. Potain is starting their own tower crane rental fleet in Europe. Our cranes will be 10 to 15 percent cheaper. When we get rolling it's going to be hard to compete with us.
From a broader perspective, tower cranes are a very international product. Most tower cranes in the market today are built to European standards and the measurements are metric. Our eventual goal is to manufacture some of our line in North America, to alleviate supply and demand problems. We [envision] a tower crane manufactured in Mexico that would satisfy all the requirements and [create] an alternative supply chain.
How do you characterize the market for tower cranes in the U.S?
In the rental division for tower cranes, we never see it not growing. In the Southern U.S., where we are located, there's beautiful weather and people are moving here. I see huge growth in the cities people want to live. Tower cranes also can replace other cranes. They are one of the few things that can replace a mobile crane. More contractors are starting to see the benefit of tower cranes.
What led to the development of Stafford Tower Crane School?
Our crane school gives us the opportunity to stay ahead of the competition. In this modern world, being safe is so very important. Having our own training facility puts us above other organizations.
Erecting a tower crane requires having the right training. When we started the crane school, we decided we are not just going to train operators. We are going to train the erectors and riggers – all the people who climb up the crane.
A lot of accidents are caused by human error and a lack of experience. When you get a new tower crane in your fleet, you typically go to a training course given by the manufacturer. They teach you the book work and then provide very little hands-on experience on the crane itself. They don't necessarily put you in the position of erecting, climbing and operating the crane.
It is extremely difficult to train your people on the job. We need them well trained before they get to the job. Training is also good for experienced workers. It complements their knowledge. Our school training environment is not super stressful, like it would be on the job. While you do learn on the job, it's not the best place for training. Jobsites are too hurried. Getting a tower crane in the air can often be too rushed. For our customer, time is money. The contractor needs to get the crane off the street and in the air working.
Tower crane operators and riggers are top notch people. They are very elite, much like a pilot. It's a good comparison. You are in the air and there are big risks.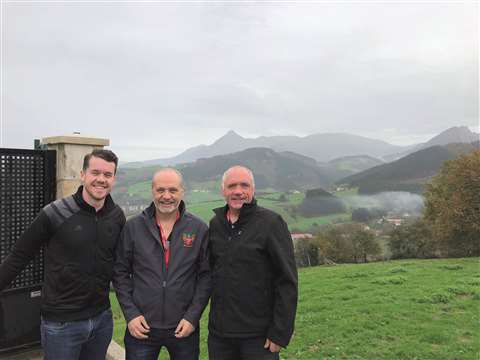 Is there a crane operator shortage in the markets your company serves? How do you address filling your staffing needs?
I wouldn't say there is a shortage of crane operators. There is a shortage of really good crane operators. It's easy to become a crane operator. What we see, is the level of expertise is not there, especially with a lot of young people coming in and hopping around looking for more money. Finding good operators who are experienced is a problem. But again, having our own crane training school helps a lot. We don't see a shortage of erection crews and technicians. The problem is finding good people who are willing to learn and work hard. We look for dedicated people who care about what they are doing.
That's why we try to bring everything in house and work together. But the only way we are going to attract these people is increasing their pay and having a training program in place. We will go above and beyond. When you pay someone 30 to 40 percent more, they can feel proud of what they do.
What is your business philosophy?
In business, you have to have many philosophies. The one that sticks out the most is kindness. Kindness is a great thing, and we need it to make a happy world. It's the same with caring. You have to care about your customers and care about your people. It doesn't sound much like a business philosophy, but more of a life philosophy. Treat people like you want to be treated.
In my life as an entrepreneur, I know that you can't be afraid to fail. The more you try, the more you fail and the better you become. That's how you learn. I love to go and try something new. Go out and make changes and be the leader. You have to get better every day. If you aren't changing you are being left behind. I'm a very optimistic person. It all comes back to my philosophy as a human being. Travel, have fun, be kind. And if you say you are going to do something, do it. Your word means everything.
What do you do when you are not working?
I love what I do and to me, my business is almost like my game in life. Having a successful business gives me the opportunity to travel around the world.
But personally, family is number one for me. My kids are in middle school and high school and my oldest son Patrick works with us in the business. I love to watch my kids playing sports.
I also love traveling. I did hike to the base camp at Mount Everest. When a friend told me he was going to do that, I wanted to do it too. I told him, "You are not going without me."
But truly for me, life is so simple and beautiful and it's easy to be happy. I enjoy hanging with the family.