Pioneering the Pakistani access market
By Euan Youdale07 September 2021
Pakistan is seeing the conditions required for an access market to grow, with pioneering company Fleet Rentals set to lead the way. AI speaks to its managing director Saqib Qayyum
The Pakistan access equipment sector is tiny and currently related to work in dockside and power projects, with the construction industry primarily using scaffolding and buckets slung from cranes to carry out work. In this respect, Pakistan has a similar experience to many new access markets, which started out in the same applications, before developing into maturity over the coming 10 or 15 years.
Based in Karachi, Fleet Rentals is one of the pioneers of the MEWP sector in Pakistan. Its fleet of two scissor lifts - a Sinoboom GTJZ1012 and JLG 50RTS - and a 34m working height boom lift of Korean origin, together with six forklifts and a pair of 20 tonne and 45 tonne Japanese mobile cranes, may seem small. However, it represents one of the larger gatherings of rental equipment in Karachi, and indeed the whole of Pakistan.
New partnerships
A couple of years ago, says Fleet Rental's managing director Saqib Qayyum, there were no aerial platforms in Pakistan.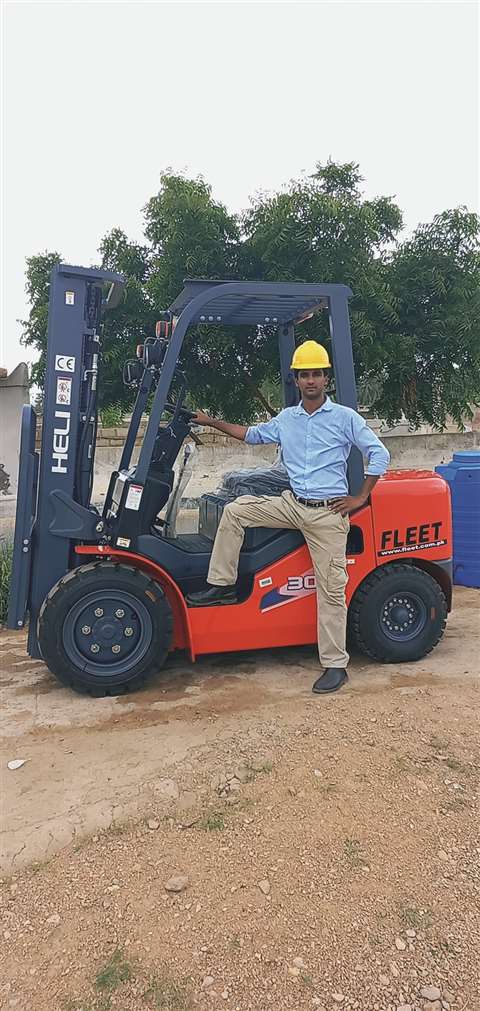 Combining this fact with Fleet's other interests, including a recent aerial platform distributorship, a number of other sales partnerships under a brokerage arrangement, and plans for expansion into the north of Pakistan, it quickly becomes clear Fleet Rentals is playing a significant role in creating the access market in the country.
"The access market is still at a very young age," Qayyum confirms, "We have a couple of local manufacturers that provide scissor lifts and truck mounts, which are producing 150 to 200 units per year, which are mainly sold to government departments and utilities, but if we speak of rental, in the whole of Karachi, which has a population of 25 million, there are approximately 25 access units."
As of August this year, there were around five to six boom lifts in the city, plus 17 to 18 scissor lifts and three truck mounted units. This does not include the numerous 10- to 15-year-old MEWPs in the city, which are mainly acquired from the Middle East, and, in most cases, are in very poor condition.
Qayyum has been involved in the equipment sector for 15 years and started selling items on existing online sales platforms while he was still at college. In 2009 he moved to the UAE with his father to set up a crane rental and sales company before moving back to their home country of Pakistan in 2016 to start a new crane rental business there.
In the following years, Qayyum started seeing the potential for other types of equipment. "There were a lot of cranes in Pakistan, so I thought why not do something different? And in 2019, I started a website and started getting local enquiries."
Then in 2020, he landed a major contract with the Pakistan Navy to provide cranes and forklifts on a rental basis. From there, he made the decision to build the rental fleet.
As in many fledgling access markets, rental companies also take on a range of sales activities to help establish the product. "I was not doing any sales before, but this year, after the pandemic had hit, the general rental market was down, and we started getting enquiries from companies wanting new forklifts. So, we started representing a Chinese manufacturer, working on a commission basis."
The lack of government regulations for working at height, or recognised safety practices, is typical of an access market at this stage, and it means scaffolding and crane buckets, or other rope-related equipment, is prevalent. However, times are changing. "More companies are moving towards renting products like scissor and boom lifts."
Taking opportunities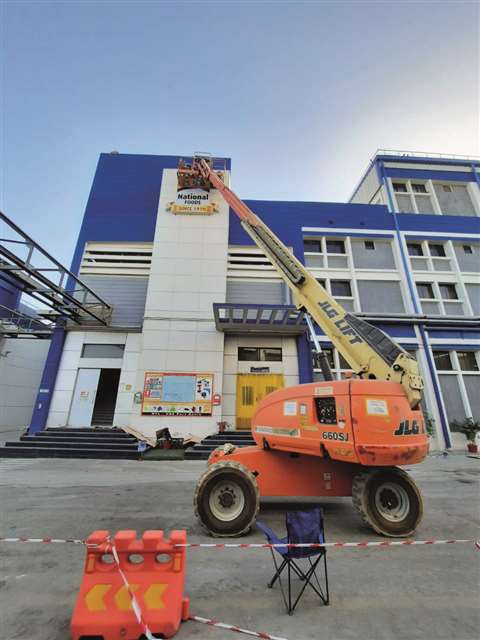 Nevertheless, Fleet Rentals has to be quick of the mark in spotting opportunities to widen their use. A recent example was an arrangement with Pakistan's largest engineering company Descon, which has seen it become the proud owners of the country's two largest boom lifts - 36m and 24m working height units from JLG. Fleet acted as a go-between, hooking up the OEM and construction company for the provision of the booms for the lifetime of the project.
Fleet's own boom lift was acquired two months ago and is of Korean origin, having been manufactured in 2003. However, it remains well maintained, says Qayyum, unlike other older products found in use around the city.
Fleet does not currently have a physical depot as its equipment is mainly on long-term rental, however, Qayyum foresees a time soon, as its rental fleet grows and the market matures, when there will be a need for one.
As previously explained, the rental concept is almost as young as the MEWP market. While there may be up to 100 rental companies across Pakistan, they are small, independent rental providers, mainly concentrating on cranes, with the occasional scissor lift finding its way into the yard.
"[Over the years], companies that needed equipment bought their own, and are still using it, which is why we still don't have many units in the rental system. But as more companies require access equipment, I think they will prefer to rent it than to purchase it."
And Fleet is starting to get enquiries from the construction sector, however, it remains very price driven. "They still base their decision on what costs less. Labour is very cheap compared to the rest of the world. So, this is a major factor as to why scaffolding is preferred."
Fleet expansion
The gradual awaking of Pakistan's rental and access market will see Fleet expanding its footprint substantially in the next two years, says Qayyum. "There is a very large potential market in the north of Pakistan, and we have plans to set up an office there. Then, we will definitely need to add equipment to the fleet and expand the company."
As the company's fleet grows, access equipment will be the company's primary product of choice. "We are concentring on AWPs, as we see they have a huge potential. If we speak of two or three years back, no one had a scissor lift. And I am sure in the coming two or three years the population will increase.
"Now, when I speak with my competitor rental companies, I do hear that they are planning to do the same with scissor lift and boom lift rentals in the near future."
The recent financial crisis and the devaluation of the Pakistani Rupee has made it challenging to import and purchase new equipment, Qayyum adds. "The government is trying to stabilise the situation, following a credit crisis in the country, but once it has stabilised, I'm sure a large amount of access equipment will come into the country."
Covid-19 has also conspired to delay market growth, as it has in much of the rest of the world. "We saw the first cases in February 2020, then the country went into lockdown in March. Sales were down and business crumbled but luckily the forklifts side remained operational." This was partly thanks to warehouse projects where the company's forklifts remained busy. "Cranes and access equipment dropped greatly. But things have been bouncing back this year; construction is getting busier and projects put on hold last year are resuming.
"There are still short lockdowns, but it mostly affects local markets [shopping], but business and industry overall remains up and running, and 20% of the population has now been vaccinated and that is rising all the time."
Qayyum continues, "Many projects do remain on hold as we are now seeing a fourth wave of Covid. But I see a good year compared to last year and it has been a good year, for us."
In addition to purchasing equipment, Fleet is spreading its wings into distribution. The company is in discussions with Hered, a young Chinese access equipment manufacturer, to become its official representative in Pakistan. "Our plan is to introduce Chinese-branded equipment into the Pakistani market in the future."
On the subject of Chinese-manufactured products, Qayyum's view is clear. "I think we will focus on Chinese equipment because the prices are 50% lower compared to western equipment. The quality is not quite as good but if we invest in [western] equipment we would have to increase the rental rates and customers are not willing to pay that. "Pakistan is not a big rental market but to make it bigger we have to lower rental rates, as well as providing new technology."
There is a similar story with crane rental, adds Qayyum. "We used to a have a majority of Japanese-manufactured cranes in the Pakistan rental market but now people are starting to purchase Chinese manufactured cranes."
Aiding the attraction of Chinese products is the China–Pakistan Free Trade Agreement, which has seen favourable duties on goods.
Building awareness
Apart from regulations there are also no associations or trade bodies to represent the access sector and lobby the government for change. This means, says Qayyum, that Fleet has to work on its own to establish safety procedures and create awareness.
A specific arrangement is through one of the company's largest clients, a steel manufacturer, with which they will work jointly to promote the use of access.
Qayyum does not see an access-specific association being established any time soon. "Once we have a larger number of rental companies, then we can set up an association, but right now we don't really need one. The market is not big enough - equipment rental is just getting started.
"We are doing many things right now to promote access. You could say we are applying the concept of a sharing economy."