Portable power, light and on-site equipment
Portable power and a reliable light source are essentials for a busy job site. Advancements in this section of construction equipment is focused on finding solutions to environmental concerns and taking advantage of new technologies.
Considering the latest emissions regulations, most manufacturers are making the push towards so-called 'green' technology in equipment design.
Alessandro Rossi, managing director at Generac Mobile, said, "This year has brought immense change to the manufacturing of power generation, lighting towers, and mobile site equipment.
"The proliferation of LED, changes to engine technology with the introduction of Stage V, the rise of Lithium-Ion in hybrid models and the demand for zero carbon products has seen this sector shift towards a more customer-centric model. It is a new era that focuses on increasing utilisation with ecological and sustainable solutions."
Belgium-based generator manufacturer Europower said that the arrival of Stage V in Europe has had many consequences, including the new design of existing products and new matching tests. Jens Fets from Europower Generators, said, "One of the new developments is a tailored generator for hybrid applications or appliances with a smaller consumption, but an intensive use.
"This EPS3DE generating set has a 1,500rpm engine and delivers 2.5kVA; enough for charging battery packs. The generating set is very compact (123 x 64 x 68cm) and quiet (only 60dB(A) at 7m). That's why it is the perfect machine to install in mobile lighting towers or camera surveillance units that run on battery packs."
Generator sets manufacturer Inmesol, based in Spain, has recently incorporated its latest generation of DSE61XX control units in its generator sets. The MKIII version includes enhanced event and planning performance, remote communication and programmable logic controller (PLC) functionality. System expansion is achieved with DSENet terminals including a USB connection, the company said.
Solar power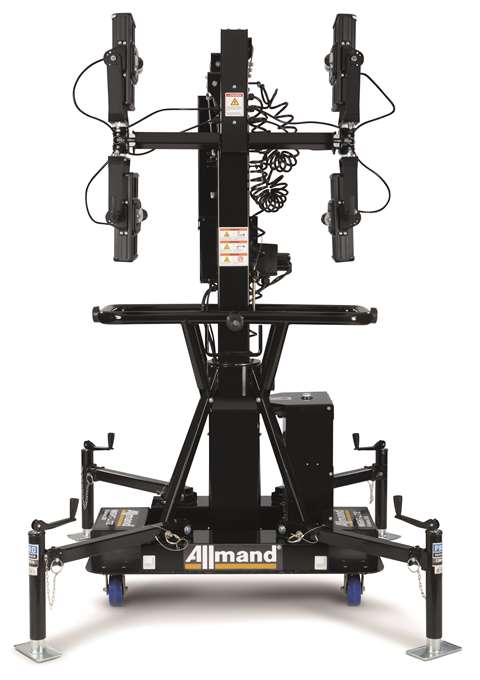 In keeping with the theme of providing power for less energy consumption, Phil Winnington, international business director at Morris Site Machinery, said, "We use lower powered engines with the switch to LED lights from metal halide to reduce emissions and save on fuel while not compromising on efficiency. Our lighting towers are designed to meet increased demands for super-silent, clean, energy saving equipment that gets the job done."
Morris said it was the first company in the UK to produce solar-powered lighting towers.
Solar options include the TL55 Solar, which is said to offer 'indefinite' run time with the right solar output, or up to 500 hours with a battery. The TL60 compact solar model with three 45 Watt (W) solar panels is available as a trolley, road tow or skid option.
In 2018, Allmand Bros launched its latest lighting tower product, the Night-Lite E Series.
Joan Westwater, product manager at Allmand Bros, said, "Allmand is constantly looking for creative ways to develop job site equipment that is more efficient and environmentally friendly. The fully electric Night-Lite E Series light tower can be powered by a standard wall outlet or external power source. With multi-directional forklift pockets and the ability to withstand 50mph winds, the unit has the durability to be used in many different environments."
In addition to the E Series, Allmand said it is engaging in other developments to strengthen 'environmentally conscious' offerings.
Sweden-based Atlas Copco's new 'plug and play' HiLight E3+ electric light tower is said by the company to have environmental resilience. Its internal electronics, control panel and connectors are protected by Atlas Copco's HardHat canopy, while the complete assembly has a certified wind stability of 100km per hour and a heavy-duty 7m mast.
Félix Gómez, Atlas Copco divisional product marketing manager, light towers, said, "The HiLight E3+ light tower will operate reliably throughout the most demanding conditions found at construction sites."
Back in March, the company launched new versions of its XAVS 238 and XATS 288 portable compressors, said to have a 27% smaller footprint than its predecessor. Other improvements include a new engine that contributes to a 10% reduction in energy consumption, and 20% reduction in weight.
The single-axis compressors also have the company's pressure adjusted through cognitive electronics (PACE) compressor control system, which Atlas Copco says extends the operating spectrum for a single compressor from 7 bar to 14 bar.
Westwater at Allmand explains that listening to the 'pain points' of customers and developing solutions to address them is key for a better customer experience and value. She said, "Customer feedback is used in the development of fuel-efficient engines, incorporating quality LED light fixtures, better spill containment, increased maintenance intervals and increased machine run time.
"Incorporating customer feedback into our design efforts has helped Allmand offer a smaller overall footprint, increased equipment resale value, lowered total cost of ownership with a higher return on investment."
Customer trends in construction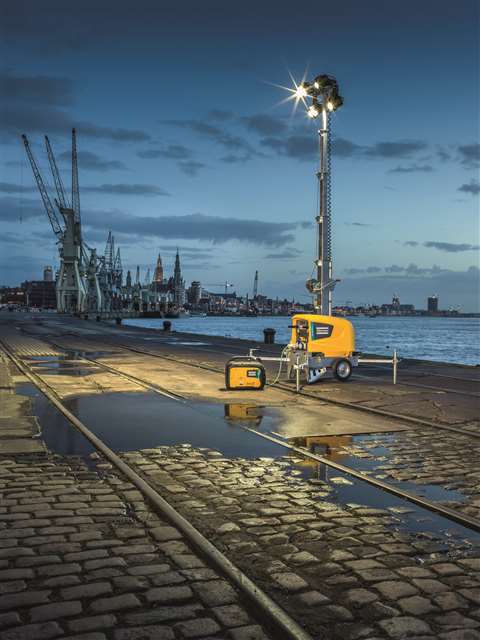 Over the last 18 months, Generac has seen two customer trends dominate. Firstly, an increasing demand for resilient, sustainable products such as battery and hybrid options that perform as well as diesel with long run times and robust service intervals. The second trend is focused on technical advancement through software and telemetry.
Rossi at Generac said, "We are excited to launch our new telemetry system this autumn, developed in association with Trackunit. It offers a simple and dynamic platform to help customers all over the world remotely track, map and monitor industrial lighting fleets in real time.
"We anticipate that over the next few years, telemetry and digitalisation of products will reshape the construction sector in the way it uses and specifies site equipment. Hirers, operators, fleet managers and manufacturers will be able to share the insights and take advantage of the analytics and data gathered from telemetry. Operators can achieve considerable cost savings, create new revenue models, and in the future, bring forth new and enhanced product design."
For Morris Site Machinery, working closely with customers to create products has led to a growing Australian business building models to suit specific terrains and temperatures.
Winnington at Morris states that customers not only expect lower emissions and fuel consumption but are challenged to meet new legislative guidelines, such as Stage V emissions regulations.
"The new TL90 Evolve lighting tower is not only our next generation tower but already Stage V compliant," he said. "Reducing environmental impact remains a key factor with customers – not only on site with regards to emissions but also in transit."
This tower has a fuel-efficient run time and can be fitted with three different lamp head options. The company's new SMC TL60 Solar Trolley is a fully solar powered, easily deployable unit which produces zero noise and zero emissions. Designed to be manoeuvred by a single person, 30 units can fit onto a Euro trailer, ideal for reducing the carbon footprint of transport and logistics.
Winnington added, "When fitted with Passive Infrared Sensors, our SMC TL55 Battery lighting tower can run for up to 500 hours on a single 11-hour charge, while the TL55 Solar can run indefinitely in the correct circumstances."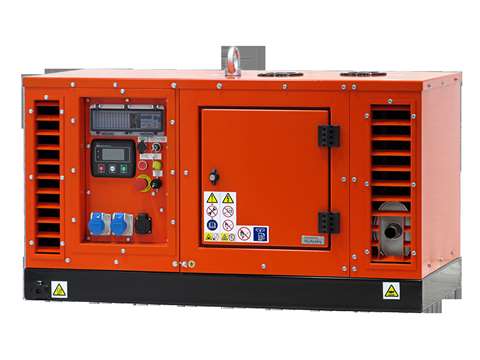 Europower use the new EPS3DE as an example of the increasing demand from its customer base for smaller diesel generators. This generating set is said by the company to work with battery packs or direct supply to LED lighting.
Jens Fets said, "Another development we are currently working on is the parallel operation of generators. Many people are choosing to use more than one smaller generator that works on 'load on demand' instead of one heavy generator that is running underloaded 75% of the time."
Green energy in construction

Europower has noticed that the Scandinavian countries and Germany, Switzerland and Austria are starting to focus more on 'green' technologies.
In the US, the most popular regions for 'green' technology are the West Coast and surrounding States – specifically California, Washington and Oregon, Allmand said. Alaska and Hawaii also drive requests for equipment with lower overall environmental impacts.
Generac are investing in 'smart solutions' that give users an alternative fuel choice.
Rossi said, "We're seeing this trend all over the world as efficient light and power are critical sources to help keep teams working and projects on track. Even in developing markets, the need to offer more innovative products is critical to help companies stay ahead of the curve in construction.
"In the southern hemisphere, we are seeing demand for solar solutions in lighting. We are currently looking at how we can harness this renewable energy source to provide a unique product which can harvest and store the solar energy and use it to create powerful lighting towers. In the northern hemisphere, where solar harvesting is relatively low, we will focus on improving the hybrid engine option to ensure reliability and robustness, while delivering a 'green' product with net zero carbon emissions."
Looking to the future of this sector, it is clear that there will be more innovation and investment in solar machines as companies look to alternative energy sources to produce more sustainable equipment than ever before. This trend may, at the moment, be more focused on specific countries in Europe and parts of North America but – as can be seen with the growth of green energy in China – it is a trend that will slowly but surely spread around the world.
Converting waste into energy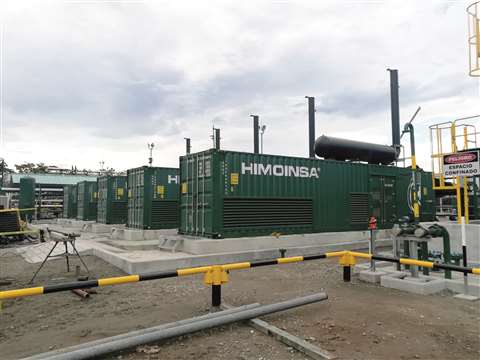 Himoinsa supplied 5 megwatts (MW) of continuous power with generator sets powered by wellhead gas to the energy needs of Ecuador's most important oil field.
The 5 HGS 975 T5 WG units are designed to work in parallel with other diesel generator sets on the power plant in the Orellana Province in the Ecuadorian Amazon.
This project has been developed using the most advanced technology and environmental measures, Himoinsa said, minimising the environmental impact on the Amazon ecosystem. This includes directional and horizontal drilling, which make it possible to use a smaller drilling surface by placing several wells on the same platform.
Gas-powered generator sets use the associated gas generated by the crude oil extraction process itself as a source of energy, thus converting waste that is harmful to the environment into energy. The sets are said to reduce carbon, CO2 and NOx emissions.
Hydro-blasters for earthmoving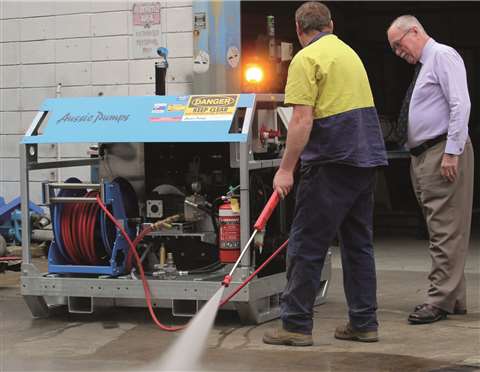 Australian Pump has released its Extreme series of 500 bar (7,300 psi) hydro-blasters. These new high-pressure cleaning machines – suited to the earthmoving industry – take pressures and flows higher to provide more power for key projects, according to the company.
Hamish Lorenz, operations manager at Australian Pump, said, "We found that a lot of cleaning applications of big plant need a combination of pressure and flow to get the job done fast. The reduction of cleaning times was a big driver."
The Aussie Extreme is powered by Yanmar's TNV series with an integrated control panel that provides full engine protection including an hour meter, low oil and high-water temperature.
A 60 litre stainless steel break tank with low water shutdown and 50 litre fuel tank is also installed. The company said that the unit can run continuously for up to eight hours.