Portable power & on-site equipment: Supporting acts
By Thomas Allen19 April 2018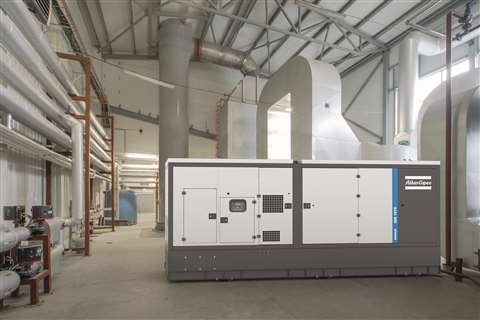 On a construction site, one's attention might be drawn immediately to the large cranes and excavators, and it can be easy to overlook the paraphernalia that surrounds and supports them – and yet, all that on-site equipment is essential to the smooth and safe running of a jobsite.
Manufacturers are constantly working to introduce new ideas and models that solve problems, enhance efficiency and meet updated standards – all the while, withstanding the various rigours of construction sites.
For example, Swedish-based Atlas Copco has extended its range of QIS generators with the addition of five new models designed for industrial environments where the demands are high.
Ranging from 875 to 1,420kVA, the new generators were said to have modular capabilities and 30% more interior space available for expansion or the inclusion of extra communications modules, despite having a 25% smaller footprint than comparable models on the market.
Atlas Copco has also worked to reduce the amount of noise produced by the generators.
Julio Tome, product marketing manager for large generators in Atlas Copco's portable energy division, said, "We have tested and certified a 1MW generator at a noise level of 70dB(A) at 15m distance, which means they are suitable even for use in residential areas."
The QIS models have undergone a range of tests to ensure they meet the standards demanded of them, including a transient behaviour test, ambient temperature performance test, water ingress test, and extensive noise testing.
Boasting 5% fuel savings, the new range features premium engines with high load acceptance, in addition to an IP23 alternator with auxiliary winding that withstands 300% overcurrent during the first 20 seconds.
Tome said, "This ensures an instant start, guaranteeing power and performance at exactly the moment it's needed."
The new models were also said to have 500-hour service intervals, which can be further extended if the user chooses to integrate optional features such as a heavy-duty fuel filtration system with water separator, dual stage air filtration and oil drain pump.
Aimed at rental
Four new generators have also been introduced by UK-based manufacturer JCB – the G60RS, G80RS, G100RS and G125RS models. These diesel generators range from 60 to 125kVA and are aimed specifically at the rental market.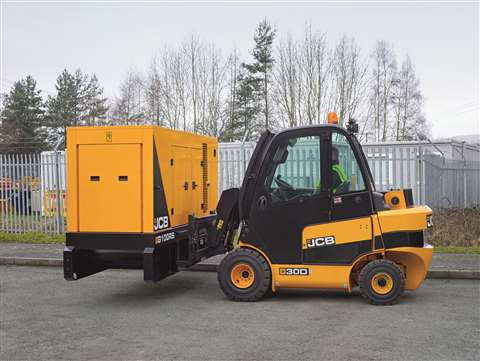 The 60, 80 and 100kVA models are powered by JCB's mechanically-controlled Stage IIIA-compliant DieselMax engine, while the 125kVA model has an electronically-controlled DieselMax variant. There are a number of new components that complement the DieselMax, helping to maximise performance and efficiency.
The generator design has been future-proofed so that it can be updated with engines up to Stage V emissions standards in the coming years.
Specific to this generator range, the control panel, sockets and busbar are all located together at one end of the machine, making for quick and easy control and connection when deploying on site.
The new models also feature the company's LiveLink for Power telematics system – which allows remote monitoring and management of a fleet of generators – and Deep Sea Electronics controllers, which were said to be user-friendly.
All this is fitted inside a robust, sound- and weather-attenuated canopy that is Zinctec powder-coated for additional longevity and has a single integrated lift point.
The canopies on Himoinsa's generators have undergone an improvement process to ensure that the risk of water ingress is minimised in strong storms and high snowfall.
All gaskets have been sealed with high-density polyurethane, which is particularly resistant to ultraviolet radiation, a number of chemical products, and extreme temperatures – from minus 30°C to plus 90°C.
The air intake vent on some models also features a FireFlex polyester-based foam that stops water from reaching the bodywork and reduces the noise emissions levels of the generator.
Himoinsa's canopies also include the option of anti-rain slats on the radiator, to ensure that when the machine is not working, any water that may get through the air outlet of the radiator does not leak onto the engine. However, this can affect the operating temperature and is therefore only recommended in places with an ATB (air to boil) lower than 35°C.
Two new generators – the G20IIIA and G30IIIA – have also been introduced by Doosan Infracore Portable Power.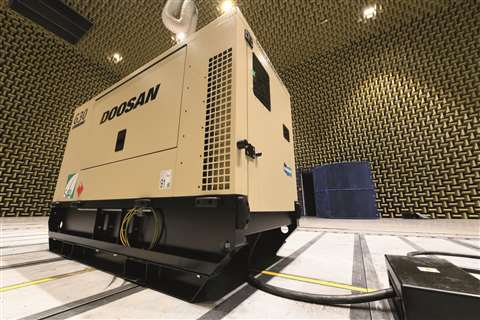 The G20IIIA has a power output of 19kVA and is driven by a Yanmar 4TNV88 19kW diesel engine, while the G30IIIA has an output of 30kVA and is powered by a Yanmar 4TNV98 31kW diesel engine. Both meet Stage IIIA emissions standards.
Of particular interest to the rental market, the fuel tank configuration on the new generators were said to ensure autonomy of at least 47 hours for the G20IIIA and 55 hours for the G30IIIA at 75% of the load.
Safety and ease of use were said to have been a priority in the design of the new generators, so that good access is provided for maintenance work and the control functions on the 4510 Deep Sea Electronics are grouped together for simplicity. Critical operating parameters can be viewed at a glance.
Doosan has also launched a new LED balloon light that complements the company's light tower range.
The BL600 LED balloon light comes in a compact bag that weighs 12kg in total, and with automatic inflation that takes 45 seconds, it can be installed by a single worker. It is also available in a rigid transport case available that measures 100cm in length and 26cm in diameter.
The 600W light only requires a small 1kVA generator and it can be mounted on a wide range of equipment. A tripod can be used for stand-alone installation.
The unit provides a homogenous white light over an area of 650m2, with a light intensity of 500 lux under the balloon at 2.5m.
With its strong woven fabric envelope and the ability to withstand wind speeds of up to 100km/h, the BL600 LED balloon light has been designed to withstand the demanding conditions of a construction site.
Inflatable lighting
US-based General Equipment Company is also offering a line of inflatable temporary lighting solutions that are portable and are designed to provide 360° diffused illumination in both large and confined areas, indoors and outdoors.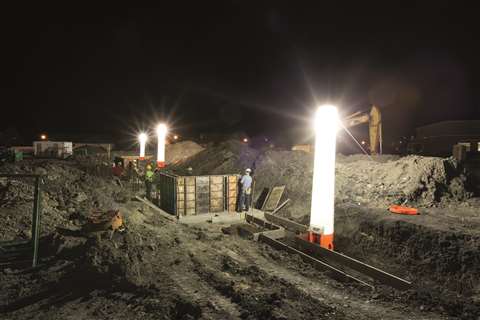 With a cylindrical load-bearing nylon tower that is inflated with constant air pressure delivered by an integral blower system, the units can be installed and ready for operation in approximately one minute, without the use of special tools or additional components. Also, they can remain inflated with minor cuts or perforations.
The company's lighting towers are available in heights of 2.3, 3 and 4.3m.
Morris Site Machinery, based in the UK, has developed the SL80 Pallet light, which is a static 8m lighting tower intended to offer a compact and transportable solution.
As a result of its small footprint, it was said that 22 units could be loaded onto a Euro traveller. And with multiple specification options available, it was also said to be flexible.
The lighting tower can be supplied with either a Perkins or Kubota engine. With the 403D-07G engine, it has a run time of 246 hours and four 300W LEDs delivering more than 150,000 lumens. Meanwhile, the Kubota Z482 engine has a run time of 265 hours.
The SL80 Pallet can also be fitted with the company's new anti-glare Halo lamp head.
Bespoke solutions
Specialist equipment and crane hire firm Hewden has noticed a growing demand for bespoke solutions on large-scale jobsites, whereby contractors are supplied not just with power generators but also with suitable equipment to accompany it.
Kevin Warne, UK operations manager for power at Hewden, said, "It's no longer enough to supply off-the-shelf rental equipment. Today's contracting businesses are looking for bespoke, integrated solutions. That means that, as well as renting the power generator, customers also want to rent all the ancillary equipment such as distribution boards, lifting devices, and even cables."
The challenge was said to be in providing each rental customer with a solution that was fit for purpose, without having to design a completely bespoke product each time.
Being able to distribute the power generated by a typical 400A generator safely and effectively to a multitude of applications is critical, and Hewden identified the power distribution unit as one of the products where requirements could differ most substantially between rental customers.
In order to overcome this, Hewden turned to electrical distribution specialist ide Systems.
Andrew Whyatt, chief electrical engineer at ide Systems, said, "We were tasked with developing a 400A, three-phase, mains distribution unit for use across a variety of temporary electrical installations."
The brief given to ide Systems required that the unit be robust and weatherproof for outdoor use, as well as compact and lightweight for easy storage and transportation.
Most importantly, it had to incorporate a modular design on the outgoing power supply side where interchangeable distribution units could be swapped in and out based on each customer's requirements.
Given these criteria, ide Systems produced the modular 400A three-phase MD400 HSL distribution unit, housed in a stainless steel enclosure constructed with an IP55 ingress protection rating.
Inside the unit, the incoming end section, which incorporates a door-interlocked moulded case circuit breaker (MCCB), feeds the fully-rated copper busbar system.
This then leads to four outgoing supply compartments, which have one 200A and three 125A rated supplies. Each supply compartment comprises four-pole MCCBs complete with adjustable and switchable earth leakage relays.
Dewatering
Looking at other on-site equipment, US-based Thompson Pump has introduced its 6JSCEE dewatering pump.
Powered by an Isuzu engine, it was said to be versatile, for use on bypasses and general construction dewatering applications.
It is able to reach flows of 2,600gpm and heads of up to 45m, while also handling 3in (76mm) solids.
The 6JSCEE is part of the company's JSC compressor-assisted pump series with Thompson's Enviroprime System and automatic priming.
Meanwhile, Czech-based Atmos has been working to develop two new air compressors that overcome the challenges posed by Stage IV emissions standards.
According to the company, a portable compressor's quality, reliability and efficiency broadly depends on its prime diesel-drive engine. However, the introduction of Stage IV diesel engines has made portable compressors less robust.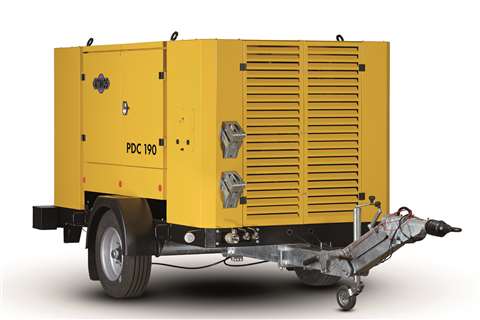 This is because, in order to comply with the standards, the engines have become substantially more complex, with a greater number of electronic controls and valves. This leads to more downtime and increased cost to operation. In addition, the engines require AdBlue, which complicates the logistics around rental machines.
Atmos' solution is based on the concept of constant-speed engines developed by Caterpillar's engines division.
As a result of the absence of emission-creating changes in engine speed, they are CE compliant.
Atmos has designed the compressors with oversized engines that work on the optimal point of fuel consumption on the engine speed curve. Due to the high power margins, the full load engine sped is only 1,800rpm, and at partial load it can be operated in ECO-mode at 1,500rpm, achieving fuel savings.
The two new platforms produced by Atmos are driven by Caterpillar engines. The PDC90 is equipped with a Cat C4.4 and has a free air deliver of 12 to 7.5m3/min at overpressures from 7 to 14 bar, while the PDP190 is equipped with a Cat C7.1 and runs from 25.2 to 19.9m3/min at available pressure levels of 8.6, 10, 12 and 14 bar.