Portable Power: Power on demand
By Joe Malone13 September 2016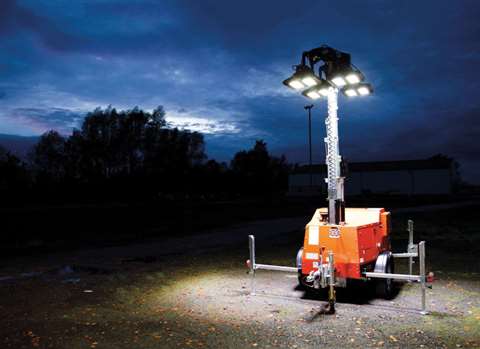 Advances in construction equipment technology have the capacity to increase performance and bring down costs, as well as improving both working conditions and efficiency on job sites.
It's fair to say, however, that these advances – and the increasing array of possible solutions – bring with them their own problems, as the pressure to choose the right piece of kit becomes ever more complex.
In this feature, we will look at generators, compressors and lighting towers. Within this relatively niche subset of construction, there is huge scope for getting things right… and wrong.
Size is important
Taking generators as an example, the balancing act begins with the size of the machine in terms of its output: too large and the power at your disposal is under-utilised – especially if the site is not operating round the clock; too small and delays will result.
Before choosing the generator, come calculations must be made, to ensure there is enough power for the number of tools that could potentially be running off the equipment at any one time – plus a little to spare.
This is just the beginning; there is also fuel economy to be considered, as well as hybrid technology, control systems, telematics and more.
Inverter generators now offer clean and quiet power (at a higher price, it shoudl be said); they are particularly suited to powering sensitive electronic equipment, and operating in noise-sensitive areas, or where the resonance from a standard generator may cause problems.
Chicago Pneumatic is one of the companies at the forefront of the 'which generator' conversation, with new optional features on its CPDG mobile diesel-powered range of generators.
Higher capacity fuel tanks, road trailer options and a galvanised skid to add robustness to the equipment where it will reside on uneven surfaces.
The CPDG generators offer extended run times with 48 hour or 1,000 litre fuel tanks, depending on the power mode.
With 500 hour service intervals, the range – from 9 to 40 kVA ratings (with power nodes up to 200 kVA coming) is fully CE compliant for use in Europe.
More power, same footprint
In the interests of keeping the generator footprint small while delivering more power, Atlas Copco has introduced the 630 to its QAS range.
The generator incorporates the frame of the QAS 500, but can generate630 kVA, an increase in power of 20%.
Julio Tome, product marketing manager for large generators at Atlas Copco, said, "Since we introduced the new QAS line in 2007, we always intended for the complete range to go up to 630kVA. Today, we have achieved that milestone in the most innovative way, by fitting the new model into the frame of the existing QAS 500. The guiding design principle of the range was to be modular, compact and robust, which are important features for the rental sector and complementary to our forward-thinking approach."
The QAS 630 has a fuel tank with a capacity of over 900 litres, as well as a galvanised spillage-free frame, offering a reduction in both noise levels and environmental impact.
In addition, a digital AVR voltage controller is an option on the generator, allowing users to downsize the required generator by managing the transient behaviour of the power. In this way, lower fuel consumption, reduced maintenance and longer life can be achieved.
Atlas Copco has also introduced two new inverter power (iP) generators to the market – the P 2000i and P 3500i models.
In simple terms, the lightweight and efficient inverter generators produce high voltage multi-phase AC power, which is converted to DC, then inverted back to AC power at the required voltage and frequency.
With low fuel consumption, the inverter generators – which can be used in parallel to increase overall power capability – can run for up to six hours before requiring refuelling.
Sergio Salvador, product marketing manager for small generators at Atlas Copco Portable Energy, said, "Construction sites are becoming more demanding in terms of power needs. Low noise levels are required on all metropolitan construction to avoid noise pollution. In addition, wider environmental issues, such as reduction of CO2 emissions, are also a big consideration. Therefore easy transportation and reduced fuel consumption are a firm customer requirement."
Speaking of generators working in parallel, one of the main distributors responsible for supplying electricity to the Republic of Panama, recently purchased 11 generator sets from Himoinsa.
Using them in parallel, the generators are able to produce up to 5 MW of power. They are now ready to supply emergency cover, should there be incidents interrupting the flow of electricity form the distribution grid, which powers more than 600,000 customers in the country.
The canopies of the Himoinsa generator sets provide the highest level of soundproofing, with each unit coated on the inside with class M0 volcanic rock wool, with a density of 145kg/m3.
GenSet technology
JCB's new RS generator range, due to be unveiled over the next 12 months, will cover power outputs from 20 kVA to 220 kVA and eventually up to 2000 kVA .
RS generator sets include a robust, heavy duty rental skid base with 12 hour bunded fuel tanks, steel canopies and single point lifting and fork lift pockets for easy handling. Control options including synchronisation are also available, together with JCB's LiveLink telematics system.
LiveLink provides generator performance information such as load, idle time and generator working hours data. The system also offers fleet managers a remote management solution that helps in the planning of preventative maintenance and allows rapid fault diagnosis in the case of unscheduled downtime.
The smallest models in the line-up, with outputs of 20 kVA to 45 kVA, are powered by the fuel-efficient JCB by Kohler diesel engines, while 60 kVA to 131 kVA and 160 kVA to 200 kVA models come with JCB's own Dieselmax engines. Larger 300kVA to 500kVA models will be Volvo-powered, while generators with 800 kVW to 2000 kVA outputs are powered by proven Cummins diesel motors. The range also includes Stage IIIA engines to suit all legislated regions.
The processes for selecting generators and compressors are similar, with calculations based on keeping the optimum number of tools running at maximum capacity, to ensure a solid return on investment.
Pressure's on
With compressors, it's about getting a return on your investment in pressure, but Rus Warner, director of product management at Sullair, has warned, "You can lower your pressure within reason, but you don't want to go too low because there is a tank that separates the oil from the air before it goes out and there are filters in there. You can collapse your filter system and damage the machine if you push it too low."
As well as being sturdily built internally, compressors on construction sites, like generators, need to have tough frames. The new Doosan range of high ambient portable compressors are built to withstand hard knocks, and also come with the option of a bunded base, ensuring all operating fluids stay within the compressor.
These small compressors are designed for a range of applications, including powering breakers and tools in road repair, demolition and refurbishment.
The 7/53 HA portable compressor is the latest addition to the range, in the Stage IIIA category. It supplies 5.0 m3 and is powered by a four-cylinder mechanical turbo-charged Yanmar liquid-cooled engine, producing 36 kW of power.
The compressor comes with a range of running gear options, or a permanent metal support, if equipment is to be truck mounted.
All the Doosan compressors in the high ambient range include free air deliveries and have a rated operating pressure of 7 bar. Each also has the option of an integral 6 kVA generator, which increases the machine's flexibility by supplying electrical output in addition to compressed air.
Low emissions
Also new on the market is the M125 portable compressor from Kaeser Kompressoren, which is smaller and lighter than the popular M130, but has a new variable pressure feature, allowing it to be operated between 7 and 14 bar at any time.
The compressor features a diesel particulate filter as standard and a low emission Deutz engine, making it a solid choice in low emission zones.
With stationary and mobile models in the range, the M125 is also available with a 13 kVA or a 23 kVA generator. When combined, the compressor's integrated Sigma Control offers dynamic delivery control, automatically adjusting maximum compressed air delivery, according to how much electrical power is required.
Fuel efficiency is another important consideration when choosing a compressor and Atlas Copco's XAS 185 features a fully automatic regulator that constantly varies the engine speed according to air demand, which minimizes fuel consumption.
With its 90-litre fuel tank, the compressor can keep running throughout a full eight-hour shift without the need for refuelling.
As well as Atlas Copco's HardHat® canopy, made from durable weather-resistant polyethylene, the XAS 185's exterior parts are made of a powder-coated steel for corrosion resistance.
Michael Sagermann, Atlas Copco vice president, business lines manager, portable energy, said, "We strive to develop equipment that is among the most efficient in the industry, from the engine to maintenance. This not only makes the XAS 185 ideal for contractors, but also rental centres, where high utilisation and fast ROI are key."
Safety is another priority for equipment such as compressors, and the US firm Jenny Products has been awarded the Underwriter Laboratories (UL) designation for safety standards across its full range of electric motor piston air compressors.
"It takes significant investment and effort to be UL Listed, and receiving approval from both UL and CSA is a proud milestone that speaks to the inherent safety of Jenny air compressors," said Daniel Leiss, president of Jenny Products. "This pushes Jenny to a safety standard not found with most compressor manufacturers."
Bright ideas
When it comes to illuminating job sites, there are a wealth of options. Himoinsa has introduced a new gas-powered lighting tower – the AS4012 LPG. The tower is fuelled by four LPG cylinders, and powered by a Yanmar 3GP88-GB1PB engine, whose additional power for auxiliary supply rises to 5 kW (50Hz) and 7 kW (60Hz).
Manuel Aguilera, gas product manager at Himoinsa, said, "We think the AS4012 LPG lighting tower is the first 100% LPG lighting tower on the market. It's also well-suited to inner-city working. Versatility is key here."
The AS4012 LPG also offers reduced oil change intervals – changes are needed every 500 hours, compared to the 200 hours required by diesel engines. The new model has four 1.000 W lamps and its mast can be rotated 360o, lighting up to
32000 m2.
Meanwhile, Atlas Copco has completed its HiLight range – a seven-model series, including four LED lighting towers. The HiLight range comprises the H5+, B5+, V5+ and E3+ LED light towers, plus the V4, H4 and E2 metal halide variants.
The latest edition is the HiLight H5+, with four LED lamps each projecting 350W of light. It is capable of illuminating an area of 5,000 m2, and the model's compact size means 10 units can be moved on a standard 13 m truck, according to Atlas Copco.
Similarly, the HiLight B5+ model features a compact box-unit design, which makes it well-suited for mass transportation and easy installation. And the new HiLight E2 and E3+ are electric models – Atlas Copco said users simply connect to any power source, including auxiliary power, electrical generator or directly into the grid.
Morris Site Machinery's SMC TL-90 ELV is another new low voltage LED model – described as one of the most efficient extra low voltage lighting towers on the market. Compact and easy to transport, it boasts four 300W LED lamps offering a spread of up to 100m. The company said this model offered 165 hours of uninterrupted operation.
And SDMO has launched the first model of its new LED lighting tower– the RL4500-5.
Boasting three 450W LED spotlights power, the new model boasts low fuel consumption. The LED spotlights are also said to be "extremely" heavy duty and designed for use in tough conditions.
Another new LED model comes from Paclite in the form of the PL-2000 LED Eco. The manufacturer said the principle features of the PL-2000 LED Eco included 8m maximum height, manual rotation through 340o, four 500W LED heads and lifting points for cranes or forklifts.
Other advantages include compact transport dimensions and a low operating weight of 750kg. The unit is powered by a 24kW engine.
Lighter lights
Ritelite Systems has launched its new 5 m working height K50 and 6.5 m height K65 lighting towers, available with a range of metal halide or LED light heads. The new models also boast a rapid one-person deployment system and Ritelite said the new units could be deployed by one person in less than three minutes.
Manufacturers are busy squeezing more lighting power into smaller dimensions – targeting the highly portable end of the market. One such is Paladin, which has introduced the Case Light CLU10K, which folds up and fits into a robust, portable case.
Weighing 7.9 kg, the CLU10K offers up to 10000 lumens of LED light for four hours on cordless battery power and can be deployed in under 15 seconds, according to the manufacturer. Brian Richardson, executive vice president of sales, said the aim was to make a quick-deploying, bright and battery-powered light.
"Industrial contractors have increased demand for compact, portable models like the Case Light," he said, adding that LED technology was allowing smaller, more portable designs to be developed. "An item like this reduces the need for additional staff, vehicles and cumbersome equipment. Because of its ability to withstand harsh conditions and quickly access remote locations, unlike heavy and fixed lighting."
Meanwhile, Generac Mobile Products is offering buyers the opportunity to customise their lighting towers. The company has launched a new version of its Cube+ lighting tower and generator.
New features include an integrated control panel for all functions; the use of low 24 V LED lamps (230 V metal halide also available); and a modular design that allows the customer to specify three engines types (single, twin or three cylinders) plus a hybrid option as well.