Potain cranes at Pioneer Park
By Laura Hatton26 August 2015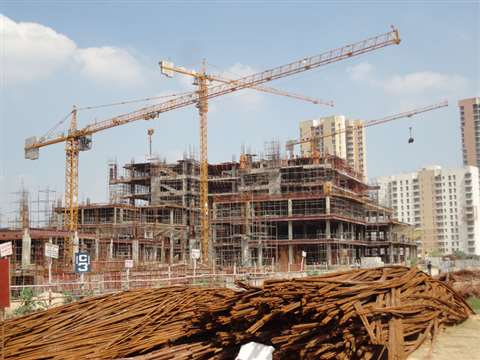 Contractor Urban Ecoinfra is using six Potain tower cranes to help build the Pioneer Park development in Gurgaon, India.
Urban Ecoinfra has been the main contractor for the 30 hectare site since 2011 when it was appointed by developer Pioneer Urban Land and Infrastructure to take over the work from the previous contractor.
To help get the project back on schedule a new management team, schedule and cranes, including five Potain MCi 85s and a MC 205, were brought in. The 5 tonne capacity MCi 85 can lift 3 tonnes with a 25 m jib and 1.3 tonnes with 50 m jib. The 10 tonne capacity MC 205 tower crane has two 5 m jib sections which can be combined into a single 10 m jib section for faster assembly. Jib lengths are up to 60 m with a 2.4 tonne capacity at full length.
Rakesh Bohra, Urban Ecoinfra senior vice president said, "When we first took over, we quickly determined what we could change and there was a strong consensus that we could get greater productivity and longer periods of uninterrupted work time with better tower cranes. Given the time pressures on this job we can't afford any delays or to take any risks, so we chose Potain tower cranes. We replaced the previous cranes with six new Potain cranes so we could meet the efficiency levels needed to complete this project on time. We have not been disappointed – the cranes have performed beautifully and we are extremely satisfied with their productivity and reliability."
The project includes the Presida residential development, which is made up of five 120 metre high luxury apartment blocks. Two MCi 85 cranes were installed on this part of the project until completion in 2014. On the Araya residential blocks is a MC 205 tower crane and two MCi 85 cranes, one of which had been part of the development of the Presida project. Once complete, the Araya building will be 150 m tall. The remaining three MCi 85 cranes are at work on the retail and commercial building, which is scheduled for completion in September this year.
Amit Mahajan, Urban Ecoinfra deputy general manager of plant and machinery, said, "So far we've had no stoppages on the project caused by problems with the tower cranes. We're extremely satisfied with their performance and reliability. Many of our projects are transitioning from more traditional construction methods to modular processes, so having proven and reliable equipment is crucial to our success. And it's also good to know we have Manitowoc Crane Care support if we need it."
The Pioneer Park will include a hotel, commercial complex and residences.