Potain's new Hup 40-30 self erector
By Alex Dahm04 October 2016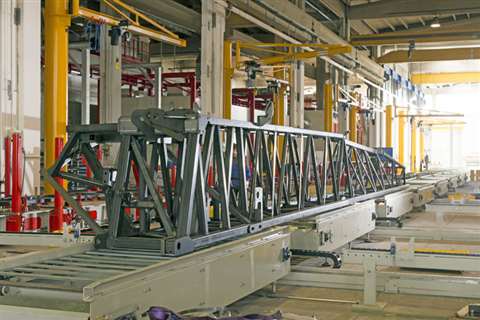 Manitowoc has launched its Potain Hup 40-30 self erecting tower crane. It is the second model in the new Hup range first shown at April's Bauma exhibition in Germany.
Like its smaller Hup 32-27 sibling the Hup 40-30 has a telescopic mast that can be set at different working heights. Its 40 metre luffing jib has three positions: horizontal, elevated 10 degrees and by 20 degrees. Height under hook ranges from 20 to 40 m. Capacity is 4 tonnes and it can lift 1 tonne at the end of its jib.
Jean-Pierre Zaffiro, global product director for Potain self erecting cranes, said that the Hup series marks a new era in self erecting cranes, with new technologies enabling more versatility than ever before. "We are at the forefront of self erecting crane development and our new Hup 40-30 demonstrates this," Zaffiro said. "We have introduced several new features with the Hup range that will increase speed, efficiency and versatility for our customers. These advancements will certainly increase return on investment for many lifters."
The new Potain Hup range replaces existing Igo series models. Deliveries of the Hup 40-30 will start in early 2017, Manitowoc said.