Potteries Heavy Haulage buys Goldhofer low loader
By Christian Shelton11 August 2017
UK abnormal load haulage company, Potteries Heavy Haulage, has added a Goldhofer STZ-VP 2 wafer deck low loader to its fleet.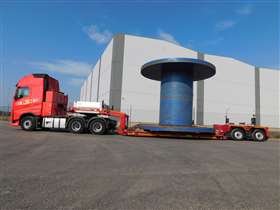 The Goldhofer STZ-VP 2 wafer deck low loader supplied to Potteries Heavy Haulage.
Photo by Goldhofer.
"Apart from the usual cargoes, like pressure vessels, generator sets, structural components and machines, we also transport industrial plant," said Rob Powell, operations manager at Potteries Heavy Haulage. "In addition, our transport portfolio includes boats and construction machines such as excavators and cranes. In the light of this extensive range of haulage services, the STZ-VP 2 is the perfect answer to our need for an almost universal low loader. We also benefit from the high payloads made possible by the low deadweight and from the high standard of vehicle safety and good tracking performance."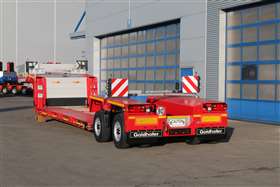 The STZ-VP 2 wafer deck low loader has a fifth-wheel load of 23 tons, a 22cm deep extendable low-profile deck with outer beams, and a floor that can be inserted so that the low loader can be used as a flat bed or vessel deck. Plus, it has additional coupling points to take more beams and increase the overall lower deck length, as well as a deep and wide excavator/vessel recess in the rear bogie.
According to Goldhofer, the hydraulic gooseneck is fabricated with outer beams, so when transporting boats, for example, the boat's bow can be positioned further forward. The bogie is Goldhofer's two-axle pendular axle bogie with a loading height of 1,100 mm. The low loader has a suspension stroke of up to 600 mm and a maximum steering angle of 60 degrees to enable maximum manoeuvrability.