Pumps: Raising expectations in Europe
By Richard High09 May 2008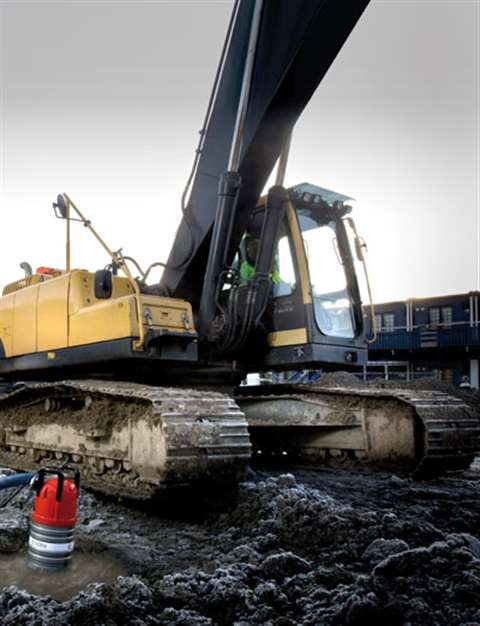 With strong sales in 2007 coupled to high expectations for 2008 and beyond, pump manufacturers are in confident mood, while new pumps are designed to be more productive and allow easier service and maintenance. Richard High reports.
The European pump sector is in robust health according to Stephan P North, European marketing manager at Gorman-Rupp. "We had an excellent year in 2007, recording our biggest increase in almost five years - +25% across the board," he said.
Mr North told CE the company had seen "particularly strong demand" in Portugal and Belgium, while the UK had been "not bad." Eastern Europe, while still very much part of the company's future plans had also seen Russia and Poland feature "strongly" in its sales figures for 2007.
"Poland has been good for us since 1989," said Mr North, "and with the emphasis in several countries on preparing to join the European Union the future looks good."
Tsurumi is another company to have had a good 2007, according to European marketing manager Stefan Hörnschemeyer. Also describing 2007 as an "excellent year," Mr Hörnschemeyer told CE the company had recorded double-digit growth "across the region."
Expanding horizons
With sales so good, 2007 saw Gorman-Rupp make its first acquisition outside the US when it took a controlling interest in Netherlands-based pump manufacturer Wavo-Pompen. Wavo, which had annual sales of about € 3,2 million in 2006, has two manufacturing facilities in the Netherlands and offers pumps for rental and sale.
Mr North told CE Wavo rented pumps outside the Netherlands and this would now form the main area of focus as it seeks to expand the business. "We see the largest potential in Europe's rental sector. It's an evolving market, but there is a trend towards rental in everything in Europe, and we expect this to grow significantly," he added.
Mr North said the company's strategy would focus on growth through local offices or exclusive partnerships throughout Europe. With "significant growth" expected throughout 2008 and 2009.
With the company now manufacturing in Ireland and the Netherlands Mr North added that he expects its latest Ultra V Series, which has been in development since 1999, to play a strong part in this growth.
"It's designed to meet demand for higher heads, can operate 'dry', is self priming, and features easier service and maintenance requirements. Besides which," he added, "it's totally self cleaning."
Also in the Netherlands is Mody Pumps newest warehouse and distribution centre. Opened in the first quarter of 2007 it now stocks all the US-based companies models, said managing director Stephan van Maanen. "Our distributor network has grown rapidly and we are represented in the UK, Germany, Austria, Denmark, Sweden and Spain," he said.
With its German distributor looking after Eastern Europe, particular the mining side of the business, said Mr Maanen, there are differences between markets. "In the UK, where the market is more developed and receptive, we sell and rent. In Denmark we just sell because there the market is less developed."
Contractor demands
It is contractor's demands for easier service and maintenance requirements that are helping another company make a "come back", according to Gunnar Benselfelt, newly appointed product manager at Weda Pumps. Part of Dynapac it changed owners several times over the last 15 years becoming part by Atlas Copco in May 2007.
"It didn't take me long to understood Weda still had a good name in the business and that users had not forgotten what its pumps could do for them [and] the basic design is excellent and offers several advantages," said Mr Benselfelt.
"It is very simple to work with, has a great capacity, and is very robust. Servicing is so easy it can be done more or less in the pump pit. With other pumps you often have to handle several items when replacing the seal, for example, but on our pumps everything is in the instant Service Pack."
Seal failure, added Mr Benselfelt, is one of the most common failures with a pump. The company's "instant Service Pack" includes not only the seals but also the oil housing with oil and bearings. This can be easily removed and replaced, cleaned at the workshop and used again.
"This." added sales manager Magnus Malmerin, "helps keep down-time to a minimum, which is always important when dealing with excess water."
Modular design
Easier service and maintenance requirements have also informed the latest generation of Grindex's submersible drainage pumps, said managing director Peter Schmid. Yet to be launched onto the market Mr Schmid told CE they include improved wear resistance, thanks to a closed impeller system. This prevents abrasive particles from reaching the pump, thereby minimising wear.
The new design also allows easy adjustment of the impeller to regain optimum performance. It also simplifies service requirements and ensures both longer lifetime and stable dewatering during the whole pump life, added Mr Schmid.
The new pumps still feature Grindex's SMART electronic motor guard, said Mr Schmid, which stops the pump in such situations as a phase drop out, overheating or overloading.
A modular design is also behind the extension of Pumpex's two new models of lightweight, solids handling submersible sludge pumps. The SP 10 (0,9 kW) and SP 14 (1,5 kW) are designed for heavy-duty applications where reliability and wear resistance is essential, according to the company.
Sharing their modular design with Pumpex's larger SP Series sludge pumps, means the many common parts reduces maintenance to "a minimum", making it fast and easy.
Solids handling up to 40 mm is possible, while high wear resistance is guaranteed by vortex impellers and volutes in nodular cast iron. The SP 10 is available in three-phase or single-phase versions, while the SP 14 comes as a three-phase unit. All are available with or without built-in level control and come with a built-in starter and motor protection for easy "plug-in" operation.
Pumpex's range of heavy-duty sludge pumps, the SP Series, now consists of seven basic models from 0,9 up to 8 kW, all featuring lightweight aluminium design and wear resistant hydraulics of modular cast iron.
Serviceability
Elsewhere, Multiquip's QP2H centrifugal pump is the newest version of its Multiquip 2" (50 mm) pump. Replacing the QP204 series, the QP2H offers better performance with more flow and head. It has a 158 gpm (718 litres/minute) capacity with a maximum head of 115 ft (35 m) and is powered by either a Honda GX or Robin EX engine.
Designed with 25 mm diameter fill and drain ports with plastic plugs to prevent casing damage it has a 0.875" (22 mm) diameter pipe frame that provides more gripping surface when lifting the pump.
Standard features include recoil start, cast iron impeller and volute, aluminium die cast pump casing, a silicon mechanical seal that prevents engine damage, tubular steel frame and an oil alert, which automatically shuts down the engine when oil levels are to low a safe operation.
Serviceability is the key word when it comes to ABS's latest dewatering pumps - the J, JC and JS, which are available with 0,9 to 11 kW engines. Thanks to their modular design they are "the easiest pumps on the market to service", according to the company.
"The modularity concept helps our customers to always have few, but the right, parts available," said a spokesman.
This latest upgrade includes inspection plug for easy motor inspection added on all pumps, easy checking and refilling of the environmental white oil, and stud bolts with integrated nuts for easy service on the hydraulic section on the pump.
Other features include high temperature pre-filled bearings on the complete range for reliable duty, while stator replacement is easy, simply heat out and slip the new stator in the aluminium motor housing.
Also new is Godwin's Dri-Prime 100 x 80 mm HL110M pump. A heavy-duty, fully automatic self-priming pump it is specifically designed to "work under extreme high-pressure discharge conditions or high discharge lift applications", according to the company.
The HL110M offers flow rates up to 115 m3/hour, total dynamic heads up to 185 m and solids handling up to 20 mm in diameter. Like all Godwin's pumps, the HL110M pump includes the Dri-Prime air ejector priming system for fully automatic priming up to 8,5 m of static suction lift.
Future demand
With the slump in house building in Western Europe beginning to bite, Eastern Europe is looking more attractive. Growth in this part of the region, said Tsurumi's Mr Hörnschemeyer, should cover any downfall in the West.
Mr Hörnschemeyer said there could also be a silver lining to the current decline in house building in Western Europe. "Rental looks much more promising, particularly in the UK, Scandinavia and Spain, but not, surprisingly in Germany.
"The further East you go, the less the demand for rental. The market there is less sophisticated and there's good second hand market to compete with but as we can see with larger capital equipment it's happening and I expect the same for smaller equipment such as pumps," he added.