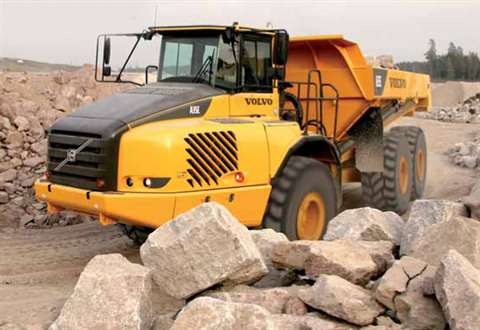 Sales of haulers, both Articulated Dump Trucks (ADTs) and rigid dump trucks (RDTs), have been hovering around the 2500 per year mark for the best part of a decade, according to construction equipment market research specialist Off-Highway Research.
Managing director David Philips told CE sales in Europe peaked in 2001 with a combined total of 3114 units, while sales in 2006 should reach 2524 (1990 ADTs and 534 RDTs). However, Mr Philips said the next few years looked "promising", with the large volumes delivered in 2001 needing to be replaced in the near future.
Strong demand is expected to come from Germany, thanks in part to the replenishment of rental fleets and a "discernibly more positive mood" in the construction sector. The UK's seven years of "unbroken growth" in sales, said Mr Philips, should also continue, thanks mainly to construction projects associated with the London 2012 Olympics.
In Ireland high demand is being sustained by government spending plans, in particular on transport projects. However, the Greater Dublin area has dominated demand.
"While this is clearly unsustainable in the long term, work in the west of the country is replacing any downturn in the east. The government's five-year programme to build new motorways and ring roads to improve the country's infrastructure is vital to continuing sales," said Mr Philips.
Bell Equipment chief executive Gary Bell, told CE that demand was so strong in Europe at present that the company had taken the decision to start manufacturing its "flagship" 45,5 tonne capacity B50D ADT at its German factory by the middle of this year. Demand for the B50D, said Mr Bell, has grown considerably since it was launched at Bauma 2004, and almost 90 machines are currently operating in Europe.
"Now that it has become feasible for us to produce the B50D in Germany, [there will be] knock-on benefits in terms of quality and shorter lead times because the machines will be made in Europe, right on [our customers] doorstep," said Mr Bell.
Customer Request
Indeed customers are not only pushing for shorter lead times but also for more innovation. Claude Boulet, managing director of Bell Equipment France, told CE the first of its tracked B30Ds, for example, was built at the request of Dutch-based contractor Fuhler.
"The company has an operation in the north-east region of Holland where they load peat for use in gardens. They tried to make use of a B20D with wide tyres, but it soon became clear that any truck fitted with tyres would not be suitable because the peat is such a light, soft material that you can't even walk on it," said Mr Boulet.
The B30D tracked conversion makes use of the standard B30D front end, but required two redesigned axles and a new, lighter rear chassis fitted with a lighter bin. On a wheeled B30D the ground axle weight on the middle and heaviest axle is 161 kPa, compared to the tracked machine's 99 kPa.
With Fuhler placing an order for three additional units, which will replace the modified agricultural machines it has been using until now, Mr Boulet estimates demand for this niche product could be as high as 15 to 20 units per year.
Another niche product is Cat's 237 kW Stage IIIA compliant 730 Ejector articulated truck. The load ejection concept means material can be spread on the move, cutting cycle times, decreasing power train loads and reducing the number of support vehicles needed for spreading and dozing.
The system also prevents material from sticking to the inside of the body, thereby maximising the payload. All this, said the company, is designed to improve productivity, reduce fuel consumption and lower cost per tonne, and is again a direct response to the voice of the customer.
Reducing maintenance requirements has also been a major concern of manufacturers in recent years. While the 730 features extended engine and hydraulic oil change intervals, extended-life coolant and adjustment-free wheel bearings, Moxy's new MT51, according to sales and marketing manager, Jonathan Silvester, allows most servicing work to be done from ground level – filter change, hydraulic and engine oil checks – due to the centralised remote mounted service points. The fender-sunk headlights can also be swung out for easy access.
Engine Regulations
While manufacturers are busy responding to customer demands for niche machines there has also been European legislation to contend with. But while the introduction of Stage IIIA emission regulations for 130 to 560 kW engines at the start of last year resulted in a wave of new machines in other product groups, a similar pattern did not emerge for the hauler sector.
In part this was a result of the Sell-Off and Flexibility provisions that are part of the Stage IIIA laws. These are designed to help smooth the transition between Stages by allowing stocks of old-Stage engines and machines to be sold after the introduction of the new laws under certain conditions. (For a full explanation of the Sell-Off and Flexibility provisions, see CECE's comments in February's CE.)
Shortages of tires last year also meant manufacturers were left holding many new machines on their books. In an effort to meet the demand Bridgestone announced plans to expand its production facilities in Japan by about +20% by the beginning of 2008. Michelin and Continental are also making plans to increase output, but the benefits are unlikely to be seen in the supply chain until later this year at the earliest.
However, at the end of last year Cat added two new, Stage IIIA compliant RDTs to its product line – the 36,3 tonne capacity 770 and the 45,4 tonne capacity 772 quarry and construction trucks (355 and 399 kW respectively). And in September, Bell added its Generation-2 D-Series haulers (see CE September 2006).
While the Stage IIIA legislation played a part in the design of Cat's new machines, the trucks incorporated a host of new features designed to lower cost per tonne operating costs: a direct response, according to Dave Ellington, market development engineer, quarry and construction trucks, mining and construction equipment, to what Cat calls its "Voice of the Customer" initiative.
This included moving the cab, which had been side mounted for 30 years to the centre. "Why? Well it's simple," said Mr Ellington. "Our customers asked for it, so we fed it into the development programme."
Also new at the end of last year were Cat's F Series of off-highway trucks – the 54,4 tonne capacity, 524 kW 773F, the 63,5 tonne capacity, 524 kW 775F, and the 90,9 tonne capacity, 700 kW 777F. (For a full report on the 770, 772 and F Series see CE November 2006.)
Added Stability
Reducing maintenance requirements, while increasing productivity and operator comfort, has also been the driving force behind the latest ADTs from Volvo Construction Equipment and Case.
While Volvo's new seven model Stage IIIA compliant E Series, A25E (244 kW) to A40E FS (350 kW), weigh from 43,5 to 69,6 tonnes and have maximum payload capacities of 24 to 39 tonnes, the A35E FS and A40E FS are the first ADTs in the world to offer a suspension with automatic levelling and stability control on all wheels, according to the company.
This 'Full Suspension', said a Volvo spokesman, "provides excellent off road performance, allowing the hauler to travel at much higher speeds, increasing productivity."
Even when fully loaded, their ability to 'float' over rough ground without bouncing and rolling also improves operator comfort and safety. With the suspension absorbing the haul road's rough spots operators can maintain higher average speeds, up to 55 km/hour, with or without a load.
Achieving this has seen the company dispense with the traditional rubber suspension, instead a hydraulic cylinder has been fitted to each wheel. The system constantly monitors the load and ground conditions; adapting the suspension to suit the prevailing conditions and giving a smoother, more stable ride.
Safety is improved thanks to the suspension providing significantly more ground contact. Compared with haulers with traditional suspension systems, said the Volvo spokesman, vibration levels are also very much lower, allowing operators to work for up to +75% longer before exceeding limits set in new European Whole Body Vibration legislation.
New Rdt
Also new this year, and of particular interest to the quarrying and mining fraternity, is Komatsu's new 91 tonne capacity, 879 kW HD785-7 RDT, which has a top speed of 65 km/hour.
To optimise performance and fuel consumption, the engine, a Stage IIIA compliant Komatsu SAA12V140E-3, is fitted with a variable horsepower control (VHPC). This sets the maximum engine power to one of four levels to match the job being carried out and the working conditions.
The operator can choose between power and economy mode and the VHPC automatically detects whether the machine is loaded or unloaded. According to Komatsu, this delivers excellent climbing ability and reduces fuel consumption.
The transmission features Komatsu's electronically controlled K-ATOMiCS clutch modulation system, which controls the engine and transmission to optimise clutch engagement. This is combined with a new 'skip-shift' function, which automatically matches travel speed to incline, to ensure smooth gear shifting and acceleration.
The HD785-7 also features Komatsu's anti-pitching four-wheel, oil-cooled multiple disc retarder, AP-Four, which shares the retarding force between all four wheels to reduce tyre-lock. In addition, the auto-retard speed control (ARSC) allows the operator to pre-select a constant downhill speed so they can concentrate on steering.
Outlook
As CE went to press many manufacturers were remaining tight lipped about new product launches scheduled for this year. With the Bauma show in Munich, Germany (23 – 29 April), just around the corner this is understandable.
However, with demand for haulers expected to rise across the region once again, especially now funds available to those countries that joined the European Union in May 2004 are being spent on upgrading and linking their infrastructure to the other member states, there are sure to be plenty of new machines to see at the show and in the coming months.