Quarry equipment: Material strains
By Mike Hayes07 July 2020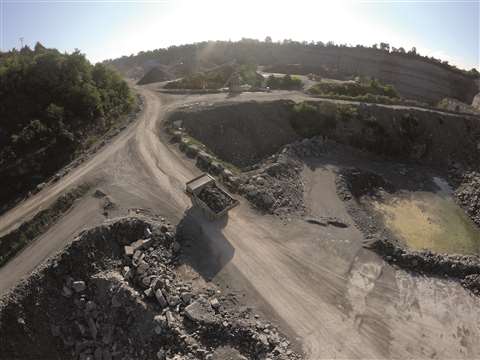 The quarrying industry is digging deep to maintain business levels through the current crisis. Productive and efficient equipment could make all the difference…
According to the European Aggregates Association (UEPG), demand for aggregates currently stands at 3 billion tonnes per year, amounting to a turnover in the region of €15-20 billion.
The quarrying industry in Europe comprises a pproximately 15,000 companies, with around 26,000 quarries in operation and some 220,000 people currently employed (or possibly furloughed).
Generally speaking, one would not expect social distancing to present a major problem within a quarry. But, of course, that's only half the story. Since the beginning of the coronavirus crisis, construction companies have highlighted the present and anticipated future challenges within their respective supply chains, including, of course, the acquisition of aggregates.
Many have moved to diversify their own supply chains to meet continuing demand; others, who have been forced to shutter projects, have had plenty of time to consider alternative methods of procuring materials.
A number have chosen to become less reliant on brokers and take their business direct to quarry companies.
Pre-emptive measures
At the time that the virus began to take hold in Europe, many contractors decided to order in extra materials, pre-empting future restrictions. Predictably, however, the demand dried up as countries went into lockdown.
In the UK, for example, the Centre of Economics and Business Research (CEBR) forecast that the mining and quarrying sectors would lose 60% of their output during the period of social distancing restrictions.
As demand for aggregates has fallen, so has the requirement for new quarrying equipment.
The hope, of course, is that this is short-term pain, and OEMs producing relevant equipment will be hopeful of a resumption of normal service before the end of the year.
Putting an accurate size on the European market for quarry machinery can actually pose something of a challenge, due to the variety of equipment and sizes of machines used.
Take crawler excavators, for example. According to specialist market research and forecasting company, Off-Highway Research, the European market for crawler excavators totalled a little over 13,000 machines last year. The classes of machines which would usually be thought of as quarrying excavators would be 50 tonnes and above, and these make up about 1 per cent of the market, or just over 300 units. Of course, not all of these are used in quarrying – some will go to mines – and smaller quarries may well use smaller excavators than these.
However, the figures do offer a clear trend when it comes to haulers. Rigid dump trucks have fallen out of favour over the last decade or so. European sales totalled just over 240 machines last year, compared to a consistent 550-650 per year in the 2000s up to the financial crisis. Other equipment sectors have rebounded since, but not the rigid dump truck.
The key reason for this is the rise in higher capacity articulated dump trucks. The mid 2000s started to see capacities go up from the traditional 40 tonne ceiling to 50 and 60 tonnes and the greater off-road capabilities of articulated dump trucks (ADTs) saw them take share away from rigid framed trucks.
The ADT powers up
Cat is a major player in the ADT market, and recently upgraded its 725 (24 tonne) hauler. Interestingly, given the industry's perennial skills shortage issues, the technology on board means that, according to Cat, 50% less operator input is required.
An example of this is the assisted automatic hoist, a feature exclusive to Cat, which puts the transmission in neutral, applies the brake and hoists the truck bed to the maximum tipping angle at high rpm. The operation is completed with a controlled descent, prolonging the life of the ADTs components.
Another important feature for an ADT set to operate on challenging haul roads is the new Cat Detect with Stability Assist. The system helps prevent rollovers with audible and visual alerts when the machine is moving and also dumping.
Other enhancements to the 725 include a number that should improve the operator experience. These include Cat's next generation cab, which promises to be an impressive four times quieter than the previous design, at approximately 69 dB(A). A new spinal rollover protective structure (ROPS) means the structural pillar at the rear of the predecessor's cab has been removed, giving operators much improved rear visibility.
The new 725 has Cat's CX31 six-speed transmission, which Cat says can give up to 8% more acceleration and as much as 9% more speed on grade. Meanwhile, the inclusion of advanced automatic traction control frees the operator up completely from having to make traction control decisions, automatically changing the differential lock engagement to main optimum traction.
Automatic retarder control is also fully automated.
Cat's 9.3 ACERT engine powers the 725 to a 255kW gross power rating, while Eco Mode promises a 5% reduction in fuel consumption.
Standard software connected to the truck includes Cat Product Link and VisionLink, meaning machine diagnostic data is constantly available to managers. As an option, the Cat Production Measurement system can be included, giving payload information and productivity tracking analysis.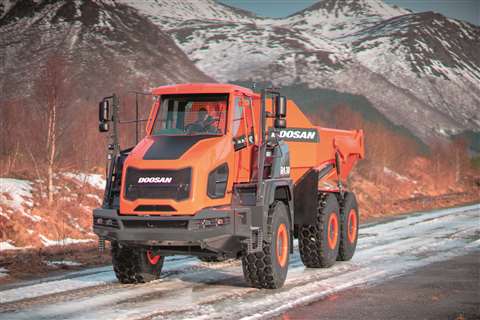 Size matters
Nudging up in size, we find Doosan's recently remodelled 30- and 40-tonne Stage V-compliant ADTs, the DA30-5 and DA40-5.
Last year, the DA30 was upgraded, with a range of new features including a new cab, a self-levelling front suspension and a new tandem bogie system. These additions have been factored into the design of the new Stage V version.
As with other Doosan ADTs, the new models feature an articulation hinge behind the turning ring, providing equal weight distribution to the front axle – even during maximum steer articulation. This, said Doosan, combined with a free-swinging rear tandem bogie, ensured equal distribution of weight to each wheel and guaranteed permanent six-wheel contact and drive, allowing equal power distribution, and therefore improved performance, even running over difficult terrain.
The new models, which feature a new-look front frame and bonnet, have upgraded 9- and 13-litre Scania engines. The new engines boast improved aftertreatment systems and have been tested for the past two years in both construction and mining environments.
Doosan said that, in testing, both the electronic and hydraulic systems across both models showed improvement and the vehicles offered extra functionality.
Further changes to the new haulers include the lowering of both the diesel and AdBlue tanks, which now allow ground-level filling by operators.
Also easily accessible are the greasing system and transmission filters, making routine maintenance simpler and safer, while additional hand rails outside the cab provide increased safety for operators.
Proven in the extreme
Going head-to-head with the Doosan ADT, in terms of capacity, are the TA300 and TA400 haulers from Terex Trucks.
Part of the Volvo family since 2015, Terex Trucks operates from Motherwell in Scotland and focuses solely on the development and manufacture of these ADTs.
The 28-tonne TA300 has been manufactured with a new transmission, leading to improvements in fuel efficiency, performance, productivity and operator comfort, when compared with the previous model working in the same application.
The TA400, the largest articulated hauler on offer from Terex Trucks, has a maximum payload of 38 tonnes and a heaped capacity of 23.3m³. Powered by a high performance, fuel efficient engine that develops a gross power of 331kW, the TA400 is designed to meet the demands of the most extreme operations such as quarries, mines and large-scale construction projects.
The TA400 has been upgraded with a new planetry gear transmission, leading to improvements in fuel consumption and operating costs. Upgraded safety features also include a modulating transmission retarder, coupled with an improved exhaust brake and fully-enclosed oil-cooled multidisc brakes.
Terex Trucks recently delivered four TA400s to Russia, where they clocked up 48,000 hours in a Siberian coal mine.
Winter temperatures at the Arpatsky mine can fall to -45 degrees Celsius, yet the mine owners report the trucks have been putting in reliable shifts, sometimes for up to 22 hours a day.
Dmitry Dulin, chief engineer at the mine, said, "The robustness of the TA400 and its ability to deliver a reliable performance in tough conditions was a big part of the reason why we chose Terex Trucks haulers over other brands."
Oleg Likhodumov, director of mining operations, said, "The truck operators appreciate the TA400's ability to climb and descend the slopes at the coal mine. The hauler handles the downhill slopes smoothly and safely. With the exhaust brake, we don't even need to use the brakes when going down steep hills."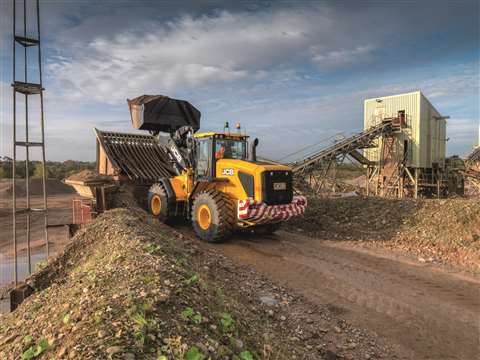 The case for diesel
Diesel-powered machines of all sizes are beginning to feel the pressure of electrification. Quarrying equipment is no different, where some electric machines can carry huge loads. Yet, great strides have been made by engine manufacturers and surprisingly low emissions, allied with excellent fuel consumption numbers, are being recorded by recently-launched machines.
In JCB's new 457 loader, the company says up to 10% fuel savings can be made, following its shift from an MTU engine to a QSB6.7 from Cummins.
The engine has a single module after-treatment, with a diesel oxidation catalyst, selective catalytic reduction (SCR), a diesel particulate filter (DPF) and an ammonia slip catalyst (ASC).
As well as the promised frugality with fuel, the engine offers an increase in overall power, up from 192kW to 210kW.
This engine can, however, be powered down by the operator, to 167kW, for lighter operating duties, which, in conjunction with a new five-speed Powershift transmission, delivers the fuel-saving potential.
While the new loader's cab is essentially the same JCB Command Plus version, the seating in both the Deluxe and Super Deluxe versions will now have improved KAB seating.
Other optional extras include a roof-mounted forward-facing camera, for use with larger buckets and longer loading arms.
Productivity and efficiency are key to success in quarrying. It's a simple equation involving the maximum material produced in the shortest time, with the minimum expenditure.
The hauler's tail
Components are always part of this equation, but rarely feature in the discussion about quarrying equipment.
Philippi-Hagenbuch makes a relatively simple component available to almost every make and model of hauler, allowing them to load to full capacity. Surprisingly, it is often the case that loaders will stop well short of capacity, to avoid spillage.
Philippi-Hagenbuch produces tailgates, which, it says, can allow a hauler to safely load between 10 and 15% more material.
The company gives the example of a 70-tonne-capacity truck with a tailgate hauls nearly 11 more tonnes per load than a 70-tonne truck without a tailgate. If a fleet of six trucks adds 11 tonnes to each of their respective 12 loads per day, the result is similar to adding another truck to the fleet without the increase in fuel, maintenance or labour.
As an alternative to overloading haulers and risking leaving debris on already challenging haul roads, Philippi-Hagenbuch's tailgates might be worth considering.
Hitachi excavators…Czech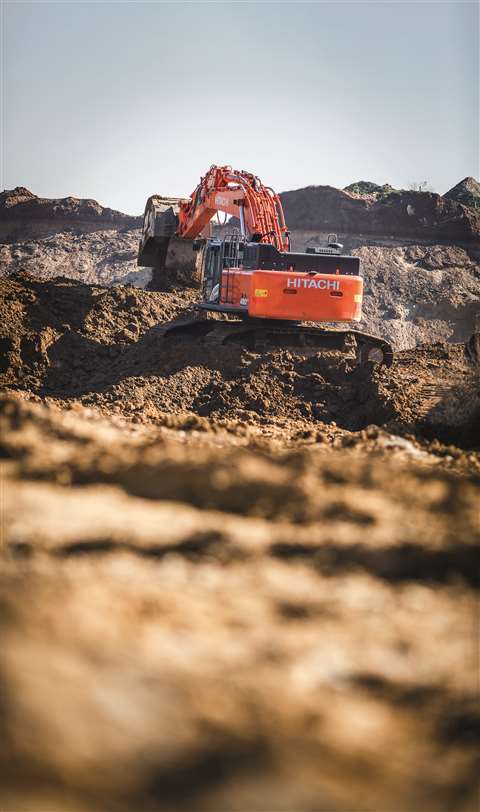 One of the leading aggregates suppliers in the Czech Republic, Ceske sterkopisky, decided to add to its fleet of three Hitachi ZX470LCH-5 excavators and two ZX350LC-3 medium excavators – with, of course, two new Hitachi ZX490LCH-6 models.
Established 14 years ago, Ceske sterkopisky undertakes extraction, refinement and distribution of materials for customers primarily involved in the construction of residential and municipal buildings, civil engineering and transport infrastructure projects.
The ZX490LCH-6 is currently helping with the extraction of around one million tonnes of materials per year, from 16 locations used by Ceske sterkopisky across the Czech Republic.
The company's branch manager Karel Blaha said, "We selected the Hitachi excavator due to its reliability and cost-effectiveness. It's ideal for the type of work we do here owing to its powerful performance. For me, the excellent fuel efficiency is probably the number one benefit to our business."
Ceske sterkopisky The company said Austro Baumaschinen conducted a training programme for its operators, following delivery of the latest excavator, helping the team to effectively maintain it and maximise its performance.
Ceske sterkopisky operator, Miloslav Sisl, said, "I have been impressed by its power and reliability. I particularly like this Hitachi excavator because of the high level of comfort inside the cab. It's a pleasant environment in which to work."
Dirty job but new screen crushes it
Terex Finlay's next generation 694+ inclined screen has been developed to fulfil the demands of high output aggregate producers.
The machine features a new high energy screenbox with three full size 6.1 x 1.53 m decks that can process fine, sticky and dirty material with ease in quarrying applications.
In addition, the large hopper/feeder is fitted with variable speed belt feeder to ensure consistent flow of material and can be fitted with remote tipping grid or double deck vibrating grid.
The hydraulics system has been upgraded to provide the optimum balance of power and efficiency and the powerpack designed to operate at lower engine speeds to raise cost-efficiency in the long term without compromising on performance. A hybrid powerpack is also available as an option.
Key features of the 694+ include:
Simplified and reconfigured folding mechanism for the onboard product conveyors for ease of deployment and user-friendly operation.
Hydraulic folding catwalks as standard for improved onsite efficiency and to enable rapid screenbox deployment.
Maximum utilisation of three 6.1 x 1.53 m decks provide ultra-efficient screening capacities even at small aggregate sizes.
The fourth (oversize plus) conveyor provides variable tilt and side slew capability to accurately discharge materials for re-circulation to crushers or for stockpiling.
Screen box angle can be hydraulically adjusted to between 18 and 32°.
T-Link telematics hardware and software along with free seven-year data subscription are fitted and installed as standard.
Trimble scales up for Hyundai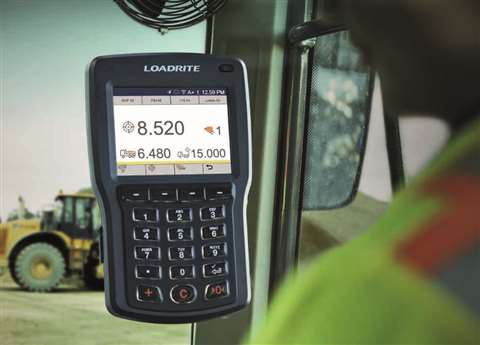 Hyundai Construction Equipment announced in March that it would offer Trimble's new Loadrite L3180 SmartScale device on its new generation of wheeled loaders.
The equipment uses a combination of weighing sensors and solid state sensors to offer enhanced accuracy when loading, as well as connecting machines and devices via wi-fi.
Trimble says its InsightHQ reporting portal can pull together data from loaders, excavators and conveyors across the site, offering close to real-time reports on the productivity of extraction, processing and load-out operations.
Kevin Garcia, general manager of civil specialty solutions at Trimble, said, "Today's technology allows OEMs to get information like engine fault codes, fuel burn, tyre pressure and other metrics from the system, and technology providers can pull back operator performance, task percent completion, cut/fill maps, updated surfaces and more.
"Civil contractors are interested in controlling their inputs and using technology to gain visibility into every truckload of material as it is loaded at the quarry with loader scales and software like InsightHQ, a quarry management portal from Trimble that provides performance metrics on a web browser or mobile device."
Garcia added, "During mass haul operations, the combination of traditional excavator scales connected to haul monitor systems across a mixed fleet is delivering an immediate 25% more material moved, and an understanding of total tonnes moved, truck counts and each step in the haul cycle."