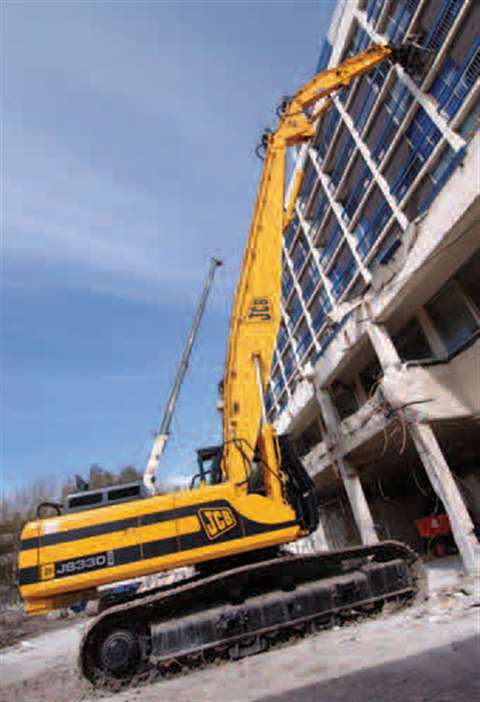 Urban regeneration throughout europe has created a demand for demolition techniques which cause minimal disruption to nearby businesses and residents. The demolition equipment industry has responded in recent years by developing techniques which are quieter, cleaner and more precise than ever before.
Europe's demolition sector is strengthening, with growth reported in most countries over the last 12 months, and the trend is expected to continue throughout 2005 and beyond. Fifty four European demolition contractors made it into this year's Demolition & Recycling International league table of the world's top 100 demolition companies, up from 47 last year.
According to the survey, the combined turnover of the European contingent of this year's D&Ri100 increased by almost +20% to € 760 million in 2004. Average revenue per contractor grew by +4,5%, to € 14,1 million.
"The demolition sector is buoyant-particularly in the UK, Germany and Eastern European countries-but the biggest issue and real growth area at the moment is recycling,"said Rammer general manager Robert Lackner. "Rammer has undergone phenomenal growth in recent years as a result of the strength in the demolition market and I expect that to continue this year but maybe level off in 2006."
Terex Powerscreen sales director Malachy Gribben also agrees that the European demolition sector is strong at the moment and likely to continue growing. "The growth that we're seeing in our business is being driven by legislation to divert material from landfills and increase recycling rates,"he said. "People need to invest in new equipment to comply, but they are also looking for machines which are more efficient, quieter and cleaner."
Getting planning permission to build on greenfield sites in Europe is becoming more difficult so more developers are looking at brownfield sites than in Holland and Germany, are reaching the end of their design life and redevelopment of these sites is helping to add strength to the demolition market."
Growth in urban regeneration is also driving demand for different demolition techniques and equipment. "Lots of redevelopment schemes involve façade retention and the popularity of attachments which offer controlled and selective demolition is increasing,"said Bobcat UK district sales manager Mike Day. "Such tools are also important for recycling."
Quieter demolition techniques are becoming vital tools for working in urban areas. Recent redevelopment of a site in Elbchaussee on the bank of the River Elbe in Hamburg, Germany, for example, called for a low noise solution to demolish a World War II bunker.
Developer Mathias Strufe plans to transform the 5200 m2 site with the construction of new apartments and town houses. But the noise from using a traditionally designed hydraulic breaker to demolish the 2 m thick walls and 3 m thick roof on the bunker was not acceptable to the site's neighbours so the developer turned to rental company Liebherr Mietpartner for help.
The solution came in the form of an Atlas Copco HB 4200 breaker mounted on a Liebherr 954 Litronic excavator. The breaker's percussion mechanism is suspended elastically to insulate it acoustically from the outer body which helps reduce the sound pressure produced by the unit by up to 18 dB(A) compared to other breakers.
In total the Atlas Copco unit has demolished around 8600 m3 of concrete and 700 tonnes of steel at the site. "The breaker has been incredibly quiet,"said excavator operator Peter Ritter. "At a distance of 50 m from the machine, you can hardly hear it."
Specialised Machines
Demolition sites are arduous locations for construction equipment, with great potential for damage to machines and men-hence the growing use of construction equipment tailored to this application. The demolition workhorse, in Europe at least, is the high reach demolition excavator. Carrying an extra long boom, these machines often have tilting cabs and additional protection on the underbelly and undercarriage, operator's cab and exposed hydraulics.
The list of manufacturers that offer this type of machine has been joined recently by JCB, whose goal, according to director of waste, recycling and demolition Ken Bainbridge, is to become a market leader in the demolition industry. He said, "We already are the leading supplier of excavators in many markets in Europe, and our expectation is to be in a similar position in the demolition industry over time.
"JCB already has demolition specification excavators with high reach rigs, supplied by a third party, working in several parts of Europe-Germany, Benelux, Spain and here in the UK. But the industry has moved on and we feel it needs an offering that is under one umbrella, designed and built by the manufacturer with one CE mark, no ambiguity about health and safety compliance, no ambiguity over warranty issues and no ambiguity about product support, because the whole machine is JCB, built in Britain."
The company therefore recently launched its first fully in-house developed high reach demolition rig the JS 330HRD. Mounted on a JS 330XD demolition-specified excavator, the boom can reach up to 21 m. A 27 m unit will follow.
Other new machine launches aimed at the demolition and waste and recycling sectors in recent months have come from Komatsu, Hitachi, Caterpillar and Case.
Komatsu's high reach demolition specification has now been added to its PC450LC-7 excavator. The demolition machine features a hydraulically variable gauge undercarriage, which can be extended from 2,28 to 3,18 m to combine on site stability with easier transport.
It features a three piece boom, configured to enable demolition contractors to use one machine from its maximum reach of 25 m down to ground level. The machine also features a tilting Falling Object Protection Structure (FOPS) certified cab to optimise the operator's view.
The new Hitachi Zaxis 500 LC is available with a Genesis 'Quick-Connect-System', which allows the entire boom to be changed in a few minutes without the operator having to leave the cab. Use of the system has helped Lämmle Recycling carry out demolition work at a brewery in Altenmünster, Germany using just one Zaxis 500 LC. The contractor was able to switch between the 26 m reach long demolition boom and the machine's shorter earth moving boom up to six times a day, avoiding the costs involved of having two machines on site.
The growth in urban regeneration work means that many demolition contractors need machines which are not only powerful but can also work in confined spaces. Caterpillar's new 325C UHD, for example, is designed specifically for the demolition market and, according to Cat, its compact radius design makes it ideal for such applications.
The 325C UHD has a tail swing radius of 1900 mm-1150 mm less than Cat's standard 325C L excavator-and the front swing radius has also been reduced to maximise manoeuvrability. The compact radius version has a larger undercarriage and heavier counterweight to give it more lifting capacity and stability than the standard model. The 34 tonne machine is powered by a 128 kW engine and has a maximum reach height of 17 m.
Volvo's new 70 tonne EC700B tracked excavator is not designed specifically for the demolition market, but the first machine to be ordered in the UK is destined to join the fleet of an undisclosed demolition contractor.
Excavators are also useful tools when it comes to the material handling side of recycling, and Komatsu has added another machine to its line up specifically for this purpose. The material handling version of the PW220-7 wheeled excavator has a hydraulic lifting cab which can be used to raise the operator's eye level to 5 m. The machine is also fitted with a heavy counterweight, twin under slung arm cylinders, a heavy duty frame and a 6,8 m straight and 6 m gooseneck arm.
Case's latest launch-the WX210-is also aimed at the waste handing and recycling market. The wheeled excavator is available with an elevating or fixed high level cab. The machine has a maximum reach of 11,8 m and height of 11,3 m
Breakers
Hydraulic breakers have been used on demolition sites for years but recent development has concentrated on not only improving power but also reducing noise. The acoustic engineering on the latest breakers mean they can be used on city centre sites with minimal disturbance.
Rammer has added a new model to its G series of heavy breakers. The G 88 breaker weighs in at 2,4 tonnes and is also available in a sound suppressed 'city' version. The unit is designed for use on carriers with an operating weight of between 27 and 40 tonnes and has improved piston guidance and more precise blow timing.
According to Atlas Copco, its new compact MB700 breaker, which weighs in at 750 kg, is unique within its class because it has technical features normally only found on heavy duty models. The new breaker has an energy recovery system to optimise the impact rate, noise and vibration damping, dust protection and automatic lubrication.
Bobcat's new 80 Series hydraulic breakers, designed for use with carriers ranging from 700 kg to 5 tonnes, have a completely new internal design with fewer moving parts and no tie rods. According to Bobcat, the design offers higher performance and reduced maintenance. The range is also soundproofed and either a bucket or vibrating plate accessory can be fitted onto the breaker.
Montabert has also launched a new range of breakers for the lighter end of the market. The Silver Clip range can be used with 700 kg to 7 tonne carriers and are designed for trenching, concrete demolition and general excavation work. The new low maintenance design also features effective soundproofing.
Indeco's new High Performance (HP) range of hydraulic breakers replaces the company's established UP range and has been improved through increased hydraulic efficiency. The soundproof casing on the updated mini HP breakers, for use with backhoe loaders, has been redesigned to give it a slimmer profile and improve access. According to Indeco, the changes on the rest of the range are less noticeable from the outside but inside materials used have been revised to maximise working life.
Attachment Innovation
The wide variety of attachments now available means that hydraulic excavators can be used for almost any demolition task.
Atlas Copco's new CC 3300 hydraulic demolition cutters are fitted with universal jaws and have just been used to tear down a 40 m high residential building close to the centre of Liepzig, Germany. The new 3,3 tonne cutter has jaws mounted on one central bearing pin, which improve stability and speeds up jaw replacement. The outer teeth have a breaking force of 109 tonnes while the cutting force on the blades is 400 tonnes.
According to demolition contractor Ruppert, the improved design of the cutter enabled its site team to precisely demolish the 11 storey building, which was close to a shopping centre. Excavator operator Klaus Wiessmann said: "We were working close to neighbouring buildings but the CC 3300 has a rotary drive for exact positioning."
The high force to weight ratio of Cat's new S300 B series scrap and demolition shears helps to add strength and enhance cycle times, the company claims. The performance of the S300 shears has been improved over previous models through several structural reinforcements which better distribute the cutting forces. The shears are designed for use with Cat's hydraulic excavators in the operating weight range of 27 to 76,5 tonnes and can be mounted on either the boom or stick.
The newest addition to Indeco's range of demolition products is the Multi, which the company describes as a three in one tool. The Multi has three jaw sets-demolition, pulversing and cutting, which allow one excavator to undertake a variety of demolition tasks. The design features two large cylinder to provide dynamic but balanced demolition power and full 360° rotation.
Bobcat has developed a new hydraulic clamp for use with its 320, 322 and 323 mini excavators, which, when used with a trenching bucket, functions like a human thumb. This allows operators to grasp, lift and separate demolition debris quickly and accurately and can be retracted when not in use.
Processing
Crushing of concrete demolition waste is often carried out on site to allow the material to be used during the redevelopment or to cut transportation costs. According to Terex Pegson design engineer Charles Hopper, use of tracked crushers for this purpose is becoming more popular in Europe, and particularly in the UK.
Terex Pegson's recently launched Premiertrak 1165HR jaw crusher features an over pressure hydraulic release mechanism to allow trapped metal to be quickly and easily released. "The system also helps to protect the machine's bearings and drive from becoming overloaded," said BL Pegson dealer Alan Scott. "The 1165HR can crush up to 350 tonnes per hour and the machine is compact enough for easy transportion and takes less than an hour to set up on site."The machine also has an overband magnet to remove smaller pieces of metal from crushed concrete.
Metso Minerals has just celebrated the sale of its 100th Lokotrack LT95 mobile jaw plant to Società Cattaneo Battista in Bergamo, Italy. The LT95's compact dimensions, along with a capacity of up to 350 tonnes/hour, has helped the machine gain popularity in the contracting and recycling market since it was launched four years ago.
Italdems latest launch aims to ease on site crushing of smaller quantities of demolition waste. According to the company's vice president Michele Giordano, the GF40 crusher bucket does not completely replace the use of on site crushing plant but offers an alternative solution, which could help many contractors reduce costs and work more efficiently.