Rammer's biggest just got better
Hammer and attachment specialist Rammer is using Steinexpo as the international launch pad for the latest incarnation of its largest breaker.
Visitors to the exhibition in Germany, which runs until September 2, will see the latest version of the company's largest hydraulic hammer on the stand of German dealer Ramb GmbH.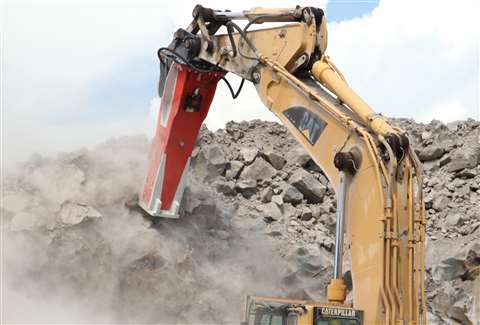 Called the Rammer 9033, the new model replaces the Rammer 7013 and benefits from a number of key changes and improvements, many of which have been proven in smaller Rammer hammers.
These include 20% wider carrier weight range and 22% higher input power, which significantly increases impact rate and productivity compared to its predecessor
"Our engineers have applied lessons learned on other hammer models to place this Rammer hammer at the very top of its class," said general manager Rafa López.
"The Rammer 9033 completes the successful large hammers family by replacing the aged 7013 with a modern design that extends some of the specifications."
Weighing 7,000 kg (15,432 lb) the new product is suitable for carriers in the 60 to 120 t operating weight range. Impact rate on the long stroke setting rises from a maximum of 450 blows per minute to 520, while maximum oil flow is now 460 l/min) against 400 l/min) on the 7013.