Reach for the sky: scaffolding or mast climbing work platforms?
By Lindsay Gale01 May 2008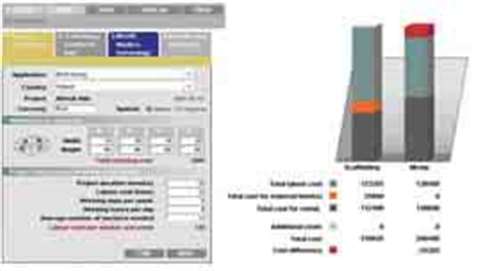 Scaffolding contractors now have a choice-to use traditional scaffolding or to make use of mast climbing work platforms. But how do you decide which technology will be best for your bottom line? Lindsay Gale reports on a possible solution
There has been an ongoing discussion concerning the economic factors involved in continuing to use traditional scaffolding against the benefits claimed for mast climbing work platforms by their devotees.
Mast climber manufacturers and rental companies who offer these machines all point out the positives of the technology-speed of installation and dismantling, and the resulting shorter times on site, greater safety, less remedial work to be carried out following the work, a more efficient and flexible work environment and, above all, the cost savings that can be generated by these advantages. But how can you quantify this for the contracts you are bidding for?
The recently rebranded Alimak Hek (see news) may have the answer. It has developed a software package that allows the requirements of a specific job to be input to allow a comparison to be made of the total cost of the job if traditional scaffolding is used against mast climbing platforms. Alimak Hek calls the software tool Value Based Selling.
While the company admits candidly that it was initially designed, and is being used, as a tool for selling the services of its own mast climber rental operation, it is working to have the assumptions built into the software independently evaluated to confirm their validity, and is currently in discussion with several academic institutes with this in mind, including the Universities of Stockholm and Nijmegean.
There are five steps involved in developing the model. First, the basic details of the specific job are entered, including height, length, application, project duration and labour costs. Then the costs of renting traditional scaffolding (or using scaffolding from stock) are added, including factors such as transportation, erection and dismantling, rental of hoists and the repair of anchor points. The same factors are then input for the rental of the number of mast climbers that would be required to do the same job.
Independent validation
The above data is well known and can be readily established. The next data set is more subjective. Alimak Hek has developed, to its own satisfaction, a set of values for the potential savings arising from using mast climbers, expressed as percentages of the total job cost. These have been arrived at as a result of its experience of the benefits mast climbers can covey in areas such as productivity, logistics and safety. It is these percentages that will be subjected to independent validation in the near future. However, Frank Klessens, business area manager rental at Alimak Hek, told AI: "Even when some customers were highly critical and assigned zero values for these benefits, the results of the final calculation often still indicated that mast climbers were the more economic option."
Once the data has all been input, a calculation is produced that shows the total cost of the project using both types of access solution, both as a histogram and in figures. This allows a direct comparison of the costs that will be incurred and the savings to be gained.
The idea behind the system is to demonstrate that while the initial rental cost of mast climbing platforms is often greater than that of scaffolding, there will be many instances where their use would result in considerable cost savings being generated as a result of the other benefits their use can convey.
To date, it has trained some 100 people in the use of the system, which was first displayed at Bauma, from both its own rental operation and some staff from larger scaffolding contractors. As a general view, Alimak Hek itself believes that, for many jobs, it is more cost effective to use mast climbers for jobs above 20 m than traditional scaffolding, but then as a mast climber manufacturer, it would say this, you might think.
However, you can form your own opinion by trying out the software yourself by going to www.hek.com and inputing the data for your own specific job. It may just suggest an alternative way of working.