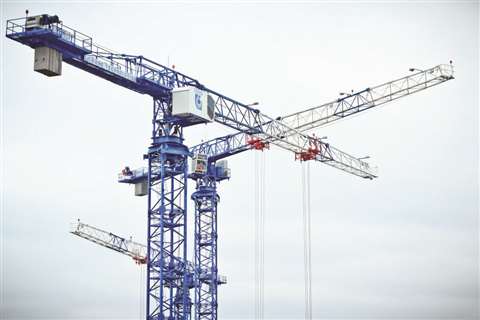 The tower crane market in Russia reflects the economic uncertainty in the country over recent decades. Shortly before the former Soviet Union collapsed, at the end of the 1980s, the domestic industry made more than 3,000 tower cranes annually, produced by 28 specialist tower crane manufacturers.
Today only three major manufacturers are left: Odintsovo Machine-Building Plant and Strommashina; Rzhevsky Crane Works (RHCs); and Nyazepetrovsk branch Casting and Mechanical Plant (LMZ). The latter has the tower crane brand 'Giraffe'. Economic reforms in the 1990s depressed the crane manufacturing industry with the effect that in the later part of the decade and into the early 2000s the annual total domestic tower crane output fell to less than 100 units.
In 2007 economic recovery led to an increase in output to 531 units. In early 2008, before the financial crisis, there were forecasts that a continuing construction boom would lead to a 30 per cent growth in the Russian tower crane market. The market, however, again entered a turbulent period in October 2008. Banks increased rates and restricted lending to cope with the credit crunch. Consequently 2009 saw a sharp downturn. Russia's building industry hit the bottom as it never had before. Tower crane production plummeted by 92 % compared to 2008. Between 2010 and 2014 the market showed up an oppositie trend of rapid growth. While domestic manufacturers lost market share in that period, more and more Western and Chinese machines were imported. In 2004, for example, only 32 new cranes were imported to Russia while 2013 saw 408 units enter from abroad.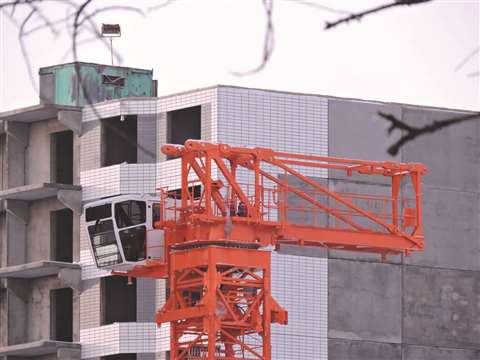 To reduce the size of the erection crane, the counter jib of the TDK-12.300 can be rigged in two steps
Among the non-Chinese manufacturers, it was mainly Potain and Liebherr tower cranes that found their way into the Russian market. They took a third of the whole market, while the Chinese manufacturers and the domestic Russian tower crane builders each took about one third. Sales figures for 2015 indicate that the industry again was facing economic crises, this time due to a falling oil price, an exhausted house-financing market, and the subsequent collapse of the Russian ruble.
Sales volume of tower cranes in Russia has since fallen, in 2016, almost to the same low reached in 2009. As a result of inflation, economic depression, and the political introduction of economic sanctions, the leading European manufacturers lost their market position in Russia and developers began again to give preference to domestic crane manufacturers. The market share of Russian-built towers increased from 26 to 56 % in just two years.
Increasing share
Electrical cabinet and driver cabin form the monocabin. It is the heart of the tower crane with sophisticated Western controls and safety systems
Each of the Russian tower crane manufacturers has the capacity to deliver around 500 to 800 units a year. The Giraffe brand alone managed to gain a 66 % market share in 2014 by delivering 176 new cranes. In 2015 the market share of the Giraffe brand increased to 79 %. At the same time, 75 % of all Russian tower cranes were manufactured under the Giraffe brand. This unique success under harsh economic conditions is based on a rise in quality, to a "foreign Western" level. For the first time it gives domestic consumers the opportunity to buy a Russian crane with the same characteristics, the same essential components, produced under the same quality standards, but at a lower price, than their imported equivalents.
In contrast to some imported Chinese products that have been designed and built by young companies with a limited experience of manufacturing, the Giraffe brand says it is backed by a long tradition of 68 years in tower crane manufacturing – constructing units that work in harsh Russian conditions, including extreme temperature, high winds and earthquake risks.
Ergonomically designed operator seat and controls and a spacious operating room ensure a comfortable working environment
Giraffe's roots can be traced back to the Casting and Mechanical Plant (LMZ) founded in 1774 by merchant Peter Osokin on the bank of the river Nyazya, in the Southern Ural – the cradle of the Russian metallurgy industry. After the end of the Second World War in 1945, the plant, now called Nyazepetrovsk Plant Construction Machinery (NZSM), specialized in the production of construction equipment. In 1949 the first internal derrick crane, T-73, was delivered and, in 1955, the plant started production of fully steerable tower cranes with electric drive.
Since 1967 the main plant has specialized in the production of the KB-160 bottom slewing and climbing crane. By the early 1980s annual production of tower cranes reached 400 units. With the collapse of the USSR a shock wave hit the construction industry. As a result, many factories were closed. The NZSM plant was privatised and renamed Nyazepetrovsk Crane Plant (NKSZ). Unlike many of the other factories it survived the difficult times.
Production of tower cranes came to a halt in 2009 as a result of the global financial crisis. In 2010, under the new name of Crane Technologies, CapMan Russia's investment played a decisive role in saving several hundred workplaces in the city of Nyazepetrovsk, whose wealth was largely dependant on the crane factory.
Investment development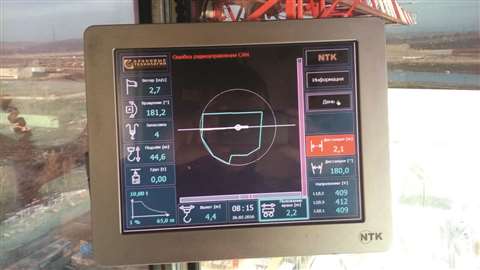 Multi-function display with teach-in functions, including programmable working zone restrictions
Starting with the KB-586, later renamed TDK-10.215, the CapMan investment team worked closely with the management of the crane factory to implement a modernisation plan enabling the company to produce a full range of modular tower cranes designed to compete with Western manufacturers. A timely mastering of crane manufacturing technology meant the crane factory not only survived the difficult economic crisis but became a leader.
Giraffe says its modern flat top crane range follows the Western European design principles originally developed by Jost. 3D modeling of the cranes and dynamic and static calculations were done by German engineering office Hartwig & Körner and by IBK Engineering in Austria. Components are provided by leading European manufacturing companies. The safety equipment and operator's cabin are designed by NTK, the frequency drive system is delivered by ABB, and Zollern supplies the hoisting and trolley winches. Giraffe claims the components are combined into a high end product adapted to severe Russian operating conditions, for example, operating in temperatures as low as -40°C. Giraffe also says its monoblock tower system and connection method, using high tension screws, achieves good earthquake resistance, making the crane suitable to operate in regions where earthquake magnitudes of 8-9 on the Richter scale are expected.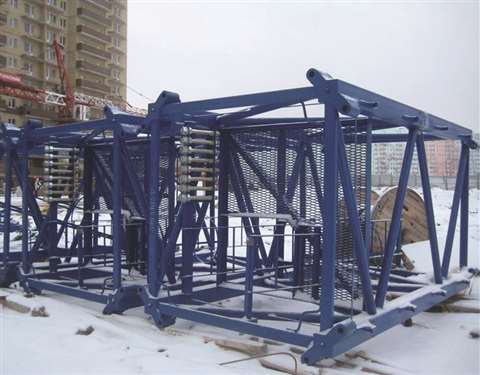 New tower sections awaiting installation with connection devices stored in special pockets during transport
Tower section connection devices are stored in special pockets on each tower section. All TDK-series models have a modern ergonomic monocabin, access to which is via a side door. In the back of the unit a heated walk-in electrical cabinet houses the frequency-regulated control system, which complies with all safety regulations implemented in the Russian Federation. An anti-collision system is also fitted.
In the cabin, Giraffe says there is an ergonomically designed operator's seat manufactured by Spohn+Bukhard, a joystick control lever, and a multi-language touchscreen display in a spacious operating room. A radio receiver, a first-aid kit, a fire extinguisher, and storage space also features. Giraffe says its software allows a complex system of self-diagnostics and an internet connection enables monitoring of the service work.
The new Giraffe tower crane generation comprises a range of models from 33 to 1,250 tonne-metres. According to the company, they are adapted to the specifics of the Russian climate, combined with Western European high tech components and design standards. The cranes are suitable both for the domestic and international markets.
Home and away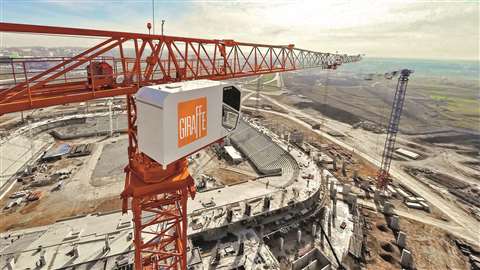 When the home market is difficult it is important for Giraffe that the manufacturing and marketing strategies developed in 2015 give it a competitive advantage in international markets. Adapting to international requirements has included a different naming nomenclature, using a combination of numbers made up of the main capacity and the load moment of the individual crane. For example, the top-seller, the TDK-10.215, indicates 10 tonnes capacity and a load moment rating in the 215 tonne-metre class.
By using the 2.18 x 2.18 m standard tower system, this flat top crane has a maximum free standing under hook height of 75 m. Its standard hoist is suitable for a maximum working height of 360 m. At a 65-metre radius, 2 tonnes can be handled. The jib can be shortened to 30 m in 5 and 10 m steps.
Down the range, the smallest top slewing unit is the TDK-8.180 with 8 tonnes capacity and a 1.82 tonne tip load at a 60 m radius. Its 1.65 x 1.65 m cross section tower system gives a 49 m free standing hook height. As a counterpart to European and Chinese models in the busy 300 tonne-metre class, the TDK-12.300 has been realised with up to 70 m jib and 12 tonnes maximum capacity. Under development is the TDK-16.350, a 16 tonne version with an 80 m free standing capability on a 2 x 2 m tower system.
Government support of housing construction is gradually eroding industry but more energy projects are expected to start in Russia. Giraffe has designed the first heavy lift tower crane above 1,000 tonne-metres since the collapse of the Soviet Union. Nuclear Giraffe is a design concept already presented to experts of the Russia's nuclear sector in 2016. The 1,250 tonne-metre class crane will offer a freestanding capacity of 80 metres. Lifting capacity is 40 tonnes in a double trolley arrangement. At an 80.5 metre radius, 10 tonnes can be lifted.
In industry
For industrial applications special yard crane versions have been realised. One example is the TDKP-10.300, a top slewing flat top crane with a 30 metre jib mounted on a rail portal with a lifting capacity of 10 tonnes. A grab bucket can also be fitted. The newest model in the range of yard cranes is the TDKP-12, 5.440, a flat top saddle jib crane with minimum tail radius mounted on an easy to install 7.5 metre wide and 6 metre high portal with a travel mechanism manufactured by Bauer from Germany. In addition to an ABB frequency controlled drive system, the integrated automatic lubrication system for the slewing ring allows heavy duty cycle work. On the machinery platform the hoisting and trolley winches are sheltered in a walk-in, enclosed machinery 'house'.
In contrast to common Russian designs of yard tower cranes, the missing tower head enables the cranes to work closely under other slewing or goliath cranes. This crane could not only be well adapted to storage yards, for pipes or wood, but also a suitable alternative to specially built shipyard cranes. Its capacity of 12.5 tonnes is available over the full jib length of 35 metres.
The bottom climbing and rail mounted SMK-10.200 with 40 metre saddle jib is similar to those originally found in the Russian residential building industry. Like the Peiner TN series of the 1970s, the tower sections can be inserted in the climbing unit on the machinery deck to increase height. Travelling on 6 or 7.50 metre wide rail tracks, this crane can reach a 54 metre hook height with horizontal jib. When raising the jib a maximum height of 72.7 metres is possible. Giraffe says nearly 1,000 units have been built over the years.
These cranes of traditional Russian crane design are now in their fourth generation and have frequency-regulated drives and Western European safety systems. Giraffe hopes they will find a ready niche market in shipyards as repair cranes and in cramped industrial plants for renovation work.
Luffers are coming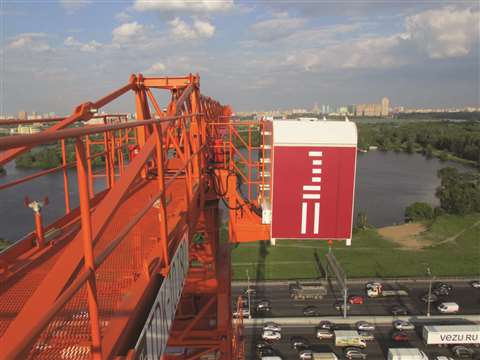 A range of Western-European style top slewing luffing jib climbing cranes is already on the drawing board. Also, under the Giraffe brand, the first Russian fast erection cranes type SMK-5.66 and SMK-3.33, have been launched. These designs are based on a licence co-operation with German self erecting crane specialist KSD-Kransysteme. According to Giraffe, they are fully adapted to the specifics of the Russian climate. Giraffe says this makes them unique in Russia and Europe because standard Western European fast erecting cranes cannot work in the -40 to +40°C temperature range. The SMK-5.66 is suitable for 8-floor building sites. It can be installed in four hours without an auxiliary crane. With dollies it can be transported as one truck load. As a crane with a 27 metre telescoping tower and 43 metre folding jib, it should find a ready market in low-rise construction and in the initial phase of high rise buildings. Instead of remote radio control the 5 tonne capacity crane can also be operated via a cable. Its fast transport and quick-rigging features, plus its outreach, make it also suitable for façade installation work which was previously done using larger (more expensive) mobile cranes.
Giraffe cranes are already being exported to 20 countries, including Ukraine, Kazakhstan, Belarus, Mongolia, Azerbaijan and Cuba. In the near future the company intends to also sell cranes to Western Europe.
As a full service manufacturer, Giraffe claims to be able to control its products at all stages: design, production, sales and after-sales service. Confident in the manufacturing quality control of its smart tower crane, the manufacturer offers a warranty of 18 months, extendable to three years. Other Giraffe services include consulting, registration, financing and leasing support, maintenance, crane rental and installation.