ReachMaster takes on IPAF training
By Euan Youdale28 February 2017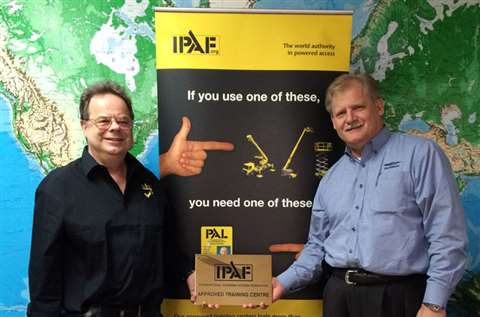 US-based ReachMaster has become the latest official IPAF training centre in North America.
Ebbe Christensen, president of ReachMaster, located in Kingwood, Texas, said, "We have been an active member of IPAF for several years, and I have personally served – and still serve – on the organisation's North American Regional Council. So, it was a natural next step to become an official training centre.
"Given our niche oriented products, we have always had a high focus on safety by offering operational training on all our brands, and being able to now also offer certified IPAF training only adds to those efforts".
IPAF PAL Card (Powered Access License) are given to those who successfully complete the training, which is offered in seven lift categories. The PAL card is valid for five years and shows the lift category that the operator has been trained in.
Mr Christensen, says, "The PAL card concept is very common in Europe, and growing rapidly in North America, and we hope we can do our part locally and wherever we sell our equipment to increase the number of cards issued. In today's world, where we thankfully see very well-manufactured equipment, the most important single element to further increase operational safety of aerial lifts is proper training".
ReachMaster is launching its new training service at the Rental Show in Orlando, US this week, following the official opening of the training centre on 16 February, at which IPAF CEO and managing director Tim Whiteman handed over an official plaque.
Mr Christensen concluded, "We couldn't think of a better opportunity than the Rental Show to launch this new product and activity, given the many lift professionals that will attend this event. No industry is more exposed to operational lift safety issues than the rental industry, so we obviously want to let the players know that ReachMaster is now one of more than 30 active trainings in North America that can offer what we consider the best aerial lift training in the world."