Recycling and Environmental Award
Once again Priestly demonstrated its expertise in a hospital demolition setting, but this time in terms of the recycling and environmental aspects rather than the demolition itself.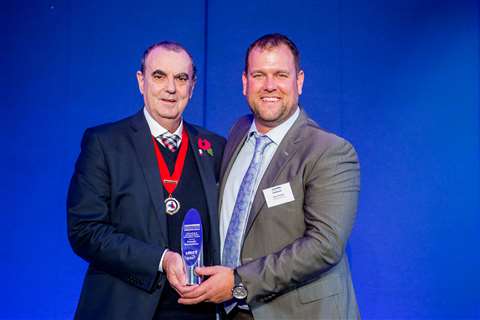 For this project, which covered 40,000 sq m (430,000 sq ft) of interior space, Priestly mobilised equipment including two 70 t high reach excavators with concrete processors, five 50 t excavators with grapples, shears, pulverisers, bucket and hydraulic breaker and a 24 t excavator with a magnet.
One of many challenges Priestly faced was to separate and remove the exterior brick veneer from this large structure to prevent it mixing with all other concrete, and to divert these materials from landfill and meet the project's stringent waste audit requirements.
It accomplished this separation and processing by using the Volvo 700 high reach excavator with precision and without compromising the remaining structure, then stockpiled and recycled the brick separately to ensure the concrete crushing operation would be free of any red brick on the final aggregate product.
The entire project took 13 months to complete from start to finish and peaked at 50 employees working two shifts during some phases to meet the schedule. Items recycled included steel, concrete, brick, asphalt, soil remediation, 1,264 fluorescent light tubes, 230 smoke detectors and 1,590 t of construction and demolition waste.
All concrete from the entire project was crushed using the Lippmman 4800 impact crusher to generate over 38,000 t of crushed 2 in minus recycled concrete. Priestly also recovered an additional 850 t of steel and rebar just from the concrete processing activity.
Awards judge Jim Graham said: "The aspects of this project are a clear demonstration to all in the industry that sustainable planning and execution, along with near 100% recycling of all, non-regulated waste materials, is very achievable.
"This process was personified by Priestly with the impressive metrics measured, and executed, and with the emphasis on safety, schedule and budget that are the real success in any project execution."