Recycling on track
By Lindsay Gale30 October 2009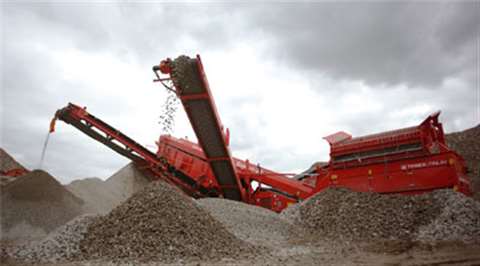 Essex, UK, based demolition, crushing and recycling contractor Haigh Contracts Ltd is using a Terex Finlay 694 Supertrack to reclaim concrete, stone and masonry at Scratchwood Depot, north of London, for a joint venture that has been established by Lafarge Aggregates and GRS Roadstone. Currently, some 240,000 tonnes of material a year is scheduled for processing at the site.
The 694 is used to separate the material into five sizes - +40 mm, 40-25 mm, 25-20 mm, 20-10 mm and -4 mm. The screen's double deck vibrating grid head system scalps off the +40 mm, which is then recrushed and returned to the 694. The segregated product streams are then transported off site for use in a variety of construction-related products, including the manufacture of concrete containing part-recycled materials in line with the recent British Standard BS8500.
Jon Fisher, GRS Roadstone regional director for London and the South East, said of the 694: "By producing more single size products, the material is much more marketable and, as a result, the 694 drives more value out of the waste goods."