Regional report: China
By Andy Brown09 November 2018
In 2017 the Chinese construction equipment market increased by an astonishing 82%, according to data supplied by Off-Highway Research. While this figure followed several years of decline, it is still a remarkably high figure and took unit sales back above 200,000 units for the first time since 2014.
The year 2017 also marked the first time that crawler excavators outsold wheeled loaders and saw demand for mini-excavators rise 88%. Sales of construction equipment are expected to exceed 325,000 units in 2018 and, while this may be the high point for units sold, the market is expected to stabilise in the future, rather than crash.
With such strong equipment sales, it is no surprise to report that the Chinese economy is in good health. The economy grew 6.9% in 2017 and, although the economy has slowed down recently it has been a small slowdown – with growth of 6.5% expected for 2018 and an average of 6.3% for 2019 and 2020, according to figures from the World Bank.
Regarding construction spending, real infrastructure spending in 2017 saw growth of 11.6%, according to IHS Global. It is estimated that, for 2018, this figure will be 9.3% and 8.9% in 2019.
Following on from a slight slowdown regarding domestic infrastructure projects in 2017, the Chinese government this year has once again turned to infrastructure investment as a way of boosting the economy. One of the reasons thought to be behind the slowdown was the high level of debt in China – according to Bloomberg there is $34 trillion of public and private debt in the country, with Chinese borrowing rising 14% in 2017 to 266% of Gross Domestic Product (GDP) – up from 162% in 2008.
However, with the government looking to boost growth, infrastructure projects are firmly on the agenda, such as the 78 billion Yuan (US$11.4 billion) urban rail project for Changchun, the provincial capital of Jilin. The project includes eight new rail lines with a total length of 135km. In Changun, the government has already announced plans to build a world trade centre, although there is no start date for the project yet.
Transport projects
Some of the world's largest construction projects in the world are currently ongoing in China, with one of these being the Beijing International Airport. The project, which has an estimated cost of 80 billion Yuan (US$12.6 billion) will be one of the world's largest when it opens in October 2019. The contractors for the project are Beijing Construction Engineering Group, Beijing Urban Construction Investment and Development, and China Construction 8th Engineering Division.
The project is part of the large infrastructure drive overseen by President Xi Jinping. The 'Beijing New Airport' is made up of 1.6 million m3 of concrete, 52,000 tonnes of steel and spans a total area of 47km² including runways.
It is expected to serve an initial 45 million passengers a year with an eventual capacity of 100 million, as China seeks to boost its profile as an international aviation hub. The airport will be connected to Beijing by a high-speed train with a top speed of 350km/h, as well as an inter-city train and an expressway.
One of the biggest construction projects in the country has just been completed, the Hong Kong-Zhuhai-Macau Bridge. The 54km-long project has three cable-stayed bridges, one undersea tunnel and will support six lanes of traffic. At 54km long, the bridge will be the sixth largest in the world and means that, of the ten largest bridges in the world, China will have six.
The cost of the project is reported to be $17 billion and will cut journey times between the three cities from three hours to just 30 minutes. The designer-builder of the project is the contractor China Communications Construction.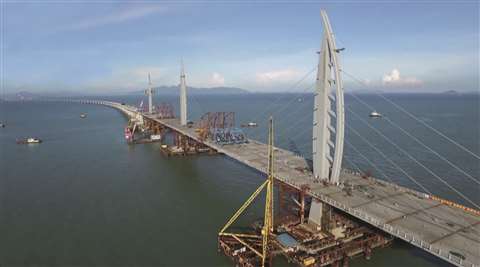 Built to withstand a magnitude eight earthquake, a super typhoon and strikes by super-sized cargo vessels, the bridge incorporates more than 360,000 tonnes of steel – more than four times the amount used in San Francisco's Golden Gate Bridge. The tunnel runs between two artificial islands.
Construction started in 2011 and the project was originally scheduled to open in 2016, but construction was plagued by problems such as workplace accidents, a corruption investigation, technical obstacles and budget overruns. Regarding the financing of the bridge, all three areas (Hong Kong, Zhuhai and Macau) have provided some funding, albeit not to an equal level, with the rest coming in the form of bank loans. There will be a toll charged to cross the bridge.
One Belt One Road
China's One Belt One Road scheme is quite simply the most ambitious infrastructure plan on the planet. The project aims to strengthen infrastructure, trade and investment links between China and around 80 countries that account for approximately 30% of global GDP and cover 60% of the global population. US-based consultancy RWR Advisory Group estimated that there have been 2,200 deals worth $1.1 trillion done since the scheme launched in 2013.
One of these projects recently got the green-light when the Chinese government approved a US$1 billion loan for a major highway project in Sri Lanka.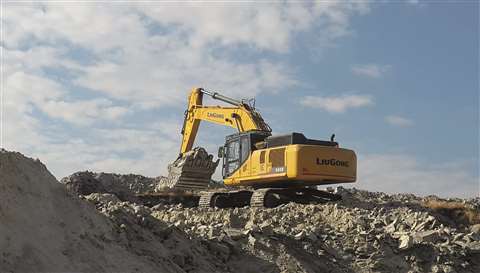 After a meeting between Cheng Xueyuan, China's ambassador to Sri Lanka, and the Sri Lankan Prime Minister Ranil Wickremesinghe, it was announced that the funding had officially been agreed and it would be provided through the Export-Import Bank of China.
The Sri Lankan prime minister's office said Xueyuan had requested that the administrative and legal formalities be expedited by the Sri Lankan side.
After being delayed for more than two years due to lack of foreign funding, construction of the first section of the road will be able to commence. It will link Sri Lanka's capital Colombo with the hill resort of Kandy.
Colombo is recognised as a key hub for Indian cargo and Beijing has been accused of developing facilities around the Indian Ocean in order to secure its own economic interests and increase its influence in order to counter that of India. Other Sri Lankan megaprojects funded by China include the Colombo Port City and the Hambantota Port and Industrial Park.
The One Belt One Road scheme is not without its critics. For example, sticking with Sri Lanka – the country recently had to hand over the deep sea port of Hambantota for 99 years to China's Merchant Port Holdings in exchange for $1.1 billion in debt relief.
Indeed, some commentators believe that countries involved in the scheme get themselves into serious financial problems for limited rewards. Figures from RWR Advisory Group recently revealed that projects worth $419 billion, or 32% by value of the total in Belt and Road countries since 2013, have run into issues such as performance delays, public opposition or national security controversies.
Malaysia recently pulled out of two projects under the One Belt One road banner, due to concerns over rising costs.
The Prime Minister of Malaysia, Mahathir Bin Mohamad, confirmed that the government will back out of two major infrastructure projects led by Chinese companies due to the expense of the projects, which cost approximately $22 billion.
The two projects include a new railway connecting Malaysia's east coast to southern Thailand and Kuala Lumpur.
The $20 billion rail project was given to China's largest engineering firm, the China Communications Construction Company, and mostly financed by a loan from the Export-Import Bank of China. The other scheme is a natural gas pipeline costing approximately $2 billion.