Regional report: North Africa
By Neill Barston19 December 2014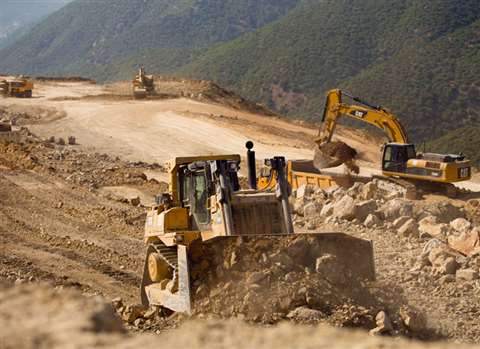 Political tensions are still high in parts of North Africa including Libya and Egypt, and that is a problem for construction investment. Despite that, there are notable schemes under way that are set to improve the region's infrastructure and its ability to trade on an international level.
Among the largest of these is the expansion of Suez Canal announced in August, which will increase capacity on this key trade route. The first contracts for construction of the new channel were awarded in October.
There has also been support from the Islamic Development Bank in terms of providing finance for ventures including a new phase of the Sharm El-Sheikh international airport in Egypt.
Elsewhere, schemes such as a new multi-billion Dollar high speed rail link for Morocco, the 1,700km Ras Ejdyer coastal highway in Libya and the long-planned Rades power station in Tunisia that is being financed by the Japanese International Cooperation Agency – are all schemes demonstrating government confidence in developing core infrastructure.
According to this year's African Economic Outlook report backed by the United Nations and the African Development Bank, 2014 will see the continent's economic growth hit +4.8%.
Its forecast figures of +5% growth in 2015 are the strongest seen since the economic crisis in 2009. According to the study's results, the region's development has been driven by a combination of domestic demand, infrastructure development and an increase in international trade.
Despite the report's positive tone, it highlighted an urgent need to boost levels of high-value export goods if Africa's economies are to deliver sustained long-term growth.
One country that has shown particularly strong performance within the construction sector has been Algeria. Revenues from its gas reserves have enabled considerable infrastructure development over recent years.
According to research group Timetric, the country's fortunes have improved with government investment of US$ 286 billion between 2010-14 to deliver new road networks and other major civil engineering projects.
This has included ongoing work on a 3,000 km Trans Sahara Highway, which has seen a number of companies including Caterpillar play a role in delivering a 53 km section between Chiffa and Berrouaghia within Algeria.
The project, which began last year, is due for completion in 2017 and has seen China State Construction Engineering Corporation (CSCEC) selected for delivery of the scheme.
Caterpillar's regional sales manager Adrian Grigorita appeared equally buoyant about prospects for the region, despite its sporadic pattern of investment.
He said, "There's a willingness within Algeria for the continued pace of growth there, which has been the case for about seven or eight years. The construction market in North Africa is actually quite sophisticated – with it being close to Europe, it has access to a lot of the same technical support.
"We have seen that the demand for excavators has increased by around +10% to +12% in the region with our 320D 20-tonne model having been specially developed for North Africa. Our 950 wheeled loader has also been popular."
According to the senior sales manager, one of its most successful breakthroughs had been the introduction of its grade control system that improves efficiency of on-site equipment through electronic machine control.
In terms of Caterpillar's most pressing challenges, he said the drive towards more environmentally-conscious equipment with tighter emissions controls would represent a challenge for many contractors within the region.
Meanwhile, Johan Haglund, vice president of Volvo Construction Equipment in North Africa, sounded a note of caution that a broader downturn in the continent's mining industry had impacted on the construction sector.
Despite this, he felt there were encouraging signs with an upturn of activity for the company.
He said, "I think that Algeria has been the strongest economy in the region for the past 5 or 6 years with its infrastructure projects, though there are also a lot of things happening in Egypt now including the Suez Canal.
"We are doing all that we can to support our networks out there and we have our own distribution business there.
"Probably the biggest change we have seen is the entry of Chinese companies into the market there, which led to us bringing in the SDLG brand, which brings opportunities in having value products that are working well."
As a means of enhancing its reputation within the region, it has started a pilot training scheme programme in Ethiopia (that will be expanded to a total of 10 African countries) to help recruit the next generation of technicians and engineers.
Rudolf Arnold, managing director of Liebherr export, believed 2014 had been a productive one for the company – which has provided equipment including excavators and cranes for a number of large-scale projects within North Africa.
He said, "It is undoubtedly the case that Algeria in the North African region is by far the best emerging market. This is due to a comparably stable situation in combination with a government that reinvests continuously the income of exports of the oil and gas sector into housing and infrastructure projects.
"Consequently, the import of construction machines have reached a high level. All our construction machinery divisions, such as mobile cranes, tower cranes, concrete, earthmoving and mining, participated very positively in the market."
Another construction company experiencing an upturn in fortunes within the region is Bobcat. Gaby Rhayem, the company's regional managing director, said that despite the complex political picture, there was cause for optimism.
Following re-evaluation of its dealerships within Algeria, he said there was strong potential growth with a number of infrastructure projects in the pipeline.
He said, "I think that 2015 is looking like it will be a good year in Algeria. We have introduced a new product, the S450 skid-steer loader to the market, which has proved versatile for use on a number of construction sites.
"There is also a strong market for telescopic handlers there, which have enjoyed a good level of business. We are very optimistic about next year – we have new partners in the region and believe that business is going to grow there. It's going to be an interesting time."
Egyptian growth
While Algeria has seen perhaps the most active construction sector in the region, Egypt's decision to start its Suez Canal upgrade last month has captured global headlines.
The scheme is significant in opening up a new parallel 50 km channel that will allow commercial shipping to transit in both directions simultaneously.
It would come as a much-needed boost to the Egyptian economy, which has suffered ongoing instability since 2011's Arab Spring political uprising.
The canal work will involve deepening existing canal sections to a depth of 24 m, elements of which will be carried out by a consortium including Dutch engineering company Boskalis Westminster.
It has confirmed that the project will be carried out using 17 cutting dredgers, with the timeline for the work aiming for a tight completion of next August.
Among the many companies involved in its delivery is Caterpillar, with its machinery including wheeled loaders already on-site and handling transportation of material.
As part of the scheme, there are also plans to create a 76,000 km2 international logistics hub nearby, which the Suez Canal Port Authority believes will act as a major driver for the economy.
It is understood that the canal's extension will boost its revenues from a present level of US$ 5 billion to US$ 13.5 billion by 2023.
However, concerns have already been expressed by the Baltic and International Maritime Council, which warned against potential large increases in fees for using the channel – which presently costs larger vessels up to US$ 1.2 million per two-way journey.
Another significant project within the country has been the expansion of Cairo International Airport.
This US$ 300 million investment will see the extension of its second terminal – which was closed last year to begin the project scheduled for completion next year.
It is being designed to accommodate some of the world's largest aircraft including the Airbus A380, which will double passenger numbers to around 7.5 million a year.
Plans are also being progressed for the extension of the metro system between the airport and Giza – where the country's new Grand Egyptian Museum is being built close to the Pyramids.
The ambitious venture on the 120-acre site 2 km from the country's key tourism destination includes a major conference centre is said to be worth US$ 810 million and began in 2012.
Featuring virtual-reality technology within its displays, the museum is being designed by Arup and will feature a 121-tonne statue of Ramesses II as its centerpiece.
Morocco
While manufacturers including Bobcat and Liebherr have indicated there has been a slackening of pace within the construction sector in Morocco, one of its core rail ventures remains on track.
Last year, the country's national railway operator confirmed that a € 136 million (US$ 167 million) contract had been awarded to Colas Rail for the construction of a 185 km double-track line running between Kenitra and Tangiers.
It will feature 14 double deck trains, resulting in journey times between Tangiers and Casablanca being reduced from 220 minutes down to 140 minutes and is expected to be operational in 2016.
Other key developments within the country include plans being drawn up to deliver a considerable boost to the residential construction sector with 110,000 properties scheduled in the country by 2020 with support from a US$ 50 million loan from the International Finance Corporation.
Another further major infrastructure deal was made possible by the Islamic Development Bank, which has provided US$ 272 million for improvement to the water supply infrastructure to regions of Morocco.
The comparatively modest levels of development that have also been seen there and in other countries such as Tunisia (which has economy growing at around +2% a year according to Timetric), have contrasted sharply with the fortunes of Libya – which continues to be affected by political unrest.
This was further confirmed last month when Libya's Supreme Court invalidated its internationally recognised parliament, creating renewed political uncertainty.
As a result, global companies have remained cautious of investment in the country - which otherwise has potential for growth if its troubled politics can be resolved.
Despite this situation, the construction sector as a whole within the region has shown a degree of resilience that has been proved with the ongoing delivery of key infrastructure plans.