Rental collaboration pitch for HS2
By Joe Malone28 June 2017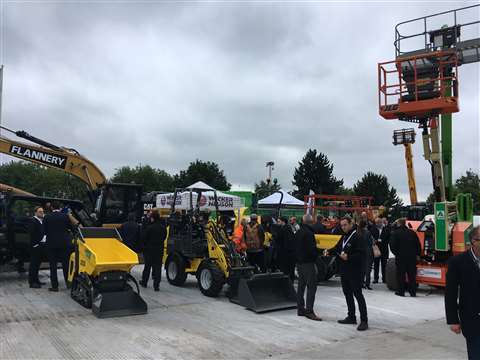 An alliance of companies including UK rental firm A-Plant have joined forces in a bid to pitch their services to contractors working on the major HS2 (High Speed Two) project in the UK.
The alliance, named Connect, was founded by A-Plant, crane hire company Ainscough, plant hire firms Flannery and Lynch and labour supplier Fortel.
Connect fronted its venture to the industry for the first time at its launch in Birmingham, UK today (28 June). The idea behind the venture is to offer contractors a one-stop shop which can offer a range of services to the major rail infrastructure project.
Dave Harris, commercial director, A-Plant, told IRN at the launch that Connect could offer major HS2 project owners the required standard of plant and labour needed for such urban projects. He said, "There is a lot of very basic equipment in the hire industry that wouldn't meet the standards of HS2.
"Connect has come together to offer quality products and services and this event is very much to gain feedback from the industry."
HS2 will link London, Birmingham, the East Midlands, Leeds and Manchester, with work on Phase One beginning this year in London, reaching Birmingham by 2026, Crewe by 2027, before completing by 2033. The total cost of HS2 is expected to be around £56 billion (€63.41 billion).
Speakers at the event included Tim Burnhope, chief innovation and growth officer, JCB, who spoke about the need to "disrupt technology". He said it was important that HS2 wasn't carried out with traditional methods and values, but that it required innovation and revolutionary ideas.
A-Plant offers a range of JCB products in its fleet, and Mr Burnhope said that its products such as Hydradig, launched last year, was an example of genuine innovation. He added, "In 1960, the global population was around 3 billion and around 34% of people lived in cities. However, by 2050, the population is expected to be around 9.7 billion, with 66% of people living in cities. Therefore, urbanisation of construction equipment is essential.
"This means that JCB and other manufacturers need to adapt, and Hydradig is an example of that. We used all standard JCB parts and attachments, but created an entirely new, leaner concept, which is suited to urban construction sites."
A-Plant's Mr Harris said that Connect would also bring SMEs into the fold, providing smaller companies with the chance to work on a major infrastructure project.
One company that is new to the construction sector is Snoozebox, a provider of temporary container accommodation, and the company aims to link up with A-Plant and Connect in its HS2 efforts. Neil McArthur, chief operating officer at Snoozebox, told IRN that the company would provide workers on HS2 with onsite hotel accommodation and services.
He said, "We've operated in the events industry for a number of years, but I was brought in this year to look at the construction sector opportunities. We've been in discussions with A-Plant and we hope to work in partnership with them and Connect for the HS2 project.
"Essentially, if labourers come from afar to work on HS2, we can provide them with onsite accommodation and staff to operate the units."
Snoozebox's portfolio includes container hotel rooms, washrooms and canteens.
Connect also showcased its range of equipment at the event, which includes products from manufacturers such as Hilti, JCB, Wacker Neuson, Atlas Copco and JLG.