Rental drives record French equipment sales
By Thomas Allen23 May 2019
Strong rental activity has driven sales of construction equipment in France to new highs, according to the latest figures from CISMA (the French association of equipment manufacturers of the construction, infrastructure, steel and handling equipment industries).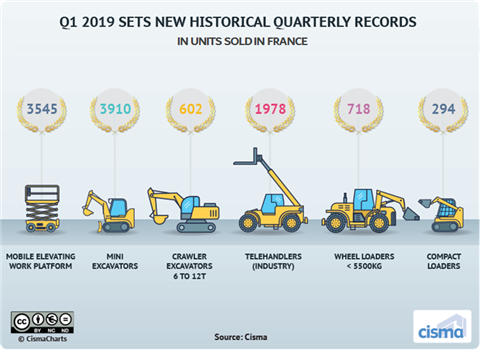 In the first quarter of 2019, six new records were achieved. Sales of mobile elevating work platforms reached a peak of 3,545 units, exceeding the record levels seen in 2000-2001 and 2007-2008. Compared with the first quarter of 2018, the market is up 10%. This rise was attributed to an almost 13% rise in sales to rental companies.
Sales of compact earthmoving equipment increased by 14% overall, compared to the same period a year ago. Again, this was driven by a 32% rise in sales to rental companies, as well as a 4% increase in sales to other businesses. Mini crawler excavator sales grew by just over 10% with 3,910 units sold. Sales of crawler excavators from 6 to 12 tons showed significant growth of 18%, while wheeled loaders weighing less than 5,500kg rose by 23%. Sales of compact loaders jumped by 59% in the first quarter of 2019, compared to the equivalent period of 2018.
Finally, in the first quarter of 2019, telehandler sales for the construction and industry markets grew overall by 42% compared to the first quarter of 2018. Sales to rental companies rose sharply.
Equipment sales have been buoyed by a healthy construction market in France, boosted by the Grand Paris project. Activity has been driven by local government spending, private investment and ongoing infrastructure projects, such as the French high-speed broadband plan and the French motorway plan. Also, in the building sector the level of order bookings remains high.
CISMA noted that the fiscal measure to provide exceptional deductions in support of investments made by businesses to speed up the modernisation of their productive assets ended in April 2019.