Riwal steps into augmented reality
By Euan Youdale05 April 2019
Riwal has launched an augmented reality feature on its My Riwal Rental app.
This new feature will help customers to select the right aerial work platform for the job. The app allows customers to search within the My Riwal Rental app for a MEWP that they are interested in renting and then view it in augmented reality. Using the camera, the augmented reality feature projects a machine model in 3D so that it is integrated with the real environment detected by the camera. It is then possible to move the 3D machine vertically and horizontally, as well as view its transport and full working height measurements against a building. This feature makes it possible to see if a specific aerial work platform fits through the entrance to a work site, and if the working height is sufficient for the job to be done.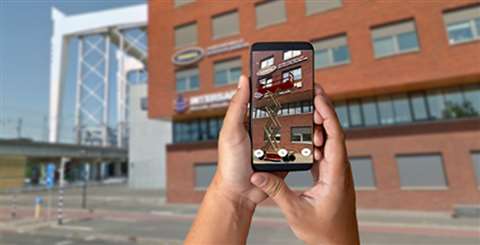 The augmented reality feature will first be launched on the iOS version of the My Riwal Rental app, followed soon by the Android version. Riwal's technology uses BIM files that have been converted to augmented reality files, which ensures that the machines have the correct dimensions when projected in augmented reality.
The first launch will include Riwal's top 50 most rented machine models with available BIM files. Eventually, The My Riwal Rental app will make every machine with a BIM file available in the augmented reality feature.
René Timmers, Riwal chief financial officer and responsible for digital and IT developments, said, "At Riwal, we continue striving towards delivering the best customer experience, in all possible manners. We are confident that implementing this feature will help our customers to make better decisions when it comes to choosing the right aerial work platform that fits their needs."