Rushing back: India's crane market
Back in mid-December at Gurugram in the National Capital Region of Delhi, Kobelco India bagged a major order. It was at the Bauma Conexpo (BC) India 2016 show and came from Mumbai, Western India-based crane rental business Sethia Erectors for 12 units of the 100 tonne capacity CKL 1000(i) crawler crane. Delivery of the cranes, manufactured at Kobelco India in Chennai, souyhern India, will start in April.
Kobelco delivered its 12th crane, a 260 tonne capacity CKL 2600 crawler, to Samarth Lifters, another Mumbai-based crane rental company at the show. The earlier 11 units were CKL 1000(i) crawlers.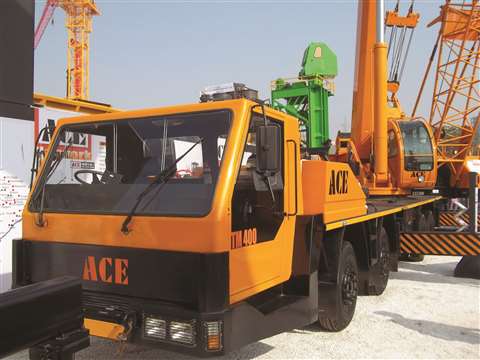 Liebherr India handed a new 250 tonne capacity LTM 1250-5.1 five-axle wheeled mobile telescopic crane to Mumbai-based crane rental house J&K Lifters. The company plans to rent out the crane for general erection jobs. The LTM 1250-5.1 has a 60 metre, five-section telescopic boom, 36m swing away jib, 46 m straight jib and 50m hydraulic jib, the angle of which can be altered hydraulically between 0 and 45 degrees from the operator cabin.
Ajay Kumar Somani, a Liebherr India director, said, "The crane's unique VarioBase, VarioBallast and Eco mode features will make the crane suitable for Indian operating conditions. VarioBase gives an option to rig the crane with individual outrigger extended as per space available at site and crane software calculating crane capacity in each direction as per the outrigger extension in that direction."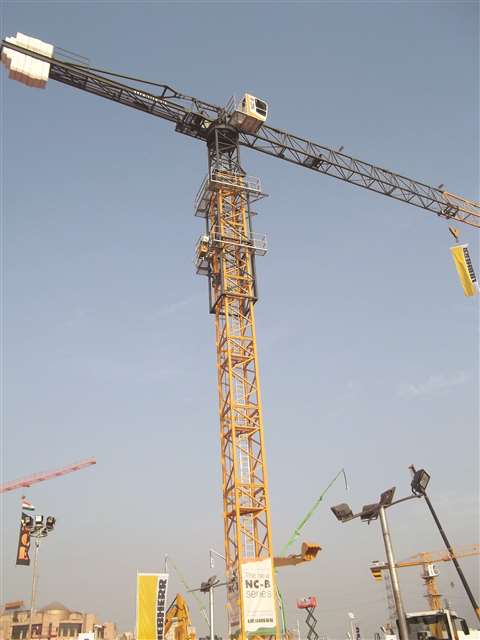 It will allow the crane to be set up at constricted sites, generally prevalent at metro and industrial construction project sites in India. "VarioBallast enables us to increase counterweight radius to get better capacity with same counterweights. Eco mode allows the crane to reduce fuel consumption without compromising work efficiency."
To the tower
Liebherr also unveiled its NC-B flat top tower. Manufactured at the company's Pune facility, the crane can be configured for internal or external climbing and comes in 6 and 9 tonne versions. The 6 tonner can lift 1.2 tonnes at the end of a full 62.5 m jib.
Krishna Kumar, Liebherr India divisional head of tower cranes, said, "The crane, with 53.2 m freestanding hook height and enormous 501 m hook height for internal or external climbing, makes the crane suitable for any high-rise construction projects in India. The Liebherr LiConnect system contributes towards easier erection or dismantling of this crane."
Liebherr India manufactures the 5 tonne capacity 85 EC B5-i flat top tower crane with a maximum 50 m jib at its Pune facility. The company has recently bagged an order to supply its 180 m tower crane to the Krishna Leela temple construction in Bangalore, South India. The crane will be working both with internal and external climbing features for the temple construction, one of the highest in India.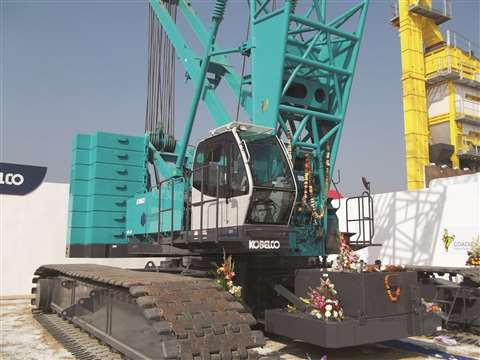 A Kobelco crawler crane acquired by Indian crane rental heavy weight Samarth Lifters at BC India 2016
Delhi NCR based construction equipment manufacturer Action Construction Equipment (ACE) used BC India to display its new truck and next generation mobile cranes. ACE director Sorab Agarwal said, "Our Nex Gen, F210 mobile crane is the most versatile offering from our stable. We are the first to offer a 4 x 4 mobile crane ideal for work on loose soil in India.
"The crane comes with a robust structure and compact geometry, featuring 20 tonne lifting capacity and four-section telescopic boom. The boom is equipped with a lifting capacity of 16 tonnes using the snatch block with best-in-class winch. One of the unique features of the crane is that the full rated capacity of 20 tonnes is available even in articulated and steered condition."
The crane has a luffing range of 10 and 65 degrees and its working height is 19. 4 m, extendable to 22 m through a fly jib attachment. The F210 is powered by a 101 horsepower Ashok Leyland four-cylinder, water-cooled diesel engine delivering a top speed of 35 kilometres/hour.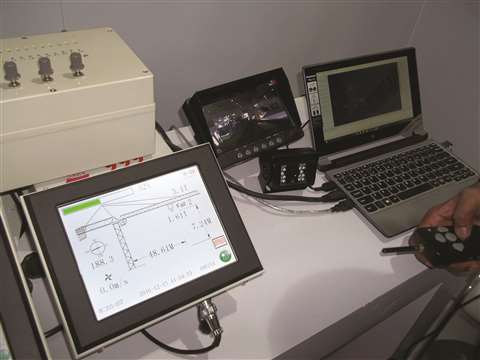 ACE also displayed the F-160 16 tonne Nexgen mobile crane. It comes with four section telescopic boom. The second and third boom sections are hydraulically operated and synchronised, while the fourth section has powered extension.
The crane's engine is a Tata/Ashok Leyland, four cylinder, water-cooled, turbo-charged and after-cooled diesel unit.
Describing a new 40 tonne truck-mounted mobile crane on its own dedicated chassis – the 40 TM – ACE's Agarwal explained, "Earlier, the crane was on an Ashok Leyland chassis. However, this increased the overall height of the crane. To improve the crane's stability, we decided to use our own manufactured dedicated chassis having better centre of gravity."
The 40 TM is powered by an Ashok Leyland/Tata turbo-charged inter-cooled diesel engine developing 225 hp at 2,500 rpm. ACE manufactures truck-mounted cranes from 25 to 40 tonnes. The 25 and 30 tonne models are on the Ashok Leyland chassis.
Taking orders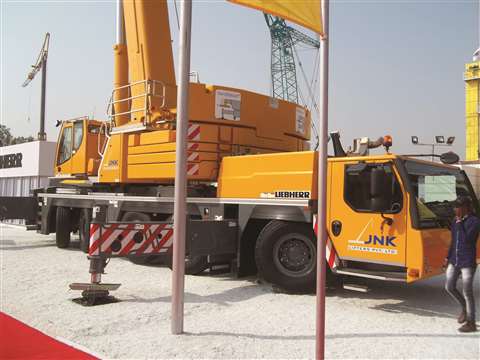 Everest Engineering, distributor of GJJ and Topsky flat top tower cranes, displayed its new tower crane cameras. P V Ramdev, Everest Engineering managing director, said, "The camera can be installed on the trolley of the tower cranes, enabling the operator to have better view of the hook and ground conditions up to a depth of 600 m."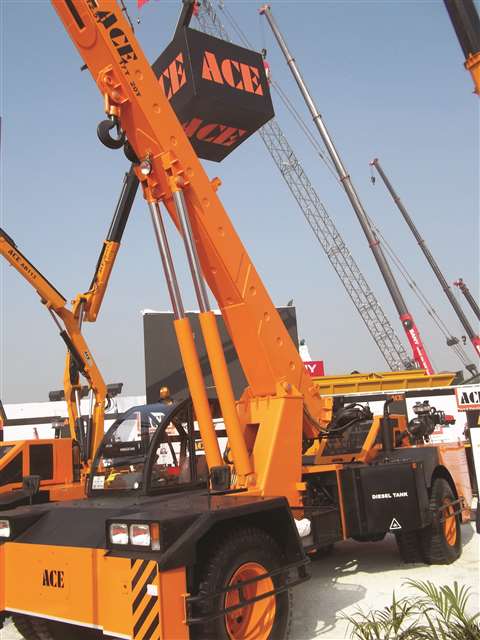 Everest has won a major order to deliver 32 units of 12 tonne capacity Top Sky flat top tower cranes to Indian construction firm BG Shirke for the Delhi Development Authority housing cluster. It is claimed as one of the largest orders ever made in the Indian tower crane industry. Deliveries of the cranes will run until March 2017.
Ramdev said, "The major order is the second one from BG Shirke followed by our delivery of 86 units of flat top tower cranes in the first phase of DDA's housing construction. This constituted 74 GJJ tower cranes and 12 Top sky units of six tonne capacity."
The new cranes, for the second phase construction, will lift precast sections for 900 buildings targeted for completion in 30 to 33 months. The cranes will lift 5.5 tonne precast sections at a 40 m radius.