Russia to float nuclear plant to Arctic
By Joe Sargent02 July 2019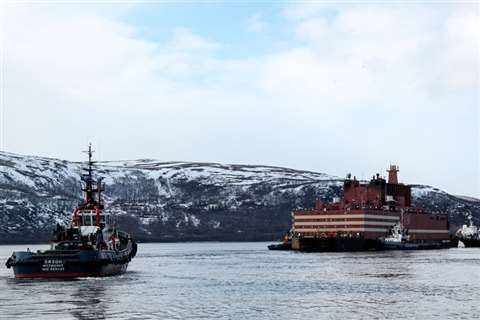 A Russian-built floating nuclear power station is to be towed by ship this July to a remote region in the Arctic.
The power station named the Akademik Lomonsov is set to be transported from St Petersburg, across the Northern Sea, to a mineral-rich region near the port town of Pevek in the north-east of the country.
The reactor, which sits on a 144m long platform and is painted in the colours of the Russian flag, has been transported to the port of Murmansk so it can be filled with nuclear fuel.
The nuclear plant now faces a further journey of 2,951 nautical miles (5,465.3km) to its intended destination.
The power station has been under construction for nearly two decades and has been the subject of environmental controversy during that time.
Greenpeace called the platform a "floating Chernobyl", referencing the huge nuclear disaster in the Ukraine (formerly part of the Soviet Union) during 1986.
Russia's vision, however, is to bring the nuclear power station to settlements and companies that are extracting hydrocarbons and precious stones in the Chukotka region.
Around two million Russian residents make up the population in the area which is only accessible by plane or ship and that's if the weather permits. Despite this the region is incredibly prosperous, generating around 20% of the country's GDP.
The new facility is key to Russia's economic plans to utilise the reserves of oil, gas, and other riches while Siberian reserves are diminishing.