Ruthmann launches 54 m truck mount
By Euan Youdale02 November 2012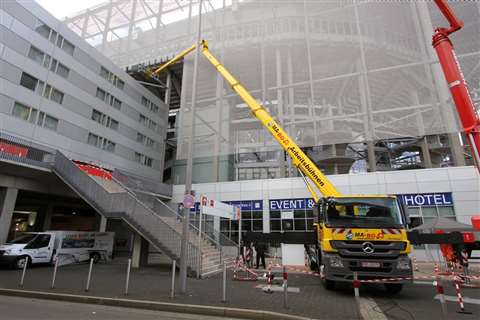 Ruthmann has officially launched the second model in its Height Performance range at a customer event in Düsseldorf, Germany.
Some 200 potential customers attended the two-day event, 2-3 November, at the Esprit arena to witness the unveiling of the 54 metre working height Steiger T 540 truck mount.
AI also learned that Ruthmann will complete the range with a yet unnamed 70 m working height machine to be launched at Bauma 2013.
The T 540 follows the Steiger T 460, the first of the Stieger series, launched last year. It was mounted on a 26 tonne, 3-axle chassis for the launch but a range of chassis options are available depending on the market. The total vehicle length is 11.9 m, while height is 3.9 m, making it ideal for working in cramped locations, said the company.
The large jack lift and permissable inclination of up to 2 degrees enable the machine to work safely on rough and uneven terrain, added Ruthmann. The extra long boom and moveable jib gives operators an additional 3 m of reach, and can rotate a basket 180 degrees. At 50 m working height, the T 540 can achieve an horizontal outreach of 22m.
Nico Krekeler, director of research and design at Ruthmann, explained that high strength steel had been used, along with a multi-bend boom system, which is cheaper to manufacture than the rounded boom shape. This, along with the use of modular components, have helped to produce a price competitive range in a working height sector that the manufacturer had not been competative in before, added Krekeler.
"We knew it would only work if we had several modular components that worked across the range - 72% of the parts are now common across both models," Krekeler added.