Ruthmann reveals more 90m details
By Euan Youdale06 December 2017
The multi-bevelled telescopic boom sections of the T 900 HF. 
Ruthmann has disclosed more information about its forthcoming 90m working height truck mount. The model can now be named as the Sky performance Steiger T 900 HF.
"Instead of designing an aerial platform that exceeds the 90m working height, we responded to the wants and needs of our customers – more specifically the requirements of operating personnel. For them, maximising sturdiness was far more important than an extra couple of meters of working height," said Ruthmann.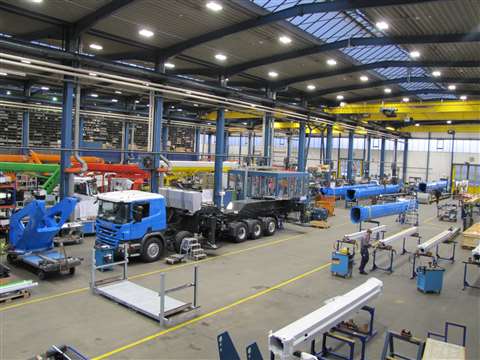 The T 900 HF will make its debut at the Intermat exhibition in Paris, France, taking place during April next year.
The key feature of the model is its dual concept design, which the manufacturer describes as groundbreaking and enhances the range of application possibilities and with it, the utilisation rate. The T 900 HF has the same functions as other truck mounts in this working height range, said the company. In addition, as with models in the smaller series, the boom system can be raised intermittently. This greatly increases the application range.
The telescopic boom sections of the new model have just been painted and are ready for assembly. The boom sections are multi-bevelled providing the necessary sturdiness and maximizing safety on the jobsite.
The HF in the model name is short for highflex – Ruthmann's technology responsible for the Sky performance Steiger's versatile boom system with the wide swivelling range of the Rüssel jib and basket rotation for 'up, over and behind' work.
Ruthmann has given a name to the range of technological features and user benefits that provides the T 900 HF's agility and capability – DRS. More about DRS and the new truck mount will be revealed soon.