S-TraX take on soft Netherlands soil
By Euan Youdale15 December 2014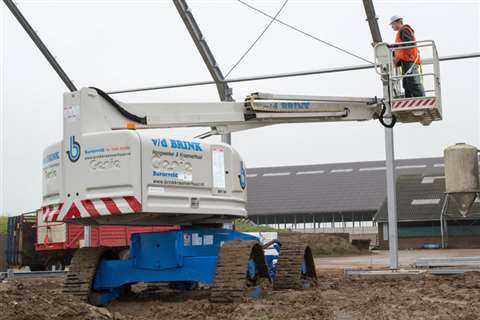 Genie distributor HDW has delivered four track mounted S-45 TraX and S-40 TraX booms to the Netherlands-based Van den Brink Platform and Crane Hire.
They followed the delivery of two telescopic Genie S-65 TraX booms to the same company. As the company's managing director, Gert Van den Brink, explained, "The first two Genie TraX booms we purchased received such enthusiastic feedback from our customers that we decided to broaden our offering to include other models providing different weight and range of motion."
Their four-point track drive system with oscillating axle combines enhanced traction and increased power and torque with the drive and steer capabilities of a wheeled machine and is well suited to heavy, rough and inclined outdoor surfaces.
"In the Netherlands the ground is generally soft whatever the season. Genie S-TraX machines avoid the damage caused by tyre-mounted machines on damp, soft or hard surfaces, including fragile paving stones. As a result they are under high demand for outdoor applications in our region all year round," said Mr Van den Brink.
Among the four new Genie S-TraX units that Van den Brink recently added to its fleet, the S-40 TraX boom lift – a lighter-weight version of its sister model, the S-45 Trax - is assembled without a jib to combine the high terrainability common to Genie S- TraX boom lifts, in a machine that weighs just over 6500 kg.